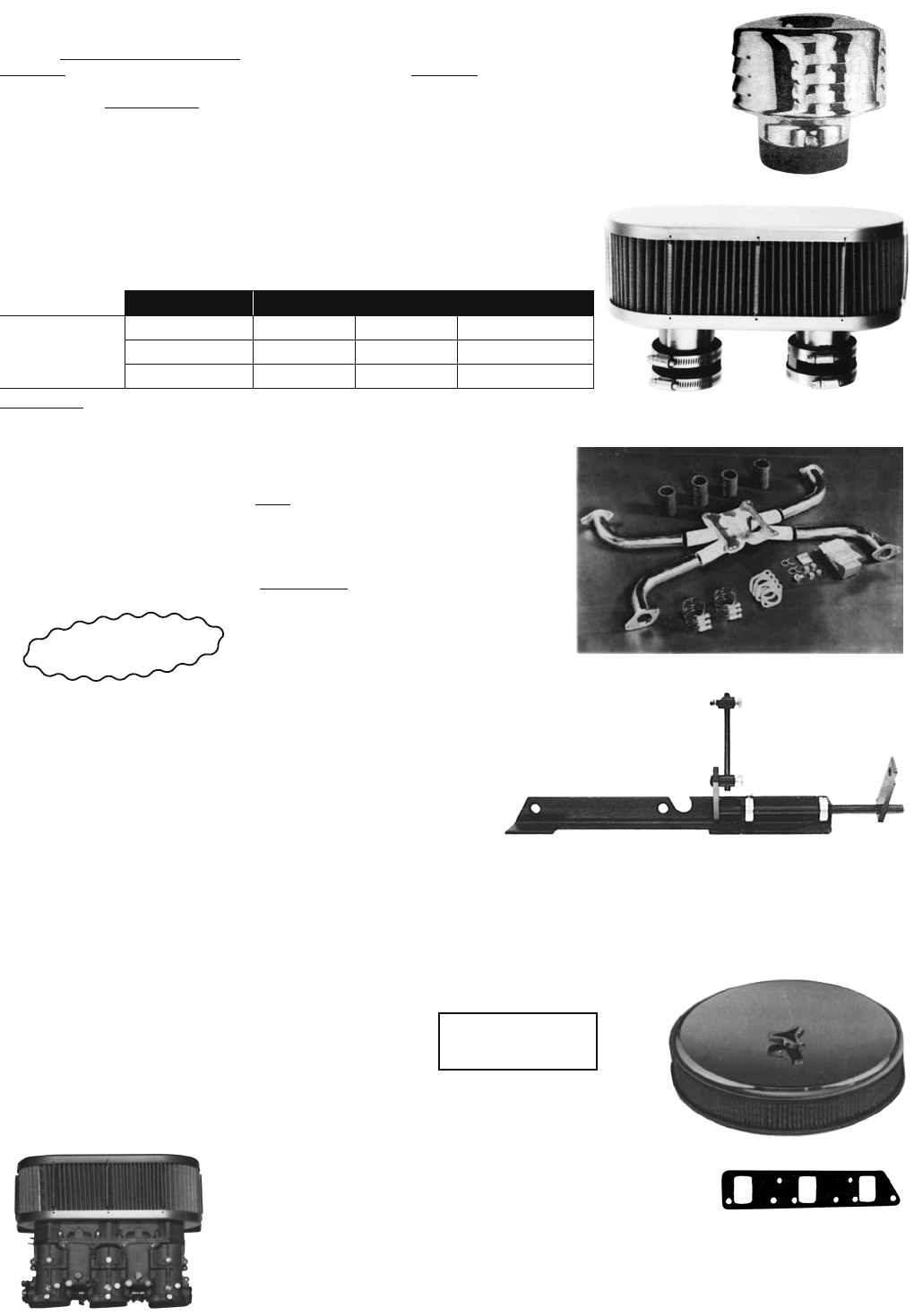 i
WARNING:
Products on this page can expose you to a chemical, which is known to the St

ate of California to cause cancer or reproductive harm. **For more information go to www.P65Warnings.ca.gov**
62
Stock Air Filters
Small Chrome Air Filters:
We've done the EXTRA work so you can easily install these Chrome Air Filters.
ORDER 1 KIT with PCV brass fitting so you can attach a hose from the PCV tube. ALSO ORDER 1 or more WITHOUT. We supply all the parts
and complete instructions for an easy, professional looking installation.
140
order (1) C11611 & (3) C11612.
KITS give you all par
ts for 1 carb.
Chrome Air Filter Kit:
with PCV fitting
C11611
1 lb. 6 oz.
Chrome Air Filter Kit:
No PCV fitting
C11612
1 lb. 6 oz.
Replacement Paper Element
C11613

1 lb.
Performance Air Cleaner
NOTE: Spare tire must be moved to the trunk. Includes oil – oil & cleaner, see page 65.
These will fit all 2 & 4 carb Corvair engines (Note: For Station Wagons and Vans, engine cover
must be raised at least 3½"). Installation is very fast and easy but for best fit requires grinding
off the tab on the top of the carb. It is possible to notch the attaching hose instead. Supplied
with free flowing, reusable elements (clean, re-oil and use "pleated paper"). Beautiful gold
anodized par
ts. Not legal for use on California highways 1966-69. Great for off-road.
1 = PAIR
All 8 lbs.

3" Filter

4" Filter

5" Ht. Dune Buggies
**Can't go by AIR**
For 2 carb engines
C7741

C7741-

4

C9864
For 4 carb engines
C8603

C8604

C9865
For OT
TO 4 x 1 Kit
C8605

C8606

C9866
Replacement
performance
ELEMENTS:

Washable – oil not included – sold each.
3" –
C9003
1 lb. 4" –
C9004
1 lb. 5" –
C9005
1 lb.
oil & cleaner –
see page 65
Note: Not for FC or Wagon
140 – 4 Barrel Manifold
4 Barrel Kit:
Complete as pictured with instructions. See suggested parts below including carb and linkage kit.
New Holley Carb:
390 CFM – 4 BARREL: All set to go. Your particular driving may require re-jetting! Comes with electric choke.
Linkage Kit:
HOLLEY 390. This kit bolts right on with 2 bolts and your regular throttle shaft
attaches to it. Fits Holley 390 carburetors per
fectly.
C5369A
1 lb.
Electric Choke For Holley Carburetor
:
For Holley 390 CFM. The quick easy way out! Coil heats and opens choke electrically. (Comes with carb above)
C2220

8 oz.
Carburetor Rebuild Kit:
For Holley 390 CFM. These are all that Holley can supply. They appear complete except they are missing the primar

y power
valve assembly. They do include the secondary one and Holley says that they are complete the way they are!
C3593
1 lb.
Replacement 4-Barrel Kit Parts
Base Gaskets For 4-Barrel:
For between the chrome tubes and heads on a 140 4-barrel set up. Sold as a set of 4. (Come with our complete 4-barrel kit)
C9940
6 oz.
Replacement Connector Hose:
For all 140 4-barrel style manifolds with 1½" tubes. Black like the original. (4 - 3" pieces needed)
3" piece hose

C

2217

4 oz.
1 ft. piece hose (cut yourself)

C2217A

1 lb.
Chrome Replacement Tubes:
Set of 4
C2216T

5 lbs.
Center Manifold Casting Only
C2216M
5 lbs.
Chrome Air Cleaner – 140
For use with 4-barrel manifolds. Nice looking, low profile, 9" diameter. Complete with adaptor for various carburetors and vent hose.
Replacement Element
C5192

2 lbs.
Weber Performance Air Filters
Gold anodized aluminum frames and washable element provides free flow for on or off
road. Use with Weber 3-barrels. Comes with spray oil. See replacement filters above.
CANNOT SHIP AIR.
Sold as a pair – 4"
C6683
6 lbs.
Weber manifold to head replacement gasket
Sold as a pair – 5"
C8725
6 lbs.

Manifolds no longer available.
PROS
1. More power.
2. Just 1 carburetor to adjust.
3. Sometimes better gas mileage.
4. Neater looking engine compartment.
Single center mount carburetor manifold replaces original 4 carburetors. Many people swear by these units
and nearly as many swear at them! How's that for
honest

salesmanship!
CONS
1. We suggest and sell the 390 Holley and people have had
good re sults. You may need to re-jet. Even so, nearly everyone
still re ports some hesitation below 2000RPM.
2.
COLD

BLOODED!

On damp days below 50° it isn't unusual
to get hesitation and trouble at low speeds. Below 20°, icing
is not unheard of with rough running. In cold climates duct hot
air to unit.
Fuel Injection
See pages 63B-64
C2216
Last Run – ORDER NOW!
*