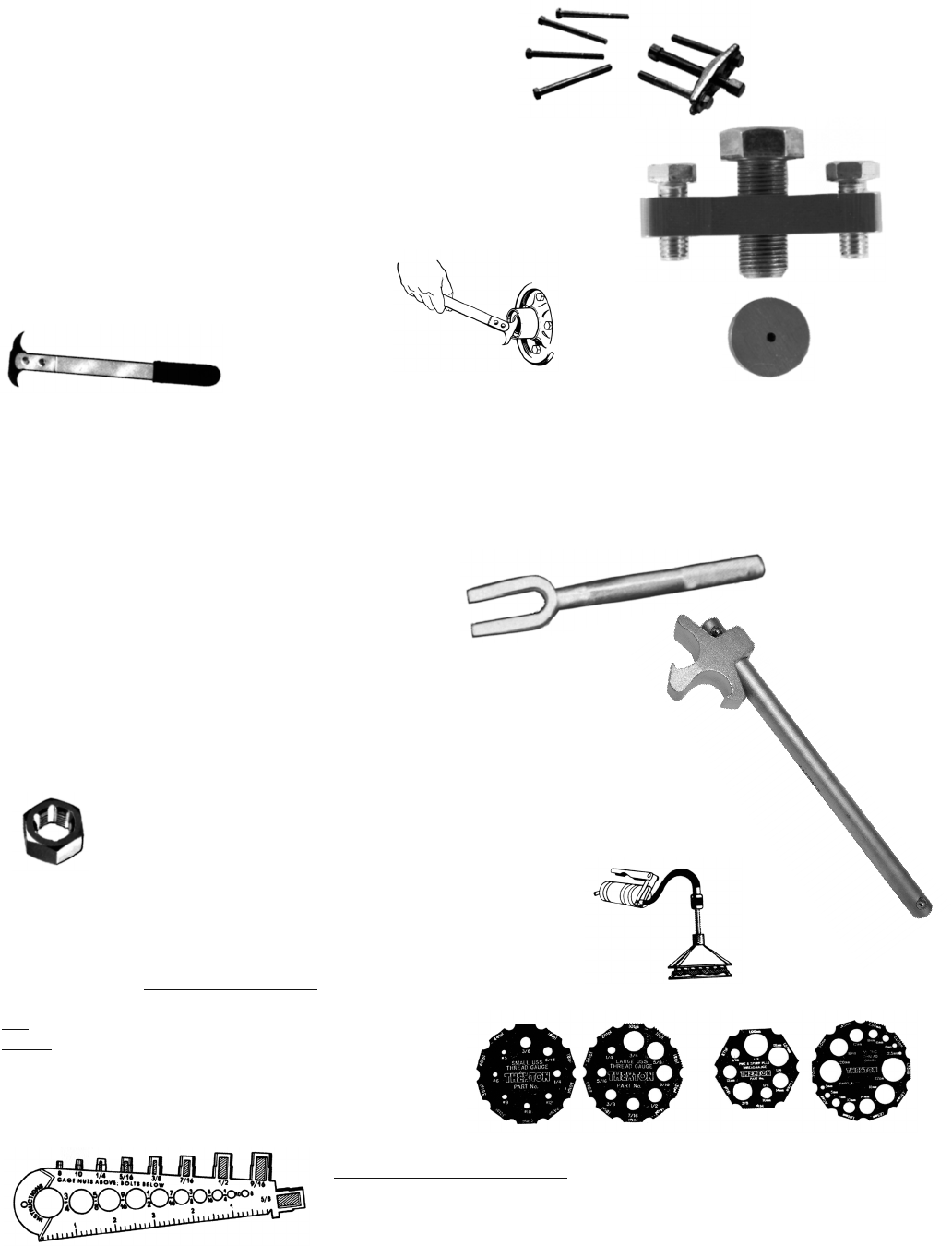 i
WARNING:
Products on this page can expose you to a chemical, which is known to the St

ate of California to cause cancer or reproductive harm. **For more information go to www.P65Warnings.ca.gov**
337
PULLERS – ALL TYPES
There are many rebuilding or removal jobs that just can't be done without a puller.
STEERING WHEEL PULLER
Inexpensive tool that quickly and easily pulls off steering wheels.
Can also be used for pulling crankshaft pulley in a pinch.
I know you'll need this someday.
C1119
4 lbs.
Corvair PULLEY PULLER –
Solid & Harmonic Style
On 64-69 Corvairs puller only requires you to remove the oil filter, then you can remove your crank
pulley without removing anything else! On 60-63 motors you must loosen the motor mount bracket
and slide it back on the studs while supporting the engine. Produced by Blue Chip Machine.
SEAL PULLER
Wheel bearing seals, axle seals.
BREAKER BARS
TIE RODS, BALL JOINTS, IDLER ARMS
These "ramped" forks are perfect for "popping" off tie rod ends, ball joints, idler arms, etc.
Remove the nut, insert the fork, and hit once or twice with a hammer.
BALL JOINT, TIE ROD & IDLER ARM BAR (fork) – cars & vans
VAN STEERING ARM BAR (fork)
Larger size needed for these bigger ends.
C5367
4 lbs.
TIE ROD ADJUSTING TOOL
Loosen the clamps on the tie rod sleeve and tool hooks into the slot to turn the sleeve.
C5285
1 lb.
• • • SEE "NOS" CATALOG ONLINE • • •
Many parts are only listed in the "NOS" Catalog on our website.
Wheel Spindle Rethreader Die
Rethread damaged threads on
front wheel
spindle of 1961-65 FC and 1965-69
Cars
.
Also for 1965-69
rear wheel
spindle.
C5289
4 oz.
BEARING PACKER –
Allows perfect packing of new or used wheel bearings.
Use with grease gun.
C5774
1 lb.
USS & Metric THREAD GAUGES
These silver aluminum gauges make it easy to tell exactly what size bolt or screw you have.
USS
#5 3/4" (threads 40tpi–10 tpi), pipe thread (metric & USS combined)
METRIC
2.5mm–22mm (.80mm–2.5mm threads).
C11566
6 oz. (
ALL 4
gauges)
BOLT & NUT GAUGE
Push bolt through to get diameter. Fit nuts on studs; fine go on the bottom,
coarse stay on top. Built in length gauge.
C12815
6 oz.
C5285