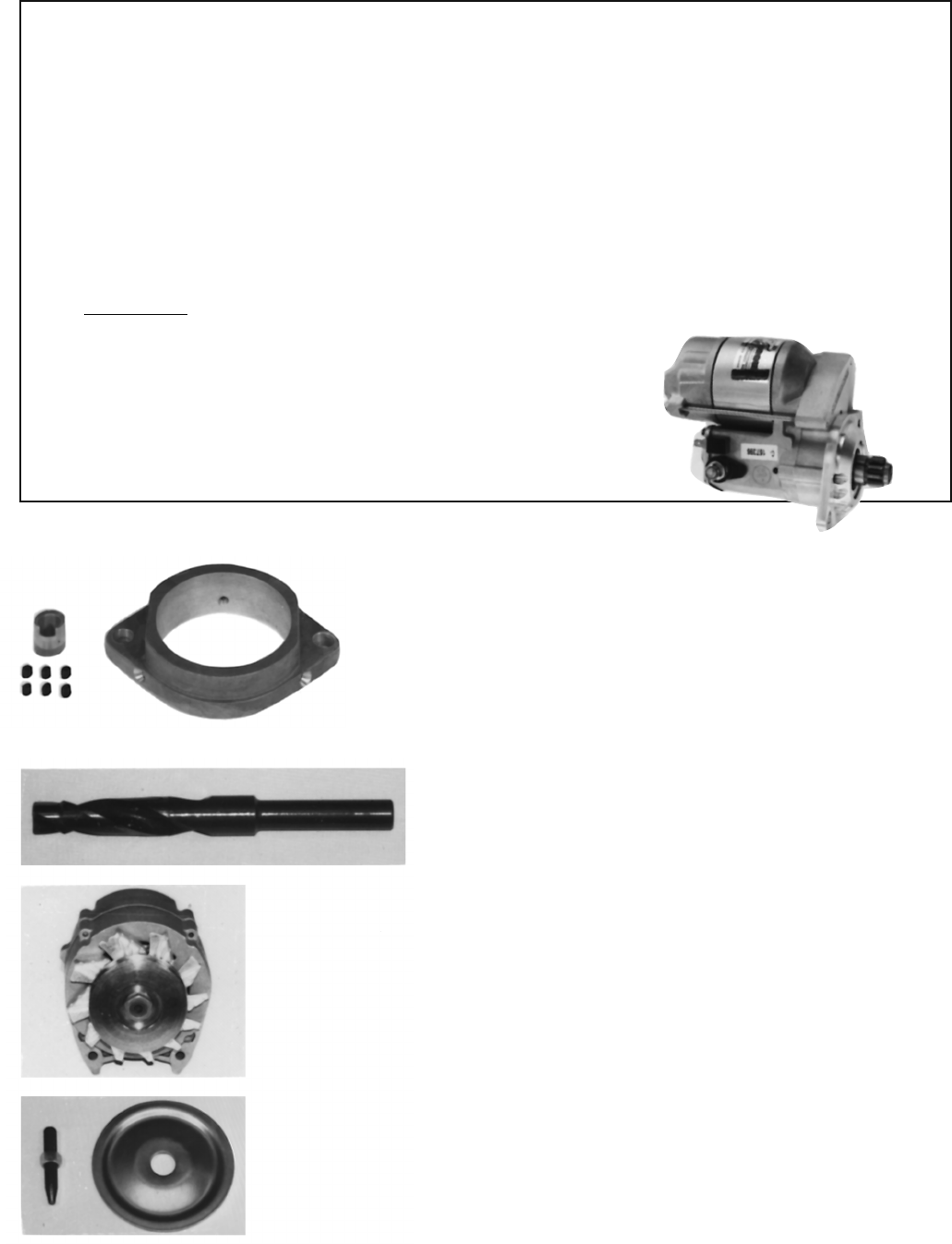 i
WARNING:
Products on this page can expose you to a chemical, which is known to the St

ate of California to cause cancer or reproductive harm. **For more information go to www.P65Warnings.ca.gov**
328
STARTER SELECTION Explained!
1. STANDARD Corvair ROTATION
(you are just flipping the differential ring gear

SWING AXLE ONLY

)
A.
You
need
a
Corvair STARTER and STARTER ADAPTOR
(to fit Corvair starter to VW transaxle case)
.
OR
B.
You can order our heavy duty reverse rotation VW starter
(rotates opposite of a regular VW)
and now you
DO NOT

need to get the starter adaptor.
2. REVERSE ROTATION
Corvair Engine
A.
You can use a standard VW starter
(not really great for starting a Corvair engine)
. Older
6 volt
ones need
109 tooth

ring gear and are

not suggested

)!

12 volt VW starter

"OK"

(130 tooth

).
OR
B.
BETTER YET
get our
HEAVY DUTY VW STARTER
and you'll spin that Corvair engine with ease!
Corvair Starters – REGULAR and HEAVY DUTY
HEAVY DUTY VW STARTERS
REGULAR VW ROTATION

C11435

11 lbs.
REVERSE VW ROTATION

C11436

11 lbs.
CORVAIR STARTER ADAPTOR & BUSHING
Adapts the Corvair starter to VW transaxle for reverse differ ential ring gear kits. Mates to
130
tooth
ring gear.
(

127 tooth

ring gear no longer available. If you have that set up we still have
the offset bushings but other than that you'll have to get the
130 tooth
ring gear and this
new adaptor).
Also see reamer.
Starter Adaptor & Bushing
C8763
1 lb.
Replacement Bushing (ea.)
C8764
2 oz.
Replacement Offset Bushing (ea.)
C6121
2 oz.
OFFSET BUSHING REAMER
This tool is needed to ream out the starter bushing hole in
'71 and later
VW
transaxle bell housings. The hole is a special size and requires this tool to size
the hole proper ly. If you already had the old offset bushing and adaptor, you do
not need this reamer.
REVERSE FAN & PULLEY
For reliable belt tracking and best cooling for the alternator, you need the proper fan & pulley. This pulley
is deeper to provide a guide for the belt slack so it does not hit the fan blades and get cut. The fan is the
proper pitch for best cooling with reverse rotation. Three cut and broken belts would pay for this setup.
REVERSE BELT GUIDE
With a reverse rotation Corvair the slack side of the belt is on the alternator side. This guide keeps the
belt tracking properly. It is included with the
Reverse Engine Kit
.