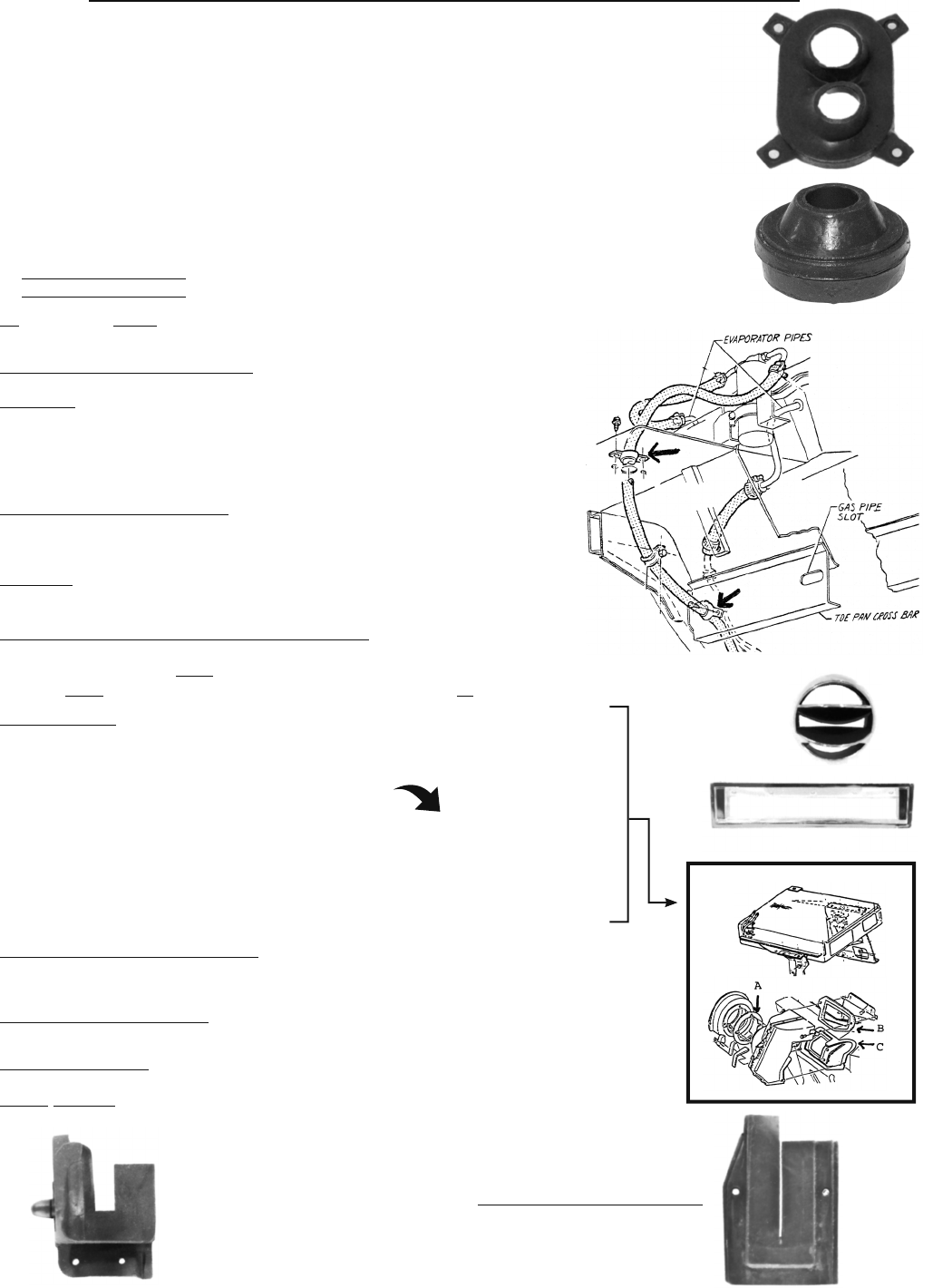 i
WARNING:
Products on this page can expose you to a chemical, which is known to the St

ate of California to cause cancer or reproductive harm. **For more information go to www.P65Warnings.ca.gov**
324
PARTS FOR ORIGINAL STOCK A/C SYSTEMS
Stock 90 Degree Oil Filter Adapter w/ Bolt – C11844
2 lbs.
All Corvairs with A/C need this adapter. Fits all years. Includes adapter, special short bolt, and both gaskets. These are
used adaptors that are cleaned and have glass-beaded aluminum finish.
A/C 2-HOLE GROMMET:
Engine Firewall. Metal back, attaches with 4 screws, 2-holes for hoses/tubing.
Excellent for stock 65-69 AC & for "add on" AC for all years.
C12874
8 oz.
A/C GROMMET:
"Handmade", 66-67 cars where the hole is 1 3/4" and a single hose/pipe goes through (grommet
i.d. approx. 3/4" to 1"). Installation is tight so does not come out. Different style from original but works better. Fits
front toe pan cross bar near gas line & hose going into the trunk. May also fit other years.
C2329A
4 oz.
ACCESSORY INSTALLATION INSTRUCTIONS
Great help for repair, removal, transferring or installing accessories. Includes pictures, locations, and step by step
procedures as outlined for Chevrolet dealers.
A/C – AIR CONDITIONING:
Complete detailed instructions for installing in 1961-64 Cars.
C4976
4 oz.
A/C – AIR CONDITIONING:
66 Style. Complete instructions for 95, 110 & 140 hp engines.
C4980
4 oz.
AC Center VENT BEZEL –
NEW REPRO
with chrome plating – 65-69 with

FACTORY AC
CHROME AIR CONDITIONING BALLS:
1965-67 Either Side

C1973

1 lb.
BALL FELT:
The chrome balls rotate in a socket lined with a small strip of felt. We supply you with
enough felt to cut enough for your car
(and some extra in case you miscut)
.
C10963
2 oz.
AIR CONDITIONING TEMPLATES for '65-69 A/C
– C11530

6 oz.
These full size templates will help you to locate and cut the necessary holes in your trunk to add A/C.
A/C CONDENSER RUBBER SEAL:
This is the 3/8" x 5/8" long rubber seal that seals
the condenser to the shroud fan opening. Crucial so that air is drawn thru the condenser.
Glues in place. 61-65 All with air conditioning.
C8478
1 lb.
A/C SEAL:
66-69 Foam seal goes between condenser & engine firewall. 1 = Set of 2.
Original style material.
C11811
12 oz.
61-65 CARS A/C CARDBOARD CONDENSER COVERS:
Black covers ("boxes") that were used
in the engine compartment. You will need to reuse any metal reinforcing pieces, but should work fine
even if you don't have these.
NOTE:
We might also repro the decals if we find good samples.
Check Availability.
61-64 CONDENSER COVER
C5619C
5 lbs.
65 CONDENSER COVER
C5744F
5 lbs.
A/C GASKETS – 65-69
FAN TO HOUSING – "A" C11532

4 oz.
Due to low volume these
UPPER HOUSING TO TRUNK – "B"

C11533
4 oz.
are "handcut" from templates.
LOWER HOUSING TO TRUNK – "C"

C11534
6 oz.
Barrier Hose Kit, Stock 62-64
C11932
10 lbs.
Barrier Hose Kit, Stock 65
C11931
10 lbs.
Barrier Hose Kit, Stock 66-67
C11852
10 lbs.
All the correct GM sizes and length replacement Barrier Hoses for your factory stock 62-64, 65,
or 66-67 systems. Take the guesswork out of ordering replacement hoses for your stock A/C.
Your 40+ year-old hoses are under high pressure, and are likely a safety hazard if they have not
been replaced. These kits assume you have all the factory components and stock copper lines
running from front to rear in the correct GM locations. Compare prices, save money and get
what you need without running all over town.
A/C BLACK FLEX HOSE UNDERDASH:
65-67 Connects evaporator housing to outlets. For stock A/C outlets
Stock Short Center Hose
C4287
1

lb.
Stock Hose for Both Side Outlets
C4288

1 lb.
AIR CONDITIONING HARNESS:
Evaporator to compressor.

1962-64

C9126

10 oz.
AIR CONTROL CABLE: 65-69
C8278

1 lb.
BOLT:
OIL FILTER –

(also holds adaptor on for A/C or Smog)

REPRO

C977A

4 oz.
OIL FILTER BOLT – A/C & SMOG REPRO
C978A
4 oz.
C1973
C2329A
C2329A
62-64 CONVERTIBLE
DOOR PILLAR "FLAP"
See page 215
DOOR PILLAR RUBBER
1965-69 Coupes & Convertibles
See page 219
C12874
C11453