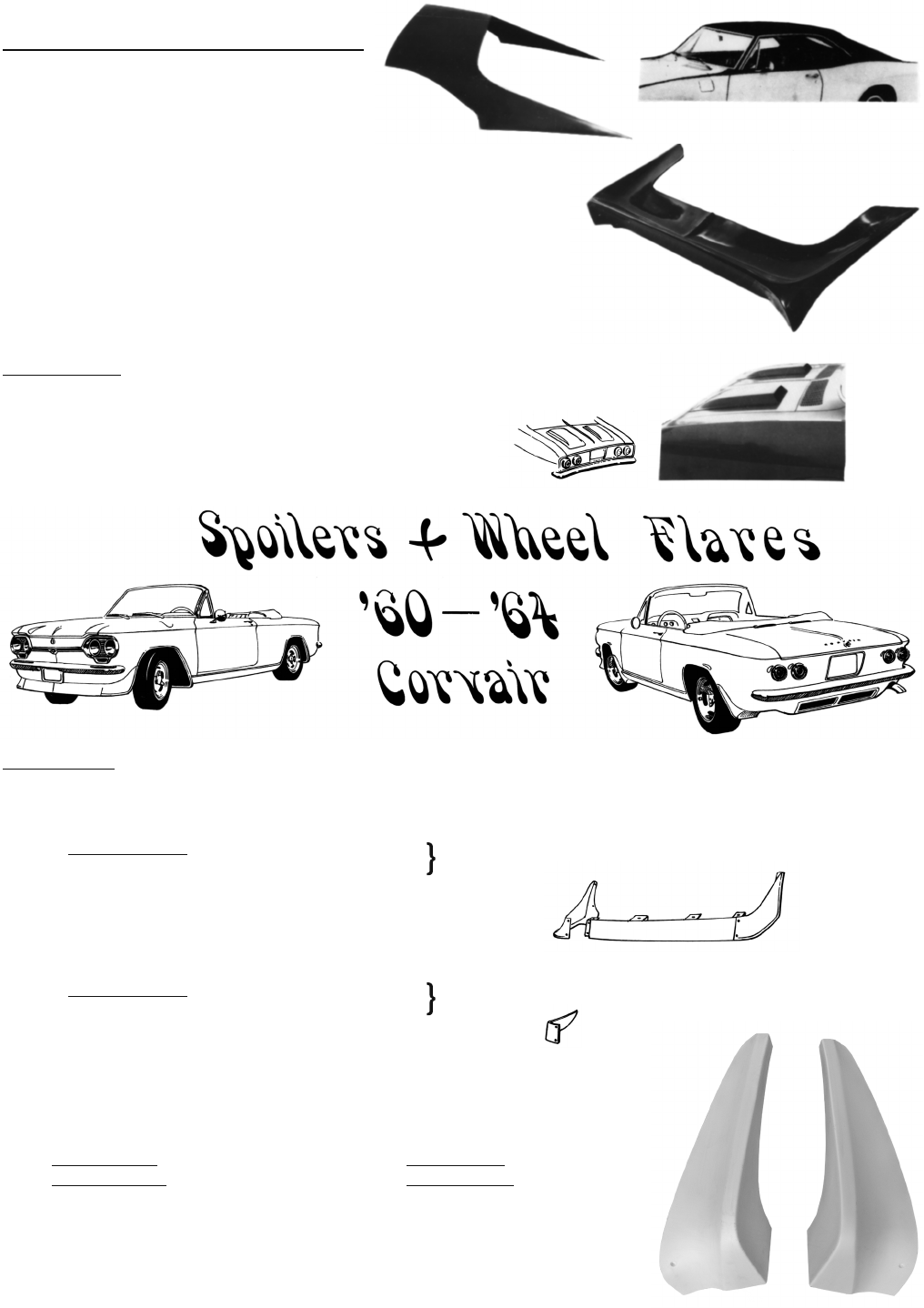 i
WARNING:
Products on this page can expose you to a chemical, which is known to the St

ate of California to cause cancer or reproductive harm. **For more information go to www.P65Warnings.ca.gov**
313
SEE PAGE 186 FOR "TRUCK COLLECT" SHIPMENTS.
FITCH Fiberglass Roof
1965-69 Coupes. Reproduction. Must be prepaid.
Can't ship – must pick up in person in PA;
check with us for more info.
REAR SPOILER – '65-69
Large forward sloping style. Similar to Porsche Carrera style. Approximately 6" high in back
and sides come forward 21 inches. Can't be used with Fitch roof. Must be prepaid and
shipped truck collect. Price includes special shipping box.
u
93 lbs. (

plus UPS LPS due to size –

See page 204 for shipping info)
REAR HOOD SCOOPS –
1960-69
1960-64 OWNERS: THESE WILL FIT YOUR CAR BUT WILL NOT COVER THE 4 FRONT LOUVERS.
STILL LOOKS NICE.
Simple hood scoops intended for carburetor or engine air intake and are mounted
with 4-6 screws. They may be blended into hood. No hose kits are included and
no claim for effect of function is intended. Sold Set of 2.
These are not as
"custom fit"
as
"add ons"
for current cars.
FRONT SPOILERS:
1960-64 – These spoilers leave good ground clearance. May be blended into body if desired.
FLARED SPOILER – '60-64
Also See Spoiler C11580 (page 303B)
End caps "flare" up to wheel opening as in sketch, fiberglass construction.
COMPLETE SPOILER
C6134

9 lbs.
Replacement Center Section
C6134C
6 lbs.
Replacement Flare Ends – Left
C6135
3 lbs.
SPOILER with STRAIGHT END CAPS – '60-64
The center portion is same as flared spoiler, but the end caps are not flared. Add flared ends later if desired.
COMPLETE SPOILER
C6137

8 lbs.
Replacement Center Section
C6134C
6 lbs.
Replacement End Caps – Sold as a Set of (2)
C6138
4 lbs./set
FLARED STONE GUARDS
– 1960-64

See sketches above.
Attach to rear of front and rear wheel opening. Fiberglass – attaches with screws. Great looking
and helps protect paint. Sold Set of 2 (1 left and 1 right side).
FRONT FLARES
C6139

4 lbs./set
REAR FLARES
C6140

4 lbs./set
FRONT LEFT ONLY

C6139L

2 lbs.

REAR LEFT ONLY

C6140L

2 lbs.
FRONT RIGHT ONLY

C6139R

2 lbs.

REAR RIGHT ONLY

C6140R

2 lbs.
30 lb. dimensional PLUS UPS additional handling
30 lb. dimensional PLUS UPS additional handling
Front & rear look about the same