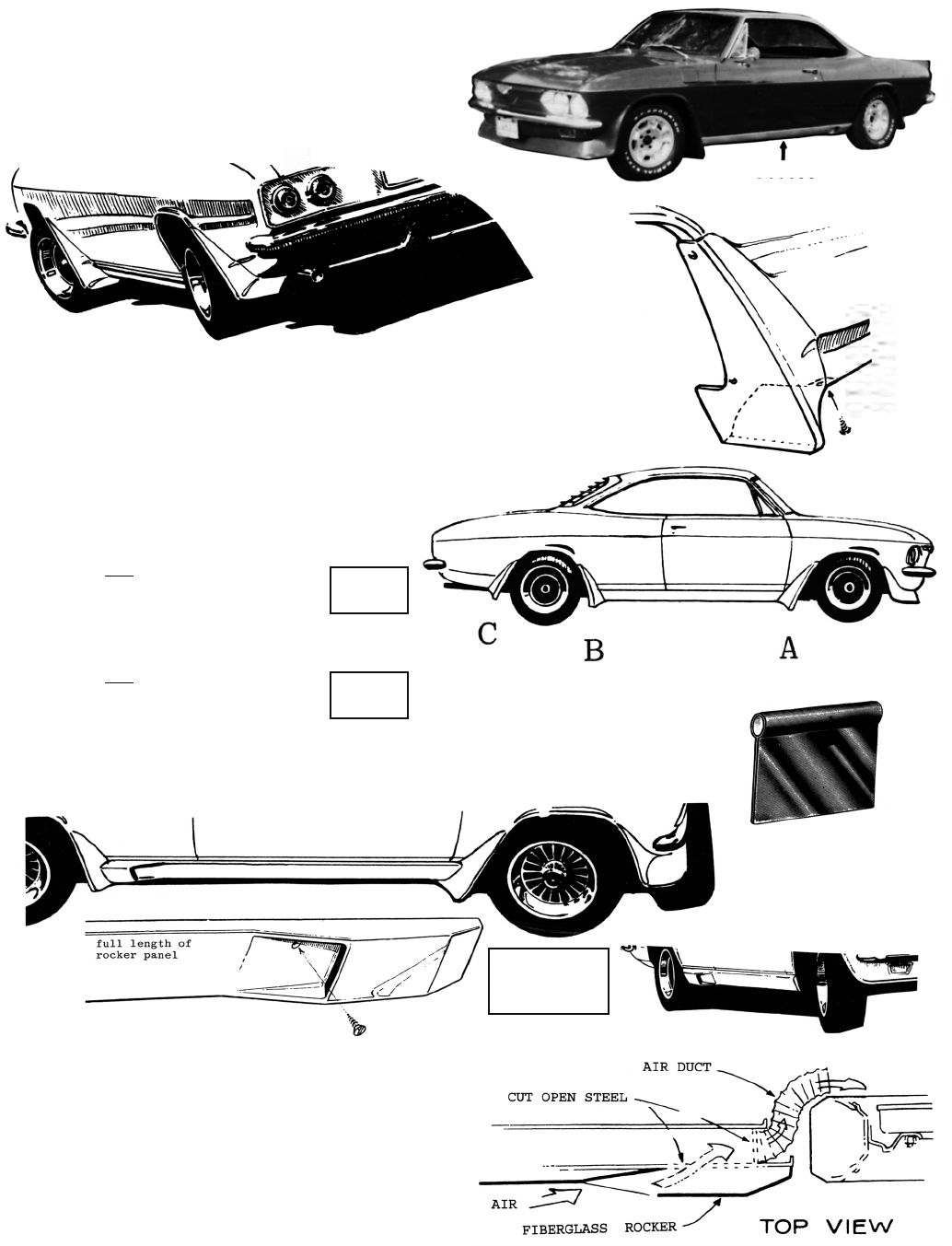 i
WARNING:
Products on this page can expose you to a chemical, which is known to the St

ate of California to cause cancer or reproductive harm. **For more information go to www.P65Warnings.ca.gov**
SOME TRIMMING
REQUIRED TO
IMPROVE FIT.
312
CUSTOM PRODUCTS
FLARED
STONE GUARDS
FLARED STONE GUARDS
Blend with and accentuate your Corvair's classic appearance while protecting the body. Molded fiberglass.
Paint as desired. If used with wheel trim, notch for the trim. Fit best without the wheel trim. These are not a
"perfect" fit. Best if blended into body.
A – FRONT –
PAIR

C4733

4 lbs.
Front Right
C4733R
2 lbs.
B – FRONT of REAR
C – REAR of REAR
FENDER WELT:
Black fender welt gives a nice finish touch around fiberglass spoilers, wheel flares, etc.
if you don't want to blend into the body. Sold per continuous foot.
C6522
2 oz./ft.
WHEEL
OPENING
WHEEL
OPENING
1965-69 Cars only
We last had these in the early 80's. Customers have been asking for them
ever since! These
FIBERGLASS
rocker panels with brake scoops fit over your
steel rocker panels. Can be used with or without the wheel flares and with or
without stock wheel trim.
The
FIBERGLASS
panels go all the way to the front and rear end of the
rocker panel so wheel trim or the panel will have to be cut or notched.
Our original description in 1978 said that the rocker panels could AIR, be
cut and the air directed to rear brake drums or as engine cooling. I've never
done it and don't know if anyone ever made FIBERGLASS ROCKER TOP VIEW
them functional.
SOLD AS A PAIR.
SET of 2 FIBERGLASS ROCKER PANELS – C11139
9 lbs.

(Plus UPS AH – see page 204)
C11139