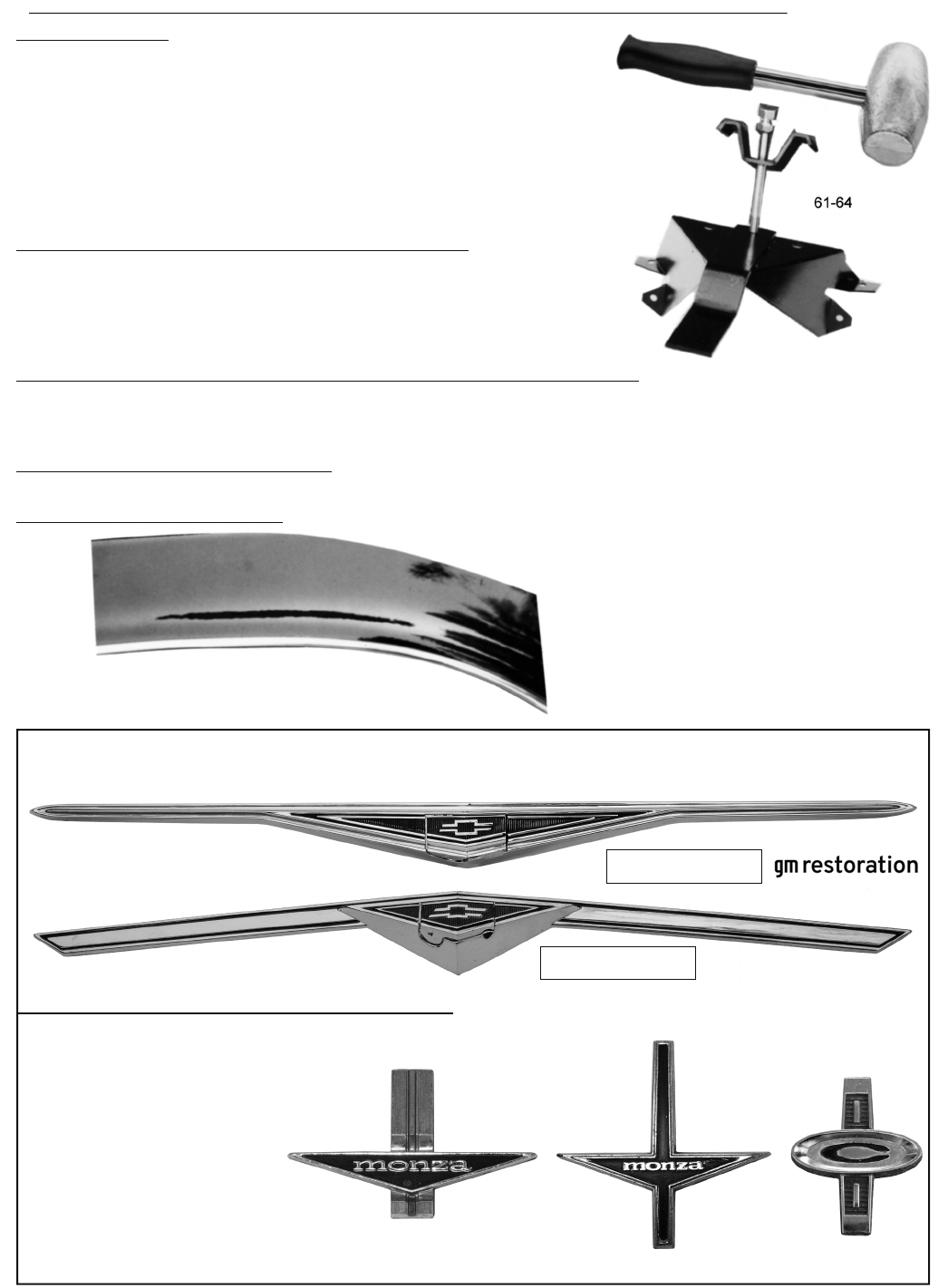 i
WARNING:
Products on this page can expose you to a chemical, which is known to the St

ate of California to cause cancer or reproductive harm. **For more information go to www.P65Warnings.ca.gov**
310
REAL WIRE WHEELS –
Installation & Mounting
LEAD HAMMER –
For wire wheel knock offs. 6 lbs. with chrome handle & black rubber
grip. Since the knock offs are all that hold the original & repro wire wheels on, you want to be sure
they are tight. This heavy hammer will help insure that they are tight with less risk of damage to
the knock off. The head is 2 3/8" diameter to help spread out the blow. The blows of the hammer
act like an impact wrench to remove or install the knock off. After repeated use, the head can
be renewed with a torch or sanding or in extreme cases, some of the head can be cut off with a
hacksaw.
Also see our leather covers.
6 lb. LEAD HAMMER –
C12617

6 lbs.
LEATHER COVERS FOR HAMMER HEAD –
Protects hammer & your trunk.
Closes with large velcro patch. 6 oz.
Black –
C12618
Silver –
C12619
SPARE TIRE UNITS WITH REAL WIRE WHEELS –
The 1961-64 rear
spare tire units (not for use with original AC) appear just like the factory originals & even include
the lockable spare tire bolt. Order lock separately.
1961-64 car spare tire unit
C12559
5 lbs.
Spare tire lock – original style with key
C198
8 oz.
Paper Jacking Sheet for 1961-64 cars with wire wheels (no adhesive)
C9328
2 oz.
Wire Wheel Spare Tire Hold-Down Items – Separately – 1961-64
These fit original or repro spare tire hold down.
Special long hold down bolt
C12695
10 oz.
Bracket "strap" that bolt goes through
C12694
1 lb.
65-69 Trunk Headlight Screw "Covers" –
The 65-69 headlight buckets are held in with small sheet metal screws that stick into the trunk.
Two or three on each side that were easily visible were covered by small rubber covers. Sold set/6. (slightly different from originals)
C6682H
2 oz.
65-69 Black Nylon Screw Covers –
These are used to cover various sheet metal screws that protrude into trunk. Sold set/5.

C6682C

2 oz.
Section of 66-69 repro
WHEEL TRIM
See page 304
C12559
C5925
C5927
1965-69 DOOR PANEL EMBLEMS
We expect these will be far superior to the originals. Simply locate on door (we supply dimensions), drill holes ,insert & retain with "star clips" included.
Photos are of used emblems. Makes door panels stunning! Sold set of 2 with clips.
1965 Monza
C5924
8 oz/set
1966-69 Monza
C5925
8 oz/set
1965-66 Corsa "C"
C5927
8 oz/set
Extra clips
– set of 5
C740X
1 oz.
REPROS Expected Late 2019
C5924
1965 Front Grill Bar
1966-69 Front Grill Bar
See #5, page 305
See #5, page 305