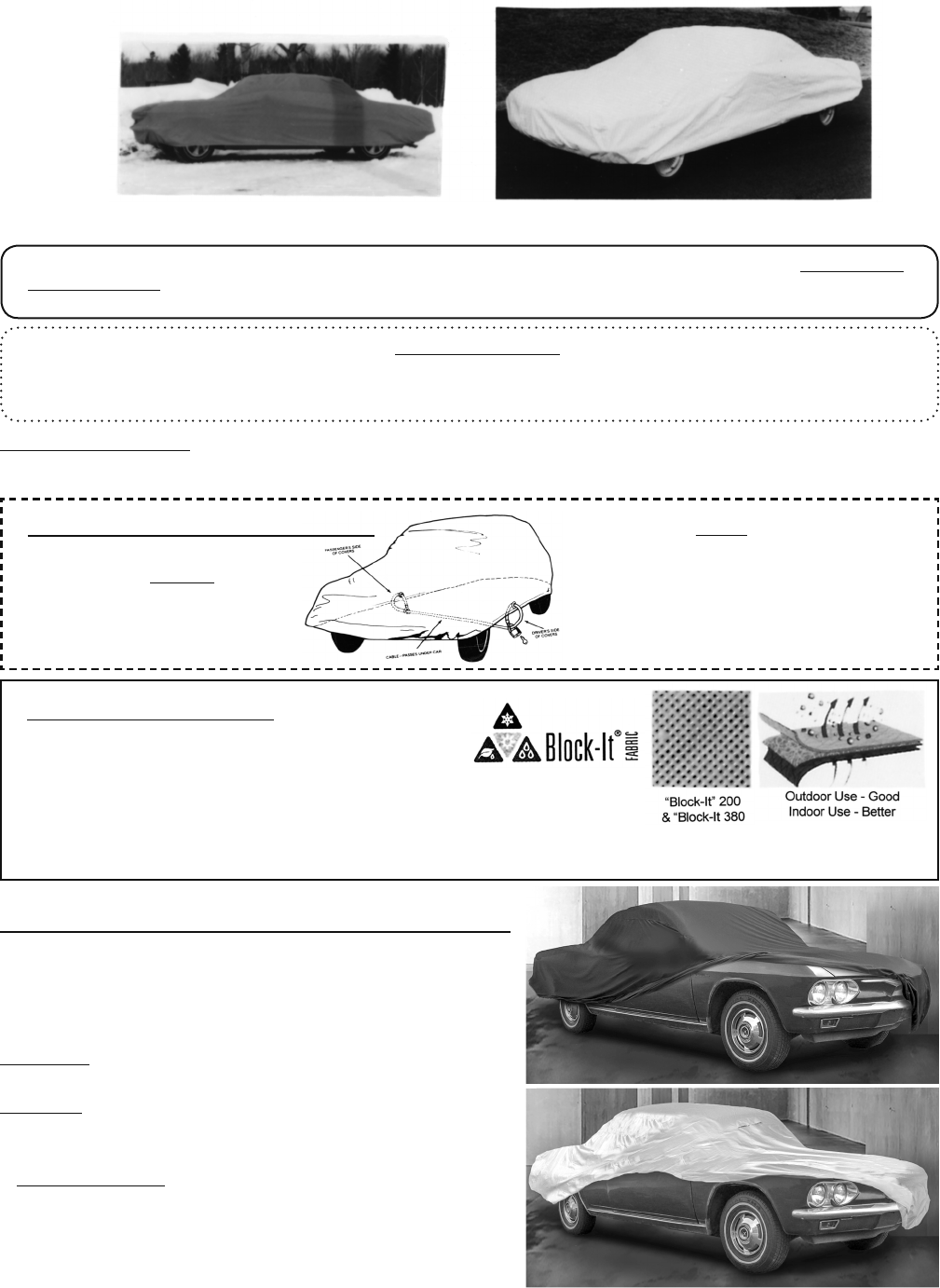 i
WARNING:
Products on this page can expose you to a chemical, which is known to the St

ate of California to cause cancer or reproductive harm. **For more information go to www.P65Warnings.ca.gov**
289
CAR COVERS
Introduction –
Car covers can be very useful, whether you store your car inside (and want to keep dust and dirt off, or prevent accidental
scratches) or outdoors (to protect it from the elements).
Special Note:
Most car covers can cause paint problems

(especially new paint)

if left on, outdoors, for extended periods. No cover should
be left on indefinitely. If it is rainy and humid for a long period the cover should be removed and allowed to dry. For all covers, you must either
cut a hole for the antenna or remove the antenna. Covers come with instructions and most can be machine washed.
Limited Warranty:
Each cover comes with a warranty.

NOT 100% WATERPROOF!

If covers were 100% waterproof, they could not
"breathe" & paint damage could occur quickly. No cover is a replacement for a garage. Warranty coverage protects against fabric becoming
unserviceable during normal use. After factory inspection, we will repair or replace the cover or specific panels judged to be unusable. These
repairs or replacement will be done at no charge to you. Warranty does not cover fading which occurs naturally on all products used outdoors.
WHICH COVER?
The Evolution 4 is a good overall choice if your car stays out and you live in a moist climate. If you live in a normally
dry climate, buy a better quality & it should last longer. Covers are arranged approximately by cost & features with #1 being mainly for inside use to
#6 being most expensive & most protective.
Car Cover Accessories
Fits all our car covers. Plastic coated steel
cable and lock (2) keys.
Gray poly cotton duffel bag with draw string to store or carry
your car cover. Easiest for 2 to fold the car cover together
lengthwise (like a sheet) about 2-3 times, then start at one end
and roll it as tightly as you can. For
ALL CLARK CAR COVERS
(
except
Vans or Rampsides or Weathershield® HP)
.
SEMI CUSTOM FIT Car Covers
These give a good overall fit at an inexpensive cost. Will fit all 1960-69
Corvairs except Wagons and Vans. They have elastic sewn into the bottom hem
for better fit and really fit well. These are all Kimberly Clark fabrics.
#1 Multibond –
("Block-It" 200)
–
Gray, bonded 3-layer non-woven polypropylene. Still mainly for
inside use. Two year warranty.
C9726
7 lbs.
Free Sample –

C1722K
1 oz.
#2 380 –
("Block-It" 380) –

Light tan, bonded 3-layer non-woven polypropylene. More breathable and slightly thicker. Outer layer is more resistant to
acid rain, dust, tree sap and bird droppings. Three year warranty.
C12035
8 lbs.
Free Sample –

C1722P
1 oz.
$$ Saver Custom Fit Car Covers
Nice car covers at a great price. These are made to our custom Corvair patterns
and include a storage bag & 3 "wind" straps at no extra cost. The windstraps
are adjustable & snap into plastic retainers built into the covers behind the rear
wheel, near the center of the car and at the front. These are not big bulkie covers
like the Evolution covers.
Black Fleece:
These are for inside storage. It has a satin feel on the outside and
a super soft fleece on the inside. Made from a stretchy, breathable material.
Silver Cover:
Outdoor/Indoor. Single layer UV reflecting material that is tight
enough to be water resistant but still breathable. The inside is coated to help
repel materials that might be on your car when you install the cover.
1960-69 Corvair Cars:

Coupes & convertibles. Will fit 4 door, but not perfect.
Black Fleece cover

C13362 10 lbs.

sample

C13362A
Silver UV cover

C13363
6 lbs.

sample
C13363A
SAMPLES –
Add

A

to end of part # (example C13362

A

)