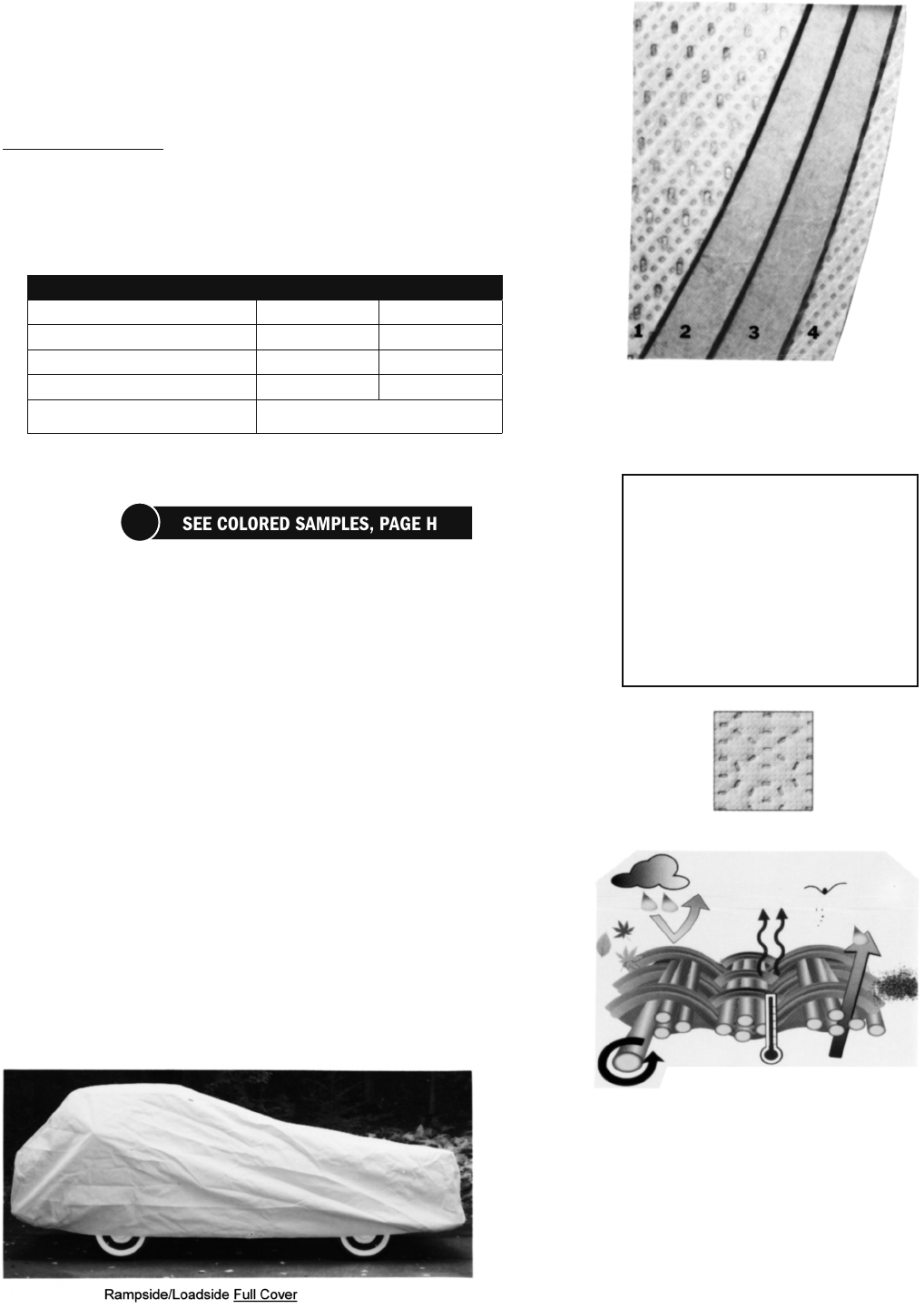 i
WARNING:
Products on this page can expose you to a chemical, which is known to the St

ate of California to cause cancer or reproductive harm. **For more information go to www.P65Warnings.ca.gov**
290
MORE CAR COVERS
CUSTOM FIT Car Covers –
The rest of the covers (#3-#6) are

"custom fit"
from patterns we developed. They are specifically designed to fit 1960-69 Coupes & Convertibles.
They will also fit 4-Door but the
EVOLUTION 4 & "NOAH"
(4-Dr.) are the only
"custom fit"
for 4-Door.
NOT 100% WATERPROOF!
If covers were 100% waterproof, they could not "breath" & paint damage
could occur quickly. No cover is a replacement for a garage.
#3 EVOLUTION 4!
("Block-It" 400)
A great quality/value cover and our most popular. The extra thickness gives more protection from
nicks, scratches & wind movement. This multi-layered material is nearly .035" thick, yet flexible and
soft. Use this cover inside or outside. It can take the abuse. Four year warranty.
EVOLUTION
4
("Block-It"
400)

LIGHT TAN

GR

AY
2-Door
1960-69 Coupes & Conv't
C7774
9 lbs.
C7774G
9 lbs.
4-Door
1960-67 (
exc. Wagons)

C7954
9 lbs.

- - - - - - - -
61-62
Wagon

C9930
11 lb

s.

- - - - - - - -
61-65
Corvair 95 & Greenbrier

C9931
14 lbs.

- - - - - - - -
61-64 Loadside/Rampside ("Fast back"
design so rain is more apt to run off)
C9988
12 lbs. See photo below
For Free Sample of EVOLUTION 4
#4 TAN FLANNEL –
Softest of all car covers. Indoor use or "overnight"
C9334
12 lbs.
Free Sample –

C1722L
1 oz.
#5 "NOAH"
™
This
gray material
is even more water resistant than the Evolution 4 yet still allows moisture to
evaporate. High-tech, bonded 4-layer composite uses bi-component sheath core technology
for twin spunbound outer layers, a film barrier, and soft bi-component spunbond inner layer.
Complete barrier to dust, dirt and environmental pollutants. A light grayish blue color to decrease
heat absorption. Protects against scratches and very soft to finish. Can be hand or machine
washed. We can send samples. The sample of "NOAH" also comes with a 4 page information
sheet and comparison to Evolution 4. Four year warranty.
Custom Fit 1960-69 Corvairs All 2 Door
C10067
9 lbs.
Free Sample –
1960-67
All 4 Door
C10068
9 lbs.
C1722M
#6 Weathershield HP
®
–
Not 100% Waterproof
The ultimate in all-weather protection. Durable woven polyester (selected because it is naturally
moisture & UV resistant) is finished with a patented immersion process that uses heat and
pressure to permanently encase the fibers to shed moisture, dust, dirt, bird droppings, tree sap
and grime. This "super fabric" provides outstanding protection against most natural elements
and can be used for storing vehicles outside and indoors as well. The strong, woven polyester
base fabric results in a cover that is lighter in overall weight (so it's easier to handle), and much
more compact than multi-layer non-woven fabrics (so it won't take up as much room in the
trunk). Four year warranty.
Custom Fit 1960-69 –

All 2 Door Gray C12037

10 lbs. Free Sample –

C1722Q
EVOLUTION 4
Polypropylene fibers bonded into a 4-layer
non-woven finish; inner layer is bi-component
polyethylene/polypropylene
1 – Outer Layer:
Tough to handle
everything from UV rays to bird droppings
to acid rain.
2 & 3 – 2 Middle Layers:
Thin barrier to
resist fluids and moisture. It allows air to
circulate and filters out dust and pollutants.
4 – Inner Layer:
Extra soft to pamper the
most delicate waxes and finishes.
Noah
#6
Encapsulated fibers help the fabric shed moisture,
dust, dirt, bird droppings, tree sap and grime.
Best for indoor and outdoor.
SEE COLORED SAMPLES, PAGE H
N
C9988