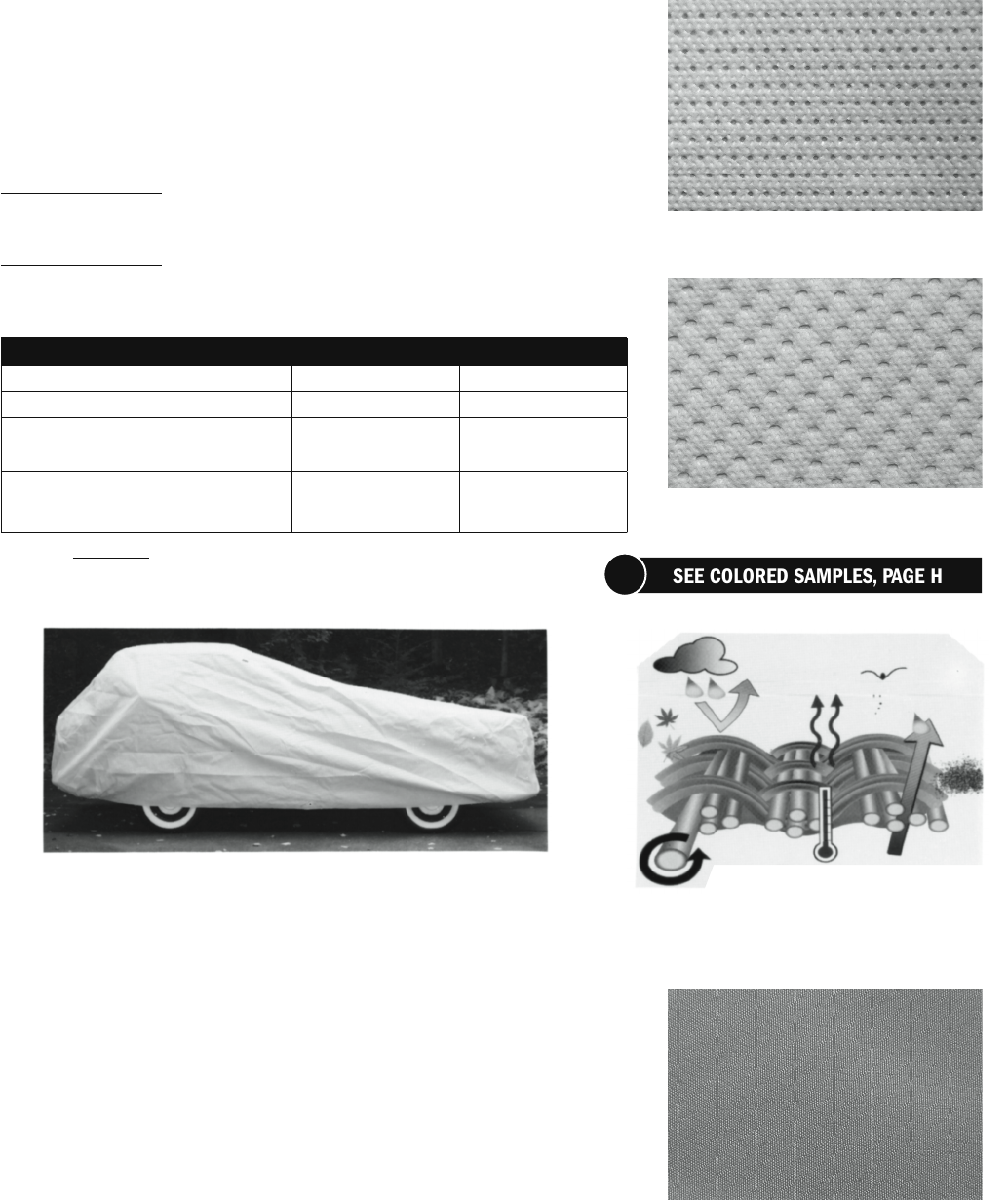 i
WARNING:
Products on this page can expose you to a chemical, which is known to the State of California to cause cancer or reproduc

tive harm. **For more information go to www.P65Warnings.ca.gov**
290
MORE CAR COVERS
NON-WOVEN COVERS – 3 & 5 LAYER
(Similar to previous Evolution) These multi-layer covers are made from non-woven polypropylene in various
layers to give water resistance, dust resistance, sun/UV resistance and strength.
Use indoors or out.
SOME of the shared features:
1) Reinforced non-scratch grommets
2) Overlapped double-stitched seams – sewn in the USA
3) Lightweight, multi-layer fabric
4) Elastic sewn into front & rear hems
6) Protection against dings
7) Inner layer is very soft
3 Layer Covers:
Moderate climate protection, thinner and lighter than the 5-layer. 3
year warranty. Approximately 0.030" thick, very light gray/beige.
5 Layer Covers:
All climate protection, excellent weather resistance while still
removing moisture – greater ding resistance – softest inner layer, approximately 0.045"
thick. 4 year warranty. Very light gray.
NON-WOVEN COVERS
3 LAYERS

5

LAYERS
2-Door
1960-69 Coupes & Conv't
C7774-3

8 lbs.

C7774-5

10 lbs.
4-Door
1960-67 (
exc. Wagons)

C7954-3
8 lbs.
C7954-5

10 lbs.
61-62
Wagon

C9930-3
10 lbs.

C9930-5

12 lbs.
61-65
Corvair 95 & Greenbrier

C9931-3
13 lbs.

C9931-5

15 lbs.
61-64 Loadside/Rampside ("Fast back"
design so rain is more apt to run off)
C9988-3
12

lbs.
C9988-5
14

lbs.
Weathershield HP
®
–
Our Best Weathershield
Not 100% Waterproof (similar to a heavy-duty windbreaker jacket)
The ultimate in all-weather protection. Durable woven polyester is finished with a
patented immersion process that uses heat and pressure to permanently encase the
fibers to shed moisture, dust, dirt, bird droppings, tree sap and grime. This "super
fabric" provides outstanding protection against most natural elements and can be
used for storing vehicles outside and indoors as well. The strong, woven polyester
base fabric results in a cover that is lighter in overall weight (so it's easier to handle),
and much more compact than multi-layer non-woven fabrics (so it won't take up as
much room in the trunk). Four year warranty.
Custom Fit 1960-69 –
All 2 Door Gray C12037
10 lbs.
Encapsulated fibers help the fabric
shed moisture, dust, dirt, bird
droppings, tree sap and grime.
Best for indoor and outdoor.
SEE COLORED SAMPLES
,
P
A
GE H
N
3 Layer
5 Layer
Weathershield HP
Rampside/Loadside Full Cover
C9988-3
or
C9988-5