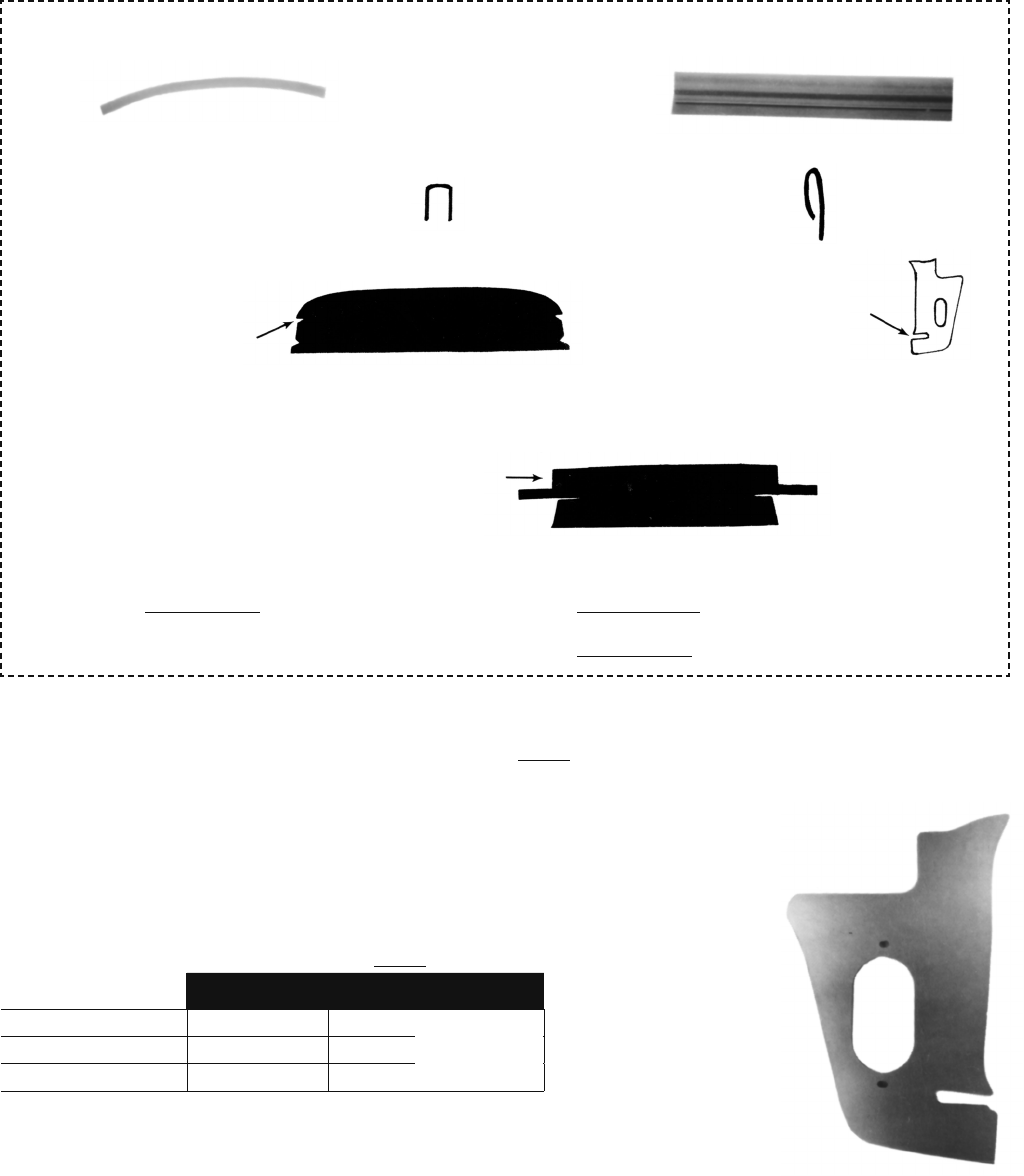 i
WARNING:
Products on this page can expose you to a chemical, which is known to the St

ate of California to cause cancer or reproductive harm. **For more information go to www.P65Warnings.ca.gov**
288
COLORED CARDBOARD PANELS
CARDBOARD TRIM STRIPS
1960-69
This is the vinyl piece that slips on the exposed edges of the cardboard. Usually missing, brittle, or discolored.
CROSS SECTION 1960-64
CROSS SECTION 1965-69
1960-64 COUPE –
(1962-64) Uses pieces on the rear cardboard and (1960-64) use pieces on the kickpanels.
1960-64 4-DOOR –
(1962-64) use 2 pieces (17 1/4" long ) and (2) 6 1/2" pieces on rear cardboard.
(1960-64) use pieces on kickpanels.
1965-69 COUPE –
Uses 2 pieces on rear cardboard.
TRIM STRIPS –
Sold long enough for 1 complete car. Cut as needed. You may sand, prime and paint
to match your interior. (Vinyl paint is best).
1960-64 COUPE: Black
C6774
4 oz.
1962-64 4-DOOR: Black
C6776
4 oz.
Red
C6775

4 oz.

Red

C6777

4 oz.
1965-69 COUPE: Black

C6778

4 oz.
Color codes
page 279
CARPETS FOR KICK PANELS –
1960-64 pre-cut carpeting for kickpanels.
Glue to cardboard kickpanels by front feet (not original of course). Sold per pair. Add carpet color code in the description column. "1" = Pair.
See page 266 for glue.
Tuxedo in Price List – priced higher.
1960 AlI
C5473
4 lbs./pair
1961-64 All (exc. Ct.)
C5474
4 lbs./pair
1962-64 Convertible
C5475
4 lbs./pair
f
ADD X
to the end of the above part numbers & we will install the carpet.
You must also order new kick panels for us to cover.
VINYL FOR KICK PANELS
1960-64 Pre-cut vinyl (matches interior). Use this to cover kickpanels (new suggested) to match the rest of your
interior. The vinyl looks very rich and takes much more foot abuse. Add vinyl color code in the description column
(See Color Code – page 264). Glue – See
page 266
VINYL INSTALLED
(must also order kick panels)
1961-64 All (exc. CT)
C7170

C7170X
1962-64 Convertibles
C7171

C7171X
NOTE! SAMPLES & COLORS
NO RETURNS DUE TO COLOR.
We gladly send samples of carpets and cardboard.
Note:
Dye lots vary. Don't wait 2 months and expect our material at that time to match the sample sent.
CLARK'S colored cardboard is
"double coated"
!
The colored cardboard for kickpanels and package areas is
"painted"
by going through a machine like a printing press. Since the rollers can't
"carry"
enough paint, we felt the colors varied too much across the cardboard. The company said
"you're the only ones in the country that has ever complained
but if you want to pay extra, we'll run it through twice and the cardboard will be even."
– So that's what we've done for years. All creases are precision
"deep creases"
like the originals.

Clark's

strives for top quality in all our parts and
"yes"
that sometimes costs a little more.
All prices, pictures, specifications subject to change without notice.
All 1 lb./pair
}
ON WEB –
click on part #, color drop down, tuxedo & "X" items will display below.
ON WEB –
Click on part #, color drop down menu.