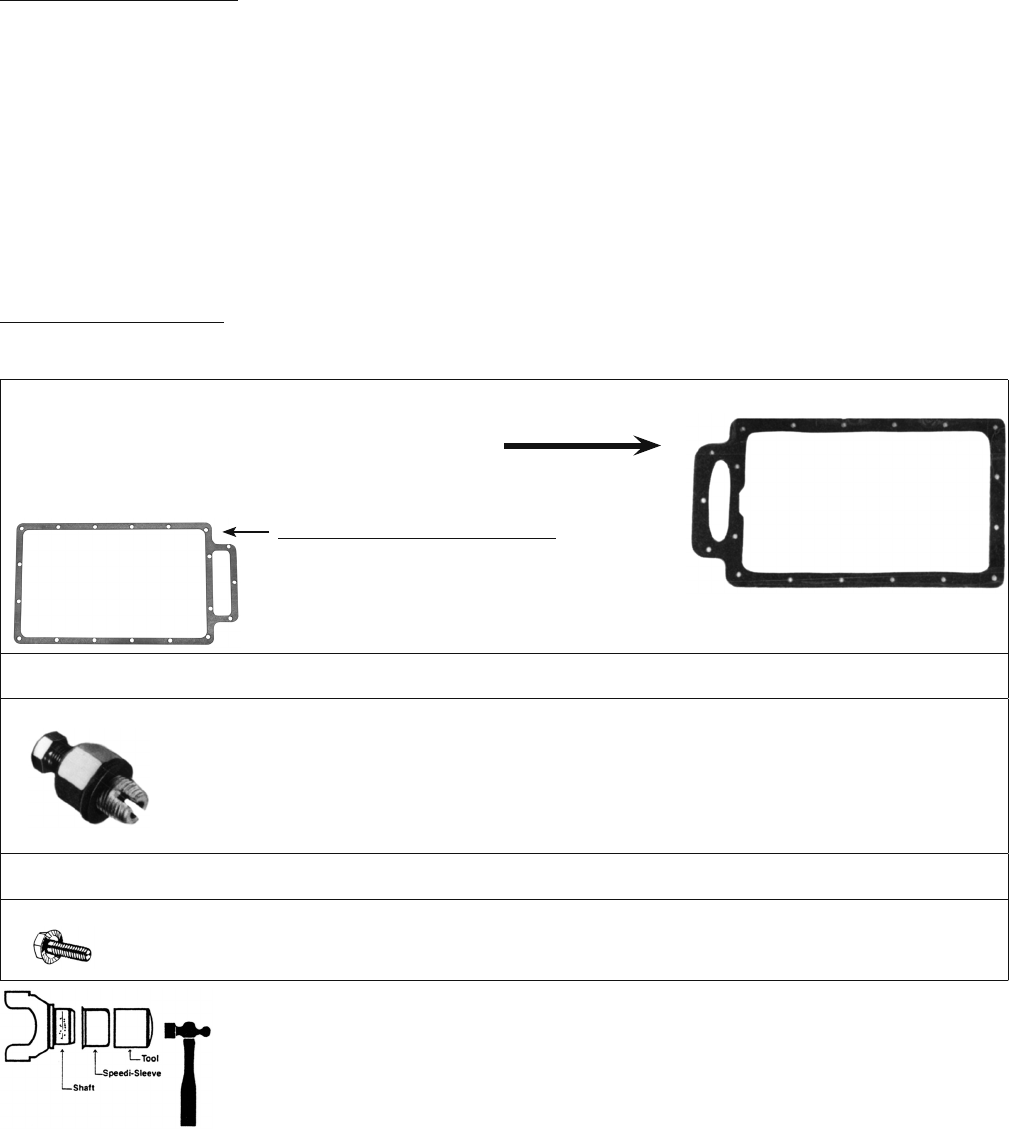 i
WARNING:
Products on this page can expose you to a chemical, which is known to the St

ate of California to cause cancer or reproductive harm. **For more information go to www.P65Warnings.ca.gov**
27A
"LOWER END" PARTS
(refer to picture, page 21)
PICTURE #
22
. GASKET – OIL PAN:

1960-69 ALL

NOTE: "Paper" type suggested only for new GM pans or aluminum pans.
Super Cork & Rubber
C

199
6
oz.
"RUBBERY" composition
C

3129

6

oz.
"PAPER" – GM style
C

200
6
oz.
"PAPER" – Aluminum pans
C3937
6
oz.
STOCK OIL PAN REINFORCEMENT "RAIL":
This steel piece is
about 3/
16
" thick and completely reinforces the bolting of your stock
steel oil pan and, in most cases, should eliminate leaks. Comes with
correct length bolts, order gasket separately.
23
. DRAIN GASKET –

1960

-

69

ALL: We offer the original style nylon and copper (less apt to crack or allow bolt to loosen).
Nylon
C

439

1 oz.

Copper C

6057

1 oz.
24. DRAIN PLUGS: Replace that rounded one.
GM but not original style
C979
2 oz.
REPAIR DRAIN PLUGS:
Replace your stripped or leaking drain plug. (Have one just in case!) Self-tapping oversize drain plug and gasket. Just
turn in with a wrench – cuts its own threads. Removable center style is the nicest (oil drains neater than with regular ones).
Oversize – Removable Center
C3338
2 oz.
REPLACEMENT GASKET: For all oversize drain plugs. Copper.
C6060
1 oz.
25
. OIL PAN –

1960

-

69

Original Style

CX

1430

3

lbs.
For Aluminum pans –see page
29
-
30
26
. BOLTS – OIL PAN: Special (may vary slightly from the original)

Sold set of

19

C

981

8

oz./set
SERRATED WASHER HEAD: Sold as set of
19
For stock pan
C

7730
8
oz./set
For aluminum pan
C

7263

8 oz.

/set
SEAL SLEEVES:
These thin metal sleeves are installed over the old seal area to cover the groove worn by the seal. Each kit
includes the sleeve and tool. Crank seal sleeve can be installed on engine with crank in engine. Crank (fan belt) Pulley Seal Sleeve
C3338
Phone Busy?
Please wait a few minutes and call again. We have 5 lines and feel that is all we can handle! If you get a busy signal – try again!
UPS Delivery – Special Notes
1. UPS will deliver to your address. Give your full address that someone is usually at.
They will tr
y to deliver 3 times,
then they will return it to us and you will be liable for shipping.
2.
UPS ADDRESS CORRECTIONS:
UPS now charges
$

15

.90

/package
for address corrections for

ground shipments
.
Please be sure you give us your correct address! If UPS goes to the address you gave us and you, a family member or a
neighbor says "Oh, please deliver it to...instead" we will have to charge you for the address change if UPS charges us.
Performance Cams –
formerly "OTTO"
The cam is the heart of your engine. Why settle for the compromised performance of a stock cam when you can have a cam which will perfectly compliment your driv-
ing needs and modifications (if any) you have made to your engine? With a performance cam, you can benefit from the technology of computer developed cam profiles
matched to best compliment the air flow balance in the Corvair cylinder head. The result is a broad power band for better overall performance. With our special series of
profiles,
(for normally aspirated engines)
OT-10
thru
OT-40
(and for Turbos)
TB-10

thru
TB-30
there is a performance camshaft for your performance objective, be it the
ideal street engine or all out competition.
CAM GEARS INSTALLED:
We will correctly install a new stock or Failsafe gear with new washer and key. Simply add CG

(stock gear)

or FG

(Failsafe)

to the end
of these part num bers. May
delay
order by 1 day.
PERFORMANCE OUTLINE TB-10 and OT-10
This is the ideal replacement for the Stock Cam where both performance and
economy are impor tant. Results are broader powerband and better driveability. It
works great even with a power glide and good pulling power for heavy loads as with
the truck.
TB-20 and OT-20
A good choice for the enthusiast who wants more performance but does not want
to give up good driveability for the street. Little change in low end performance, big
improvement in midrange power, and higher top end.
TB-30 and OT-30
All around performance with power band starting between 2,000 and 2,500 R.P.M.
Big on mid pow er. The top end will depend on which heads are used and how well
they are prepared. A good choice for prodified autocross cars. The ideal Cam for all
around dune buggies with "140" Engines.
OT-40
These are all out competition grinds. You may want to make other engine
modifications to get maximum performance from OT-40 cams.