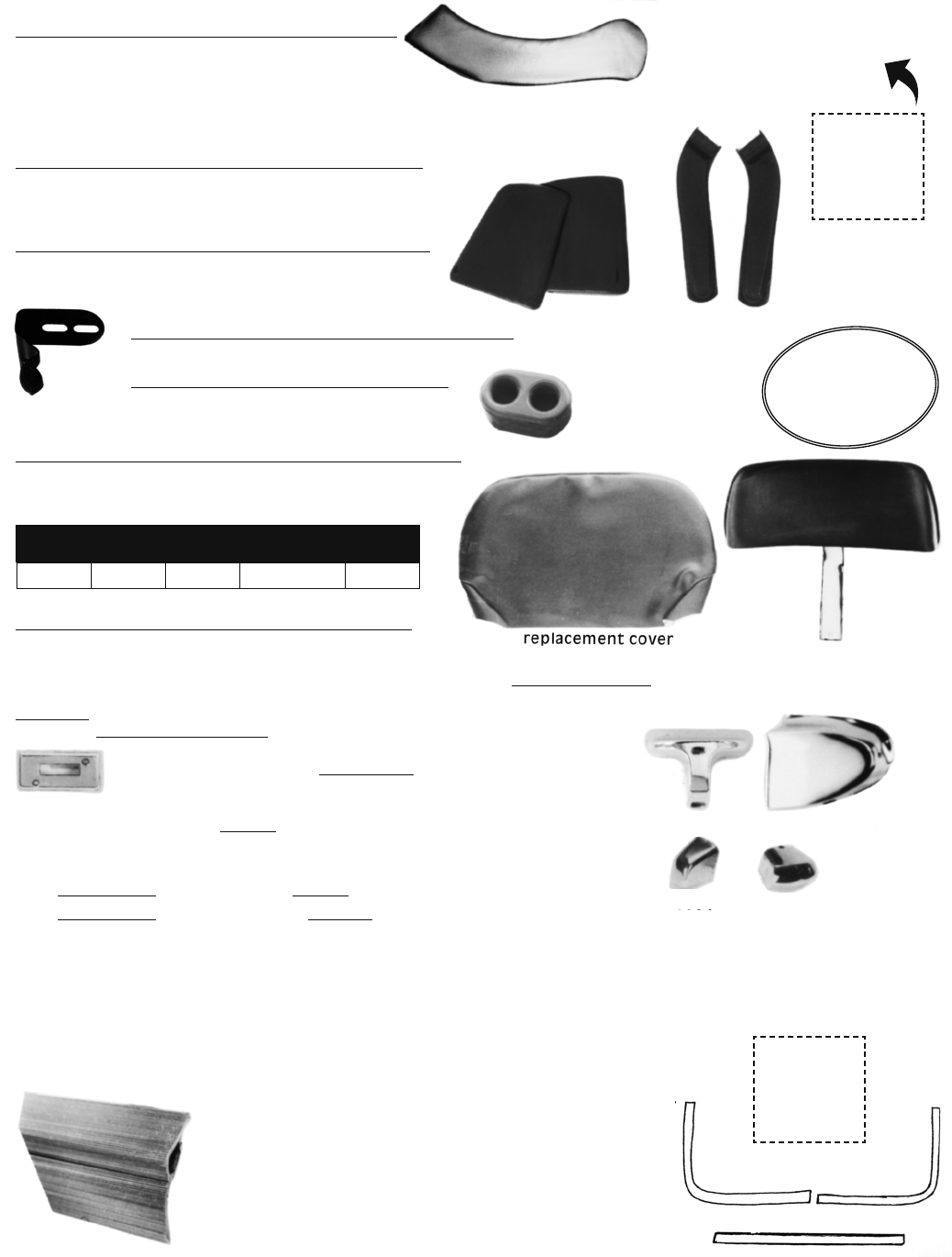 i
WARNING:
Products on this page can expose you to a chemical, which is known to the St

ate of California to cause cancer or reproductive harm. **For more information go to www.P65Warnings.ca.gov**
269A
MISCELLANEOUS UPHOLSTERY ITEMS
BUCKET SEAT "Socks (boots)"
These go on the inner bottom part of the bucket seat top supports.
The originals were molded vinyl. We fabricate these from matching vinyl.
Not original but look great! These will be included with all our 1960-69
bucket seats or full upholstery orders. Fit either side.
1960-66 use
1
per bucket.
1967-69 use
2
per bucket.
(Also see black repros

below

)
67-69 BUCKET SEAT SIDE COVERS
– Black – sold as a pair only.
Excellent ABS plastic repro for exact fit. Paint for other colors.
1 Pair does one seat.
C8981
8 oz./pair
67-69 BUCKET SEAT BACK PANELS
Black only
– Sold as a pair of left and right only. ABS plastic.
Grain pattern slightly different from original.
C8982
5 lbs./pair
65-69 REAR SEAT LATCH CATCH –
EXACT REPRO

metal stamping.
2 needed 65-67, 1 needed 68-69 C10929
2 oz.
(Do Not Fit Convertible)
65-67 REAR SEAT RUBBER BUMPERS
Correct oval shape with metal insert.
(Do Not Fit Convertible)
1966, 1967, 1968 & 69 HEADREST COVERS
These slip on headrest covers match our upholstery and will make your headrest look
factory new unless your originals are badly cracked. Sold each left or right.
Add upholstery color code – page 264 to end of part number. 1 lb. ea.
1969 Monza
ORIGINAL ONLY
500
C9854
C9029

C8979
C8980
C8980A
COMPLETE HEADREST ASSEMBLY – 69
These were originally available with the support bar straight or curved
(forward)
.
These
excellent repros
are molded and ready to install.
SOLD EACH. Black only.
Other colors also order covers below. Repros about
1/2" narrower than original. Will fit 1968 too but slightly different. Fit either side. Black – STRAIGHT BAR HEADREST –
C9023
12 lbs.
COVERS:
For repro headrest assembly – either side – 1969

C9030

1 lb. ea.
ADD COLOR CODE for '69 vinyl page 264.
68-69 BUCKET SEAT HEADREST ESCUTCHEONS:
Chrome plated.

Exact repro.
SOLD AS A PAIR.

C8983

6 oz./pair
Chrome Seat Adjuster Knobs:
Excellent repros of these items that are usually pitted or missing.
"T" Knob –
1963-64 Convt. (you may find it on a few other models).
C9550
4 oz.
Ridged Half Oval –
1964-66 All buckets (
exc.
'64 Convt.) Ridge on top.
C9551
4 oz.
67-69 CHROME KNOB – FRONT SEAT BACK RELEASE
– Sold each.
C8984
6 oz.
67-69 CHROME KNOB – FRONT BUCKET SEAT ADJUSTER
– Sold each.
C8985
6 oz.
PLASTIC WINDOW TRIM STRIPS 65-69
These are the colored plastic strips that go around the front and rear window of 1965-69 Coupes and 4-Doors and are usually badly deteriorated.
Available in
BLACK ONLY
. Prime and paint for other colors to match your interior. Sold as straight pieces. Bend and push on. About 90% accurate
reproduction. Originals were molded to shape. Ours are
"STRAIGHT" and HARDER TO INSTALL
.
REAR WINDOW –
Left or right.

2 needed per CAR.
Forms side and bottom
OR
side & top.
Side & Bottom 65-69 Coupes 1 1/2" – C3600R
1 lb.
Side & Top 65-67 4-Door 1" – C5386 1 lb.
TOP OF FRONT OR REAR WINDOW
Front window top strips Coupe & 4-Door. Top of rear window – Coupes.
65-69 Top Strips – C5386 1 lb.
Add color code (page 264) to end of part number.
(example: C9658HB)
ALL ITEMS
Pgs. 264-288 qualify for
Interior Discount
see Blue pg. MK-2
Online
ordering
Online
ordering
See
Pg 269C
C10929
See page
269C
C9023
C8984
C8985