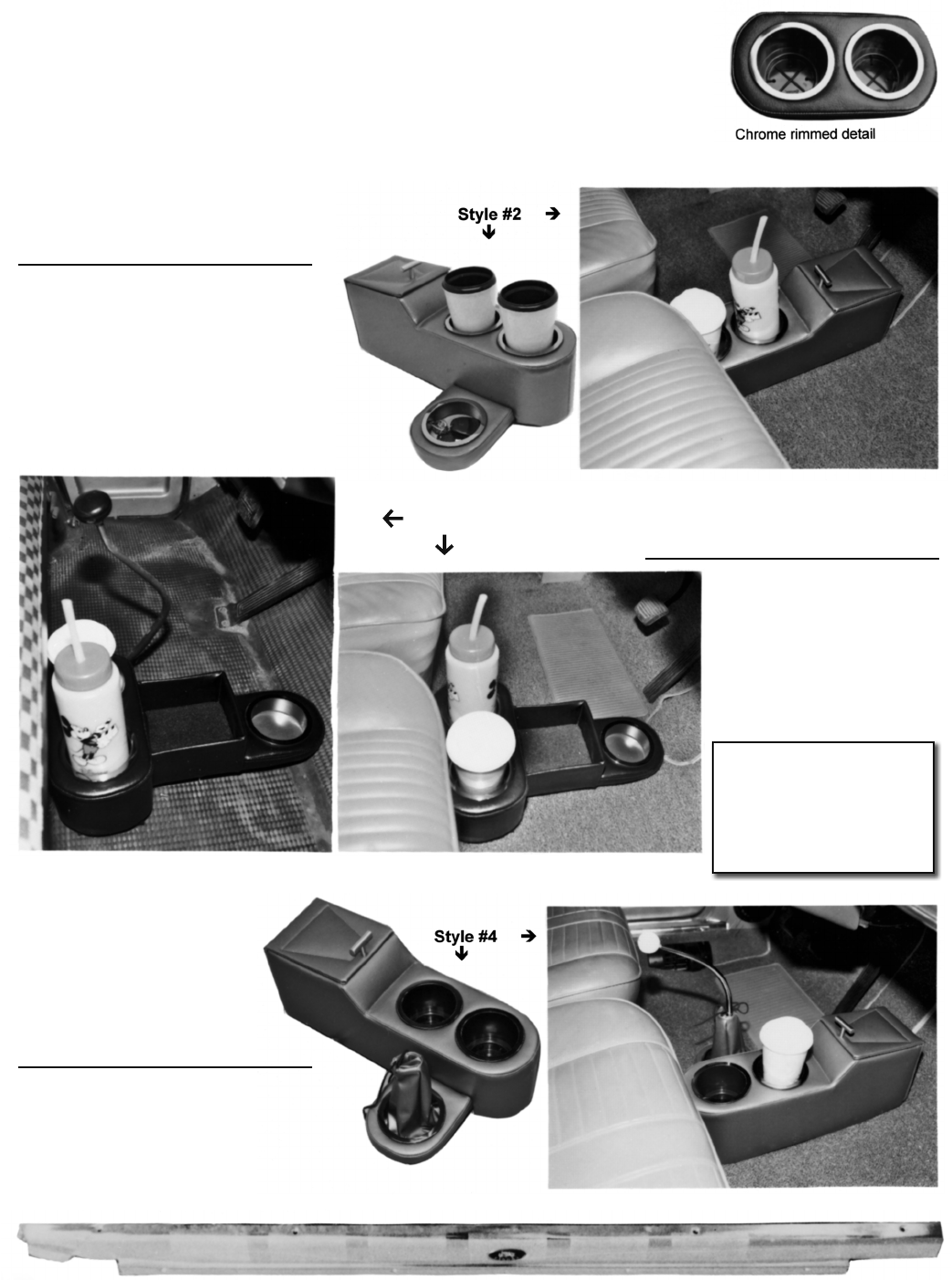 i
WARNING:
Products on this page can expose you to a chemical, which is known to the St

ate of California to cause cancer or reproductive harm. **For more information go to www.P65Warnings.ca.gov**
269B
CORVAIR CONSOLES –
General Info
These high quality padded consoles are made for us using Clark's vinyl so they match our interiors exactly. Some
can act as padded center armrests, some have enclosed storage areas and others have a place for coins/keys,
etc. All have 2 cup holders that are chrome rimmed to add to the original "60's look". You may also want to
consider matching your carpet rather than the upholstery if your console will be on the floor. The consoles can
easily be installed or removed without harming your interior. Now you can have a place to put that large drink or
bottle without risking damage to your interior. Because they match the original interior, they almost look like a
factory accessory. Even the inside storage compartments are lined! A quality product.
Note: Some console photos
were taken using contrasting colors so they show up better.
These sell like hotcakes at the National CORSA
Conventions.
CONSOLE STYLE #2
60-64 Cars w/Bucket or Bench & PG trans.
The coin container and velcro on the bottom
make this a very secure console. The lined storage
compartment is approximately 5" x 5" x 5 1/2"
deep and can hold 4 1/2" x 4 1/2 " x 5" tissue
boxes or other items.
Style #3
CONSOLE STYLE #3
61-65 FC (PG or Std)
60-64 Cars w/Bucket or
Bench Seats & PG
A compact, padded console
contoured on the bottom to "hug" the
Corvair tunnel. There are 2 large cup
holders, a storage bin large enough
for CD's and a coin/key container.
EARLY CARS & the ONLY STYLE for FC's (VANS)
CONSOLE STYLE #4
60-64 Cars w/Bucket
or Bench Seats & Standard Transmission
Simply remove the shift knob & original rubber shift
boot & this vinyl "boot" fits right over the shifter. The
lined storage compartment is approximately 5" x 5" x
5 1/2" deep and can hold a 4 1/2" x 4 1/2" x 5" tissue box or other items. The
shifter & velcro on the bottom make this a very secure console.
1960-64 REPRODUCTION DOOR SILLS – See page 298
To Order All Styles
See Charts
on NEXT PAGE