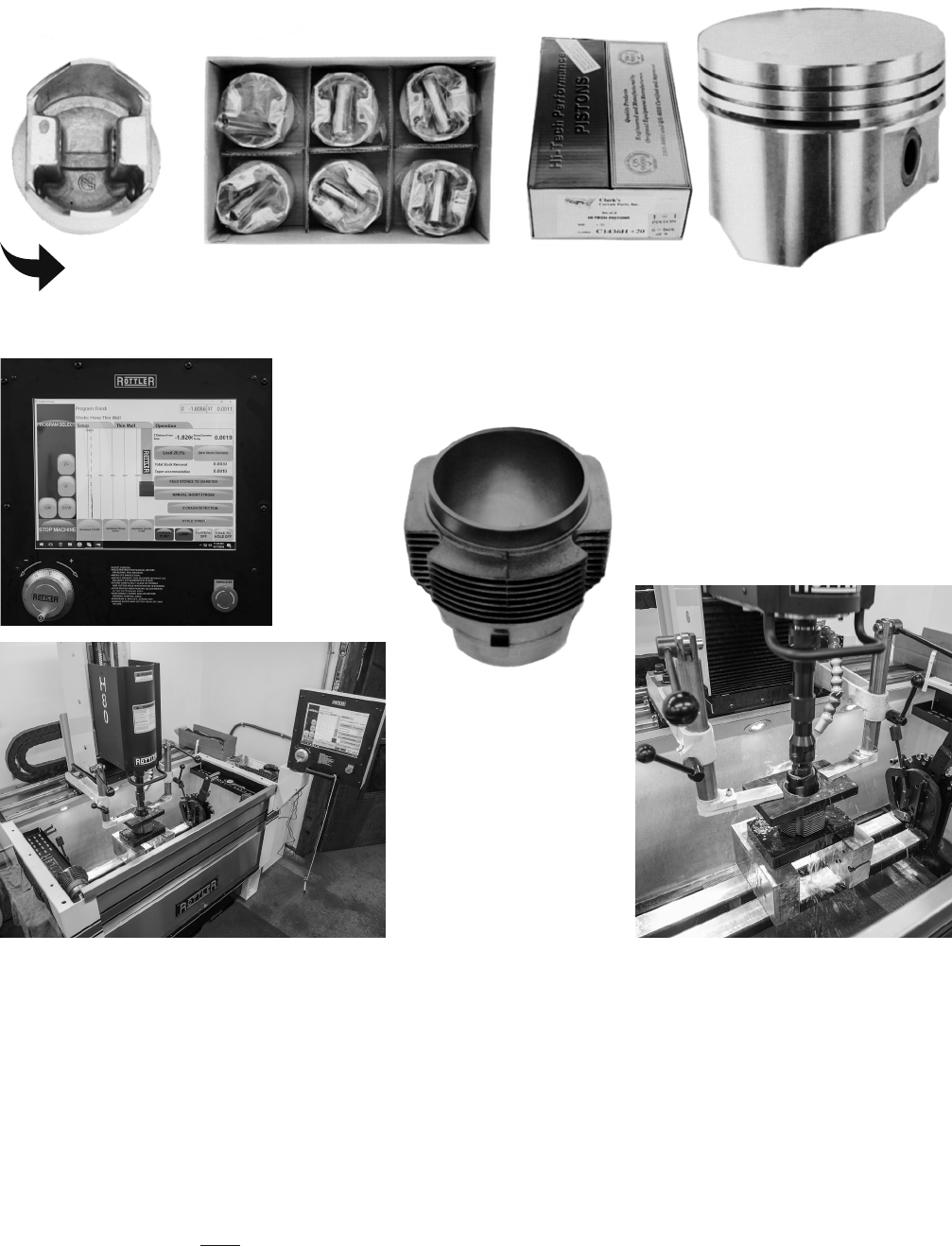 i
WARNING:
Products on this page can expose you to a chemical, which is known to the St

ate of California to cause cancer or reproductive harm. **For more information go to www.P65Warnings.ca.gov**
23A
Clark's QUALITY PISTONS
Order CLARK'S pistons
and if you don't agree that these are the best pistons you've ever seen you're
welcome to return them for a full refund on the piston price
(shipping not refunded)
.
NEW CLARK "FULL FIN" CYLINDERS • PG 23B
BORED CYLINDERS • PG 23B
CYLINDER/PISTON/RING KITS • PG 23C
All used cylinders are inspected,
cleaned, blasted, bored, oiled, sealed
in plastic bags and individually boxed.
We only do Corvair cylinders. We are
always
"set up"
just for Corvair.
Get our perfect cylinders for your
engine rebuild.
BORING + HONING
After 30+ years of boring and honing over 30,000 Corvair cylinders on manually operated equipment, it was time to bring our cylinder refinishing
operation up to modern automation. We purchased a new Rottler H85 CNC unit which uses diamond stones and gallons of coolant to keep the
cylinders clean, cool and stable. We are able to efficiently provide you with the best possible cylinders for your Corvair motor. This machine is used
exclusively for used original cylinders and new Clark Full Fin Corvair cylinders in +20 to +60 sizes.
The touch screen display enables us to program specific finishes into the system and can see how the cylinder is coming into size as well as seeing
that it is straight and accurate. Programs for the exact finish can be adjusted on screen to give the most accurate finish along with a plateau hone
that finishes up the process on these perfectly cross hatched cylinders.
CLEAN – CYLINDERS – CLEAN!
Be sure to "double clean" bored/honed cylinders. Fine honing grit can stay lodged in the hone lines and cause rapid wear on your new pistons and rings.
HONING A MUST!
Corvair cylinders
MUST BE
honed.

NEVER

just put in new rings without honing the cylinders. Most Corvair cylinders really need to be checked for taper from top to
bottom. If all you are going to do is hone the cylinders, it really should be done with a professional honing machine that can true the bore better than a hand held
hone.
NOTE: We almost never find used cylinders that can be honed to standard size.
YOU MUST HAVE A SHOP MANUAL AND THE ASSEMBLY MANUAL!!
We are constantly asked "what books must I have?" As long as we have worked on Corvairs, I still constantly
refer back to these books (especially the assembly manual.) See pages 243A–244.
Bored GM Cylinder