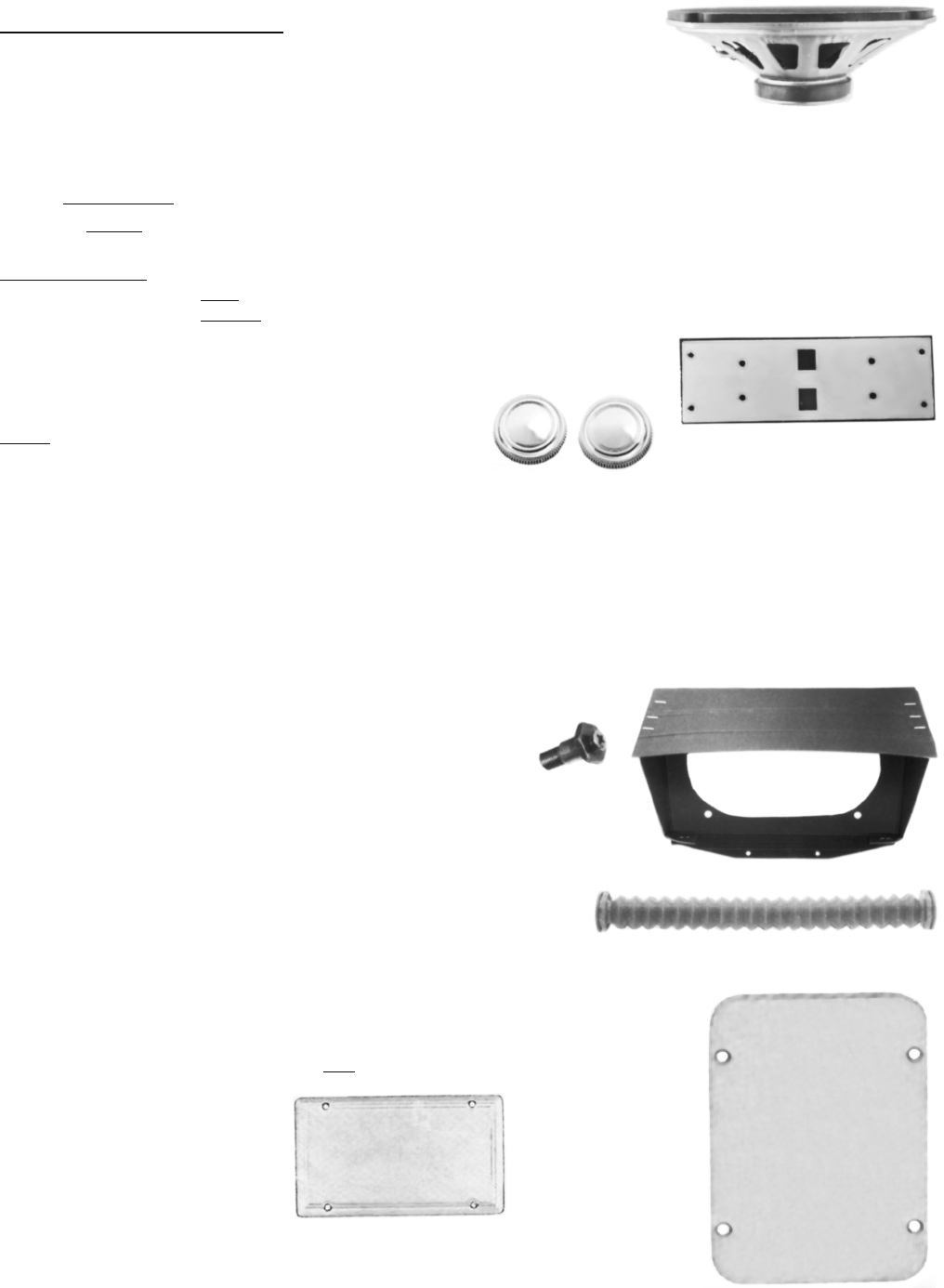 i
WARNING:
Products on this page can expose you to a chemical, which is known to the St

ate of California to cause cancer or reproductive harm. **For more information go to www.P65Warnings.ca.gov**
172
Radio Speaker
10 Ohm Speaker – Air Suspension
This is a quality speaker that can be used with any original radio or replacement radio. It is better with base
& mid; not quite as good with treble, but sounds great in a car. Use for rear seat speakers or front center speaker.
NOTE: It will not fit in the original Corvair speaker mount (the magnet is too large), so you would have to fabricate
your own. Black fabric covered.
C8256A

4 lbs.
Better Sound?
Use STEREO SPEAKERS PAGE 171

(even for stock radios)
BLACK GRILL CLOTH:
Recover speaker if it is still good.

1960-69

C3107

4 oz.
SPEAKER WIRES:
You can transfer your old or purchase this replacement. These are NOT exact because one brass terminal is no longer available
and the wires are not "siamesed" but it fits right to the radio and works.
C8404
10 oz.
SPEAKER BEZEL:
1960-64 Cars with padded dash had a metal "bezel" around the speaker, set into the dash. Comes with attaching nuts.
(Set of 4) PAL NUTS –
C6179N
1 oz./set
RADIO HOUSING GASKET:
1960-64 Cars
This exact reproduction gasket fits between the radio housing and where it bolts to the bottom of the dash
to prevent rubbing noise.
C7247
1 oz.
KNOBS:
1967-69 Radio – EXACT REPRO – Set of 2 – C8995
4 oz.
Note: Will not fit our replacement radios
FACTORY STEREO & MULTIPLEX PARTS
Other Radio Parts – see pgs. 171-171B
DIAGRAM for Multiplex BRACKET:
At 100% with details so you can make an exact replacement

(thanks to Mark Corbin)

C11569

1 oz.
1965 Multiplex Instructions
C10096
2 oz.
1967- 69 Multiplex Installation Instructions:
Convertible rear
1966 Installation Instructions:
Repro of Chevy instructions.
speaker sheet is from1966 instructions.
C10097
2 oz.
Coupes, Convertibles & 4 Doors.
C4981
4 oz.
Stereo Multiplex Adaptor:
Parts list, schematics, testing notes.
1965 Front Speaker Harness:
Connects dash speaker to multiplex (same as regular radio).
1965 Rear Speaker Box
(Convertible): Exact Repro.

C10082

1 lb.
1965-69 Rear Speaker Box Mounting Hardware
(Convertible): Exact repro.
Mounts speaker and grill to box. Sold set/4 (enough for one speaker).
C10083
6 oz.
1966-69 Front Door Speaker Pigtail:
Exact Repro. One end is soldered to front speaker
(connects to front door speaker harness)
C10087
Discontinued
Door Wire Accordian Boot:
Repro of factory multiplex boot to protect wires from front
door jamb to front edge of door. Great for adding stereo speakers in door.
C10085
4 oz.
MULTIPLEX PARTS LIST:
This FREE list gives a short intro. to the 65 & 66-69
MULTIPLEX
and lists items that we have for this rare option. These items are also listed above.
MULTIPLEX LIST C2X
FREE 1 oz.
1966-69 Front Door Stereo Speaker Grills:
Pair of Exact Repro.

C10091

2 lbs./pair
1965-69 Rear Seat Speaker Grill:
Coupe or Convertible. Nearly exact repro.
Sold
each

.

C13073

1 lb. ea.
C8256A
C10085