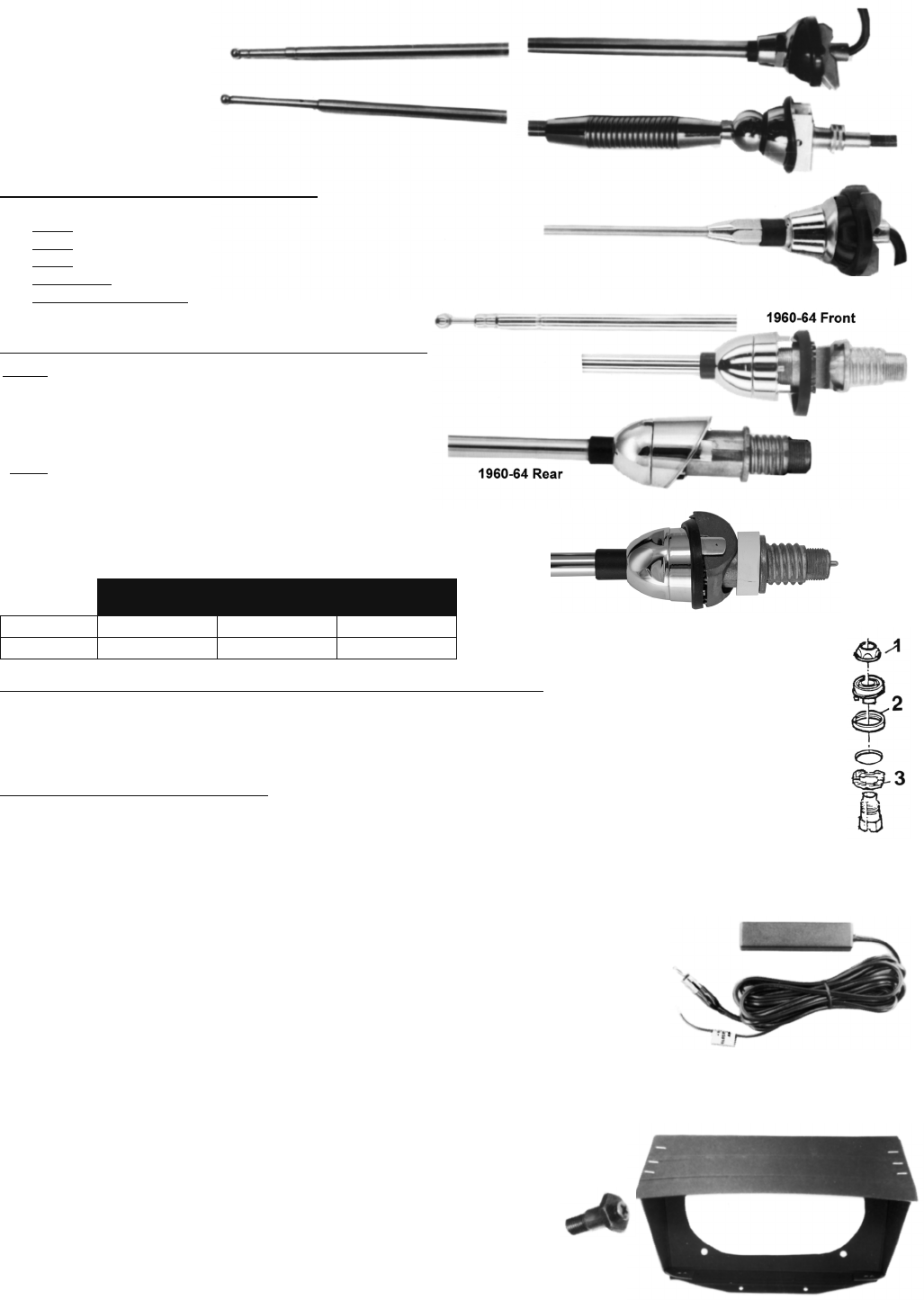 i
WARNING:
Products on this page can expose you to a chemical, which is known to the St

ate of California to cause cancer or reproductive harm. **For more information go to www.P65Warnings.ca.gov**
171B
ANTENNAS
REPLACEMENT ANTENNAS:
Not original.

For ALL Cars and FC's (Vans). All can be used for AM & FM,
but overall best FM reception is at 30-32". Removable masts unscrew for easier car cover installation and storage.
FRONT:
3-section, Removable Mast. 1960-69 All
C2416
1 lb.
FRONT:
3-section, Spring Mounted. Helps prevent breakage. 1960-69
C3489
2 lbs.
FRONT:
1-section , Fixed Length for FM only.
C5366
1 lb.
REAR MOUNT:
C2416 with a long cable. 1960-69 Cars.
C883
2 lbs.
REAR ANTENNA WIRE ONLY:
We offer the rear antenna & wire, but this is just the rear wire lead. 108" long.
C11571
2 lbs.
For replacement antennas only.
EXACT REPRO ANTENNAS - CARS
FRONT:
These look original above the body. The early are exact for 63-64 and very close for 60-
62.
The late are exact for 65-66 and very close for 67-69. Lead cables may be slightly longer
than original. Original style mast (most years), nut, base, gasket, copies of original instructions
& templates also included.
REAR:
The same description as above. These do not have all of the original
mounting hardware for underneath, but otherwise exact. "Dummies"
or "Fake" antennas were an option for the left rear to compliment
the real antenna on the right rear. Dummies do not come w/ any cables.
Original style mast (most years), nut, base, gasket, copies of original
instructions & templates also included.
FRONT
with CABLE
REAR RIGHT
with CABLE
REAR LEFT
DUMMY
1960-64 Cars
C10899

C13057

C13058
1965-69 Cars
C13062

C13063

C13064
ANTENNA INSTALLATION INSTRUCTIONS & TEMPLATES
Copies of original instructions and templates (index stock). These come with our exact repro antennas or order separately.
NOTE:
Originals for some years may vary slightly. All 4 oz.

1960 Ft Antenna

C4470E
1961-64 Front Antenna (from '64)

C4470F

1965-69 Front Antenna

C4471F
1961-64 Rear Antenna (from '64)

C4470

1965-69 Rear Antenna

C4471
ORIGINAL ANTENNA PARTS
These only fit the original GM and repros.
1 – Chrome Nut:
Front or rear 60-64

C13071

4 oz.
Front or rear 65-69
C9354
4 oz.
2 – Gasket: Front 1963-64
(?61-62)
Front & Rear 65-69

C9355

1 oz.
3 – Ground "Nut":
Holds antenna under the fender & creates the ground.

1965-69 Front or Rear

C9356

Discontinued
HIDE AWAY ANTENNA
– Don't want an external antenna?
This amplified AM/FM antenna is about 85% as good as an external antenna. Adhesive attached to inside top of front or rear windshield
or place on dash or package area. Requires 12 volt power lead. Has antenna to radio lead that is 100" long.
C11437
1 lb.
1965-69 ANTENNA WIRE GROMMET –
This large single hole grommet is used where the antenna wire
leaves the trunk. This is exact except that the center hole is a little larger than the original.
C5964A
2 oz.
RADIO NOISE SUPPRESSOR CONDENSER –
.3MFD (Non-Delco) This condenser comes with all needed
connectors to allow you to use it for any of the following.
(
Note:
Some of these were original .5 MFD but these work fine).
1960-69 coil condenser, 1960-64 generator condenser, 1960-69 voltage regulator condenser
C621X
6 oz.
Rear Conv't. SPEAKER SUPPORT/BOX:
These were used with rear speakers & multiplex.
NO
MOUNTING HARDWARE INCLUDED.
Come assembled.
All 1 lb.
SOLD EACH.
1965 –
C10082
1966 –
C10638
1967-69 –
C7295
REAR SEAT CONV'T SPEAKER GRILL:
Repro of original.

C13073

1 lb.
1965-69 REAR SPEAKER BOX MOUNTING HARDWARE:
Convertible
Exact repro.
Mounts speaker and grill to box. Sold set/4.
C10083
6 oz.
REAR SEAT SPEAKER PACKAGE AREA SUPPORT
65-69 Coupes & 65-67 4-Door –
see page 287
& C883
1965-69
Front & Rear
C2416
C3489
C5366
C11437