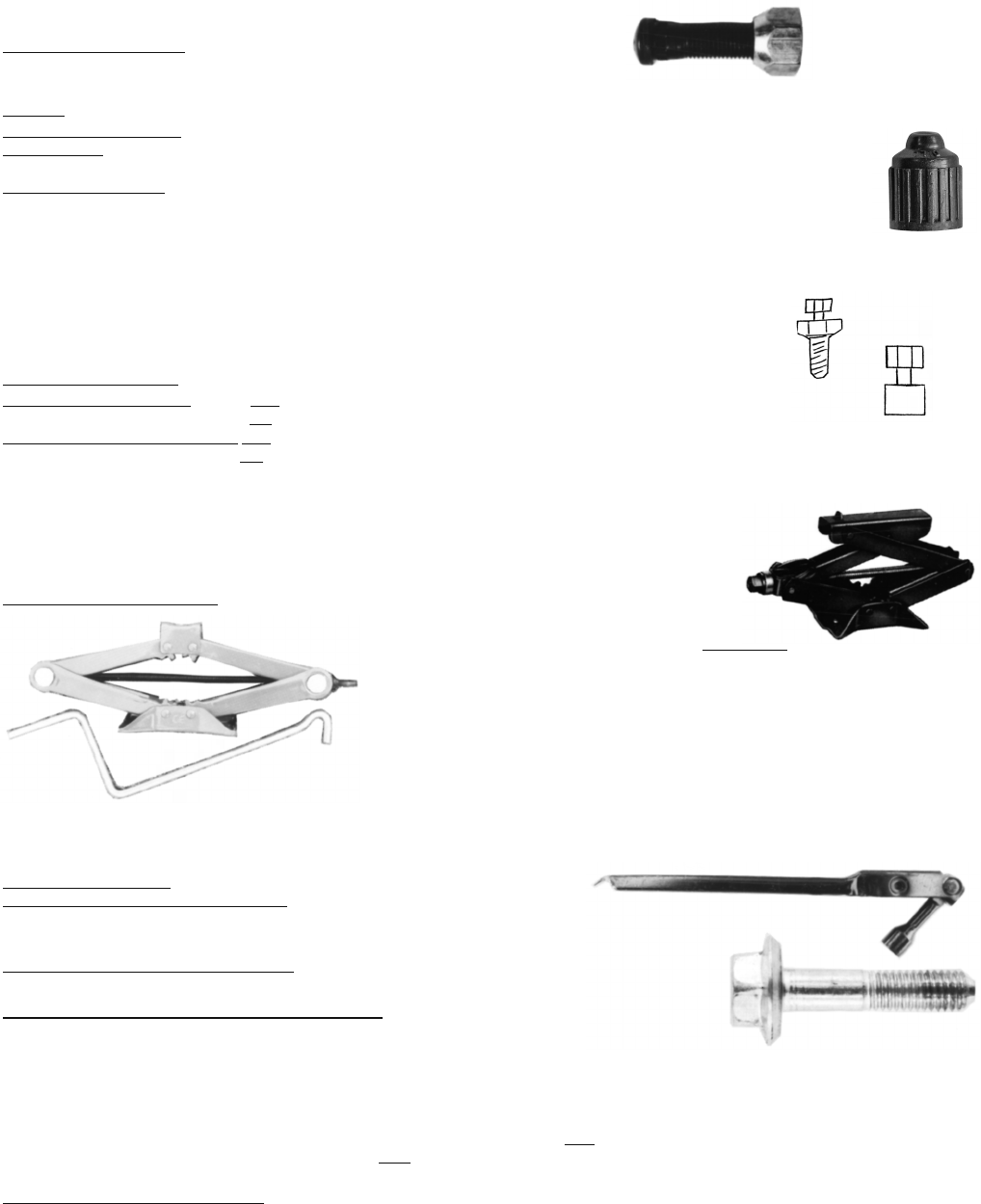 i
WARNING:
Products on this page can expose you to a chemical, which is known to the St

ate of California to cause cancer or reproductive harm. **For more information go to www.P65Warnings.ca.gov**
168
WHEEL & TIRE PARTS
REPLACEMENT LUG NUT STUDS: 1960 Cars
C4398
2 oz.
1961-69 .004 OVERSIZE on SERRATION
C6028
2 oz.
LUG NUTS: All 1960-69 Cars & Vans
C592
2 oz.
SPARE TIRE HOLD DOWN BOLT: 1961-64 with spare "in engine" (2 needed)
C3879
6 oz.
GM WHEEL RIMS:
See USED page 382
Original Valve Cap
These black plastic valve caps are original for all GM cars from 1960 to about 1999. Sold each.
C4016
1/2

oz.
1961-69 Cars
– All used the same locking mechanism. In 1961-64 it locked onto a special "lug bolt".
In
1965-69
it is locked onto a special "lug nut".
COMPLETE SPARE TIRE LOCK KIT:
1961-64

C6832

10 oz.
LOCKING UNIT & KEY ONLY:
1961-69 Cars

C198

8 oz.
LOCKING BOLT OR NUT ONLY:
1961-64 BOLT

C1670

4 oz.
REGULAR SPARE TIRE HOLD DOWN BOLT: BOLT – 1961-64 (2 needed). Nice Repro.
C3879
6 oz.
Seldom have new.
NUT – 1965-69 (2 needed)
C592
2 oz.
CORVAIR JACKS
NEVER WORK UNDER A CAR THAT'S ON A JACK!
ORIGINAL JACKS:
Original jack for 1961-69 Cars.

C821

10 lbs.

seldom have new
RECONDITIONED JACKS:
We take our best original Corvair jacks, clean them, blast them, paint them
and grease the screw.
60-69 Cars C11583
5 lbs.
NON-ORIGINAL JACKS:
Similar to original but

NOT ORIGINAL

.
Actually is a much stronger 1 ton jack.
Use for 1960-69 Cars or Vans. Comes with jack handle.
MAY VARY FROM PHOTO.
C821V
7 lbs.
JACK STORAGE SPRING:
61-64 Cars – Holds jack in place. Replace old stretched one.
LUG WRENCHES
ORIGINAL LUG WRENCH:
1960-69 Cars – is 1965-69 style with hole in handle.

Seldom have new.

C1O1M

2 lbs.
REPLACEMENT LUG WRENCH: It works but is not original.
C1O1MX
2 lbs.
WING NUT FOR HOLDING ORIGINAL LUG WRENCH: 1965-69 – in left corner of trunk or engine compartment.
1961-64 SPARE TIRE BOLT:
Nice repro of this bolt that is usually missing! 2 needed for 1961-64
(except A/C and factory wire wheels)
C3879
6 oz.
1961-64 Spare Tire Bracket Screws:
These are the large Phillips head that hold the bracket.
These are very similar but the head is not exact (3 needed). Set of 3
C4723X
4 oz.
1961-64 Cars –
SPARE TIRE FELT:
Cars with the spare in the engine compartment originally had a piece of tar/felt
on the bottom of the spare tire area to prevent noise & wearing of the paint. We now offer a dense felt that does that even better – must be glued in place
(C7033 or C3735 or any contact/good gasket cement). Includes instructions and template.
C11698
4 oz.
CRITICAL PARTS –
Cables, brake parts, exhaust, transmission parts. We know that many important parts have been discontinued. We will reproduce as
many as we can, but we could easily spend $1,000,000.00 in 2 months on reproductions and still have plenty left to do!
DETAILED ORDER PRINT OUT:
No matter how you order from

CLARK'S

you always get a computer generated, detailed copy of everything
about your order. Parts descriptions, costs, shipping, core refunds, etc. etc. etc.
Another
service of

Clark's Corvair Parts,® Inc.

– – – You expect more from CLARK'S and – – – you get M O R E !
C4016
C1670
C5034
TIRES – SEE PAGE 120