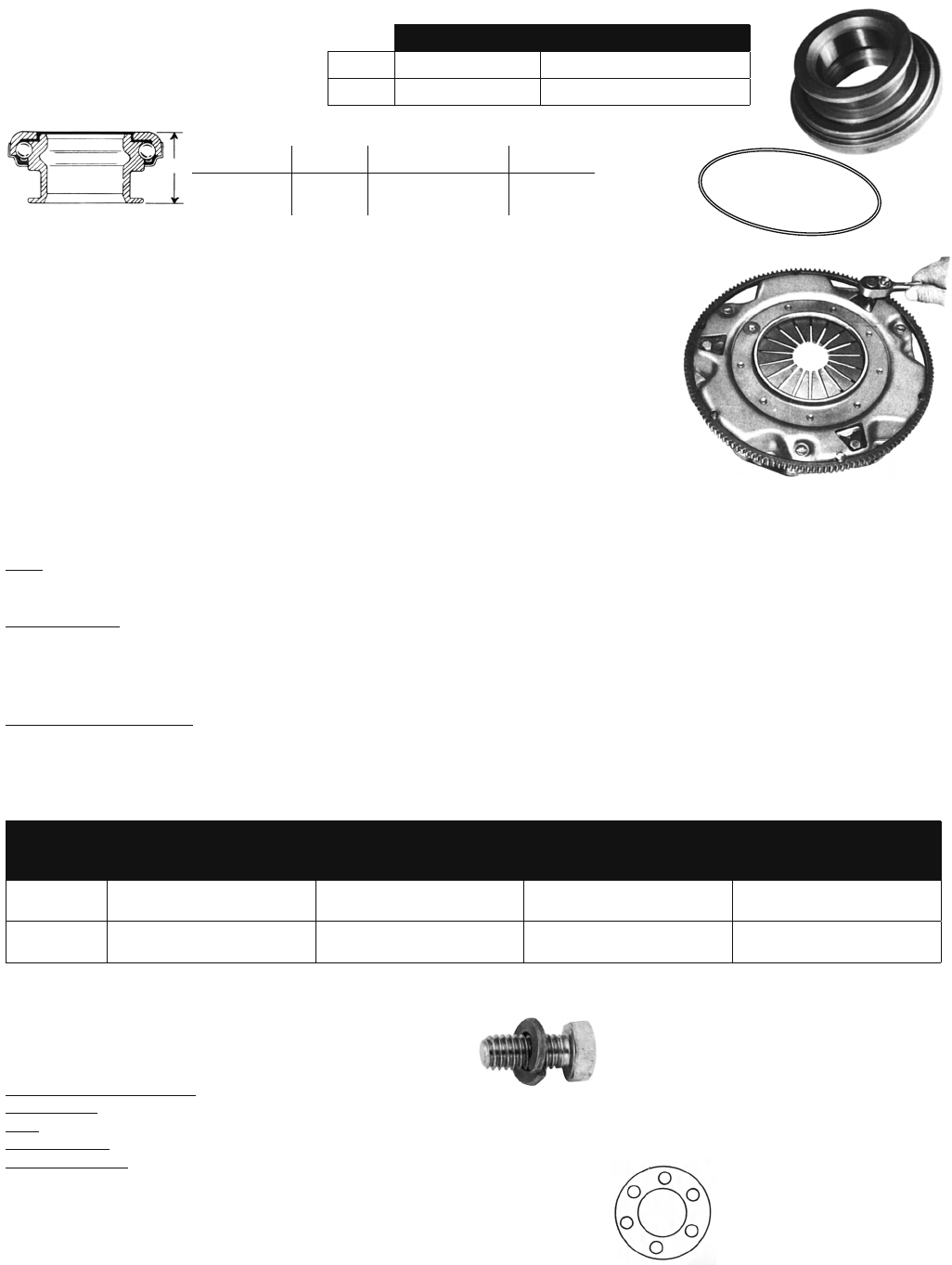 i
WARNING:
Products on this page can expose you to a chemical, which is known to the St

ate of California to cause cancer or reproductive harm. **For more information go to www.P65Warnings.ca.gov**
111
THROW OUT BEARINGS
Replace that squealing bearing while you are doing that clutch job. You'll never forgive yourself if it starts 2 months later! Be sure to correctly engage the clutch fork fingers.
We are offering a choice of top quality throw out bearings. Note: If someone switched pressure plates your car may need a different throw out bearing.
See page 108 & below for throw out bearing info & measurements.
BEARING HEIGHTS
The Corvair Shop Manuals list heights for the throw out bearings but they do not agree with our figures and parts we have always sold.
Various brands vary slightly.
Pressure Plate
Year

Shop Manual Figures

Our Figures
Flat finger
Bent finger
1960-63
1964-69
1 7/8"
1 1/4"
1 5/16"
1 7/32"
Clutch Fork:
Moves release bearing. Clip springs often break. All 1960-69 (usually out)

C649

2 lbs.
Clutch Fork Pivot Ball Stud:
Easily replaced. All 1960-69

C649A

Discontinued

– See USED page 355
PRESSURE PLATES –
Checking a used pressure plate
Bad or warped ring gears often break the starter housing. The pressure plate spring (diaphragm) fatigues with use
and heat. Also check the ends of the fingers for wear as well as the clutch contact surface. BE SURE TO ORDER
THE CORRECT PRESSURE PLATE FOR USE WITH THE CORRECT FLYWHEEL.
See page 108.
Rebuilt Pressure Plates
(with new ring gear)
These pressure plates are rebuilt to the very highest standards. Each pressure plate is completely disassembled and cleaned,
grit blasted and inspected. Each cover is machined true where it attaches, the casing is parallel ground and circularly shimmed
as needed to compensate for machining. It is attached with new return springs.
NEW DIAPHRAGMS ARE INSTALLED using new
rivets.
The units receive a final dimension check. All pressure plates get new ring gears and are welded before the rebuild process
and trued so the units are not affected once they are rebuilt. It is still possible that due to the many variables a particular pressure plate
may not function correctly.
WE WILL REPLACE THE PRESSURE PLATE OR REFUND THE FULL COST – BUT THAT IS THE EXTENT OF OUR LIABILITY.
FAILURES OR PROBLEMS ARE VERY RARE!
NOTE:
We no longer sell pressure plates with used ring gears. It is too much work to install a pressure plate to trust a used ring gear. Also, be sure to check your flywheel! If
the rivets have loosened, the flywheel may shift off center. For high performance applications, the pressure plate, clutch disc and flywheel should be balanced as a unit.
CORE VALUE:
Your pressure plate (if not "junk"-rust pits or dented cover) has the core value listed in the Price List. This value has already been added into the cost
and will be refunded when we receive your old pressure plate shipped back to us post paid. If you order a heavy duty & return a 64-69 "regular", you only receive 64-69
"regular" core credit. If you return a 60-63, you only receive 60-63 core credit.
Please Return your Core
Regular & Heavy Duty:
The regular pressure plates came from the factory with 900 lb. diaphragms. We always replace these with 1200 lb. & also offer a 1500
lb. option. The heavy duty (with the larger cast clutch surfaces) came with 1200 lb. diaphragms. We have increased those to 1500 lb. & also offer an 1800 lb. option for
64-69. If you want maximum pressure plate force, order the 1800 lb. option (it will increase the pressure required to release the clutch). For regular, street driving, we
recommend the 1500 lb. option. Heavy duty originally came on 1962-66 Turbo & all 140hp. engines (62-63 heavy duty have the original welded "spacer" nuts).
Gr.=gear
Check page 108 – Order the Correct Pressure Plate

ALL HAVE NEW DIAPHRAGMS & RING GEARS
MULTI-KITS
See page MK-9
YEAR
(Large Casting)
(Large Casting)
1960-63
"Flat Fingers"
C3764NR
C

8743NR

C3765NR 20 lbs.

None
1964-69
"Bent Fingers"
C3766NR
C8745NR

C3767NR 20 lbs.

C12637

20 lbs.
BOLTS – Pressure Plate:
1960-69 ALL

– Bolts pressure plate to flywheel. These bolts

should be replaced.
Sold Set of 6 with Lock Washers.
C1143
6 oz./set
REBUILD PARTS – PRESSURE PLATE
Please note that it is very hard to correctly remove and weld on a starter ring gear.
Pressure Plate Starter Ring Gear:
1960-69 (exc. PG)
C2604
2 lbs.
CLUTCH COVER:
1964-69 All (with pressure plate fingers and ring gear) —

See "NOS" on website.
Bolts:
Retracting spring bolt, clutch cover to clutch plate. Replace those fatigued ones. Sold set of 3.
C3118
4 oz./set
Retracting Spring:
Clutch plate. Replace weak ones. 1963-69 All

Discontinued
WASHER – Hardened:
(Set of washers) These replace the "welded spacer nuts" if missing off your 62-63.
Heavy Duty pressure plate (between pressure plate & flywheel).
C3120
4 oz.
FLYWHEEL RETAINER "Washer"
Stock:
1960-69 All
C1564R
6 oz.
Special–Improved:
See page 109
DELCO
PREMIUM THROW OUT BEARING
1960-63
1964-69
MULTI-KITS
see Blue pg. MK-9
1/32
+
–
}
C1564R