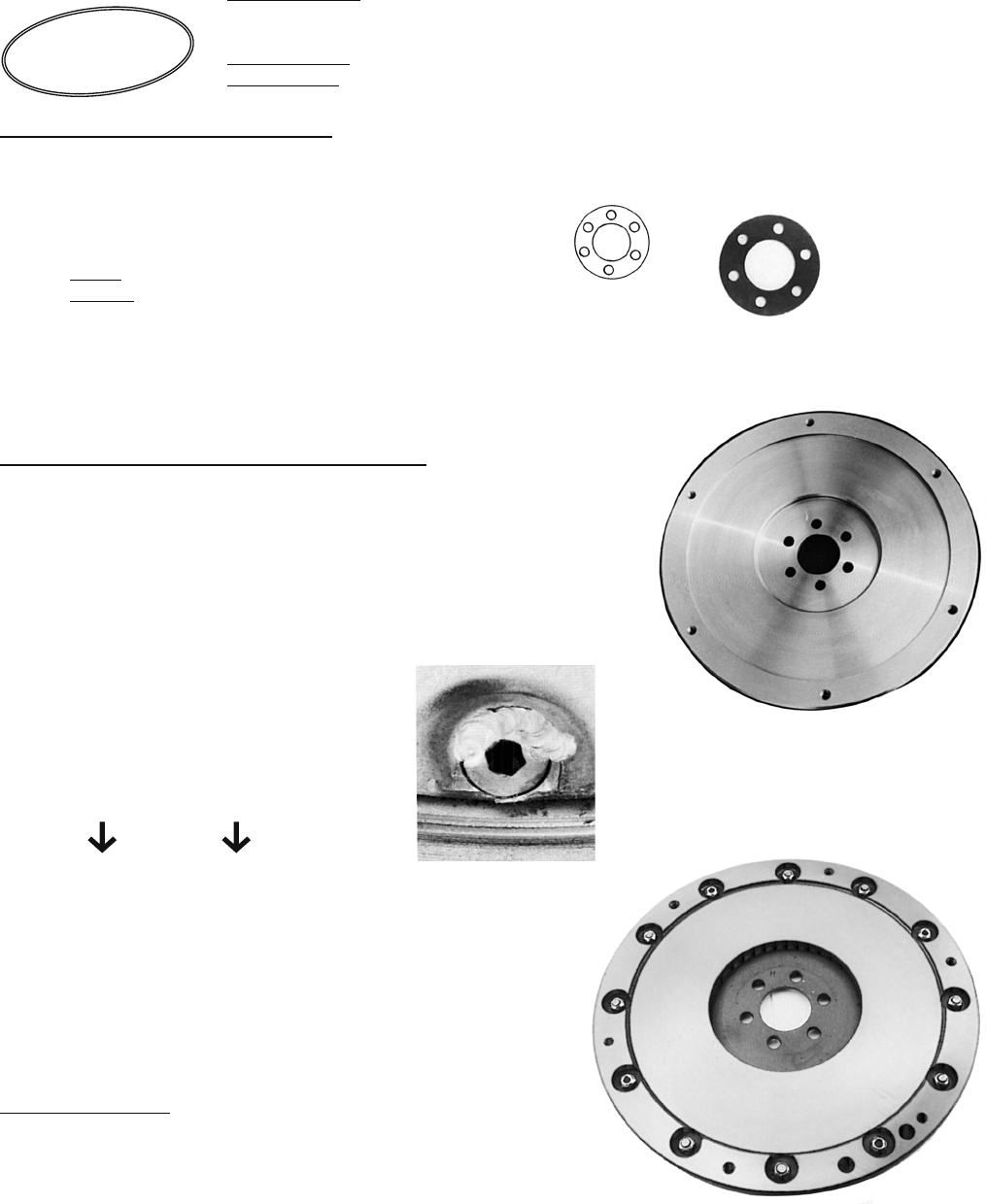 i
WARNING:
Products on this page can expose you to a chemical, which is known to the St

ate of California to cause cancer or reproductive harm. **For more information go to www.P65Warnings.ca.gov**
109
FLYWHEELS
We offer
REBUILT STOCK FLYWHEELS
and

SOLID STEEL FLYWHEELS
. Be sure to read about each type before ordering.
We also offer bolt kits to rebuild your own.
Flat? Recessed? See page 108!
Bad Flywheels:
Stock flywheels are riveted together. They are usually good for 50,000 to 110,000 miles, then they start
to rattle and later also vibrate badly. If yours has over 75,000 miles and you are replacing a clutch disc,
I would replace the flywheel. Be sure to repIace all seaIs and gaskets.
See our "Special Gasket Sets" – page 4.
CHECKING
AN OLD FLYWHEEL:

We have found that 9 times out of 10 you can tell a bad flywheel as follows:
1. Hold flywheel in air by outer edge by one hand and hit center area
(where it bolts to crankshaft) with a hammer.
GOOD FLYWHEEL:

Sharp ringing sound. Sounds "solid" and crisp.
BAD FLYWHEEL:

Thud, no ringing sound, like hitting a giant piece of sheet metal. May even sound rattly.
STOCK FLYWHEEL:
NEW – ORIGINAL 3 PIECE STYLE –

Check "NOS" on website
See
SOLID STEEL below or

REBUILT STOCK top of page 110.
FLYWHEEL BOLTS:
1960-69 Standards – Set of 6 flywheel to crankshaft bolts

C787

6 oz.

/set
FLYWHEEL RING – Retainer Ring
This ring holds the stock and rebuilt stock flywheel to the crank gear.
DO NOT USE with Solid flywheels or with spring loaded clutch disc.
STOCK:
Original size – exact repro – 1960-69 All
C1564R
6 oz.
SPECIAL:
Improved – 1960-69 All
C7738
6 oz.
This ring has several advantages over the stock retainer ring.
1. The bolt holes are just large enough for the stock bolts (not way oversize like the original).
2. Made from high alloy and heat treated.
3. Slightly thinner than the original so allows bolts to fully engage.
4.
Not for use with solid flywheel or spring loaded clutch disc.
SOLID STEEL FLYWHEEL
Machined from 1 piece of high grade steel. No rivets, no flexing, or distortion. Slightly heavier
(by
about 2 lbs.)
than stock. Flywheel should last a lifetime. Less bogging starting off or shifting, very
little acceleration loss. So perfectly machined that balancing is only needed for high performance
or real hard driving. If you do get it balanced do so with your clutch and pressure plate as a unit.
Retainer ring not needed. We've sold these since 1976 – a truly proven product.
WORKS WITH ALL CLUTCH DISCS (Including Spring Loaded).
1960-63 FLAT STYLE
C2296E
18 lbs.
1964-69 STYLE (shown)
C2296
18 lbs.
REBUILT FLYWHEELS
Nearly every standard transmission Corvair has a failed or
failing flywheel.
We offer 2 TYPES of REBUILT FLYWHEELS
1. BOLTED FLYWHEELS
A.
The rivets are replaced with custom made, heat-treated taper bolts, welded and locking
nuts are loctited on for rattle-free service.
B.
The flywheel face is resurfaced and the finished assembly is then trued so that all
runout is corrected to less than .010" (far better than most originals). You may still
want to balance with your pressure plate & clutch disc for a smooth running engine.
BOLTED FLYWHEELS –
see core below
1960-63 (Flat Style)
C6373
18 lbs.
1964-69 (Recessed, Step Style)
C6374
18 lbs.
REFUNDABLE CORE FEE:
The price in the Price List includes a core fee which will be
refunded when you return a good core postpaid. The core refund is listed after the part
number and price. We
Do Not Accept
welded, modified, cores that have already been
bolted, or "rusty junk".
MULTI-KITS
see Blue pg. MK-9