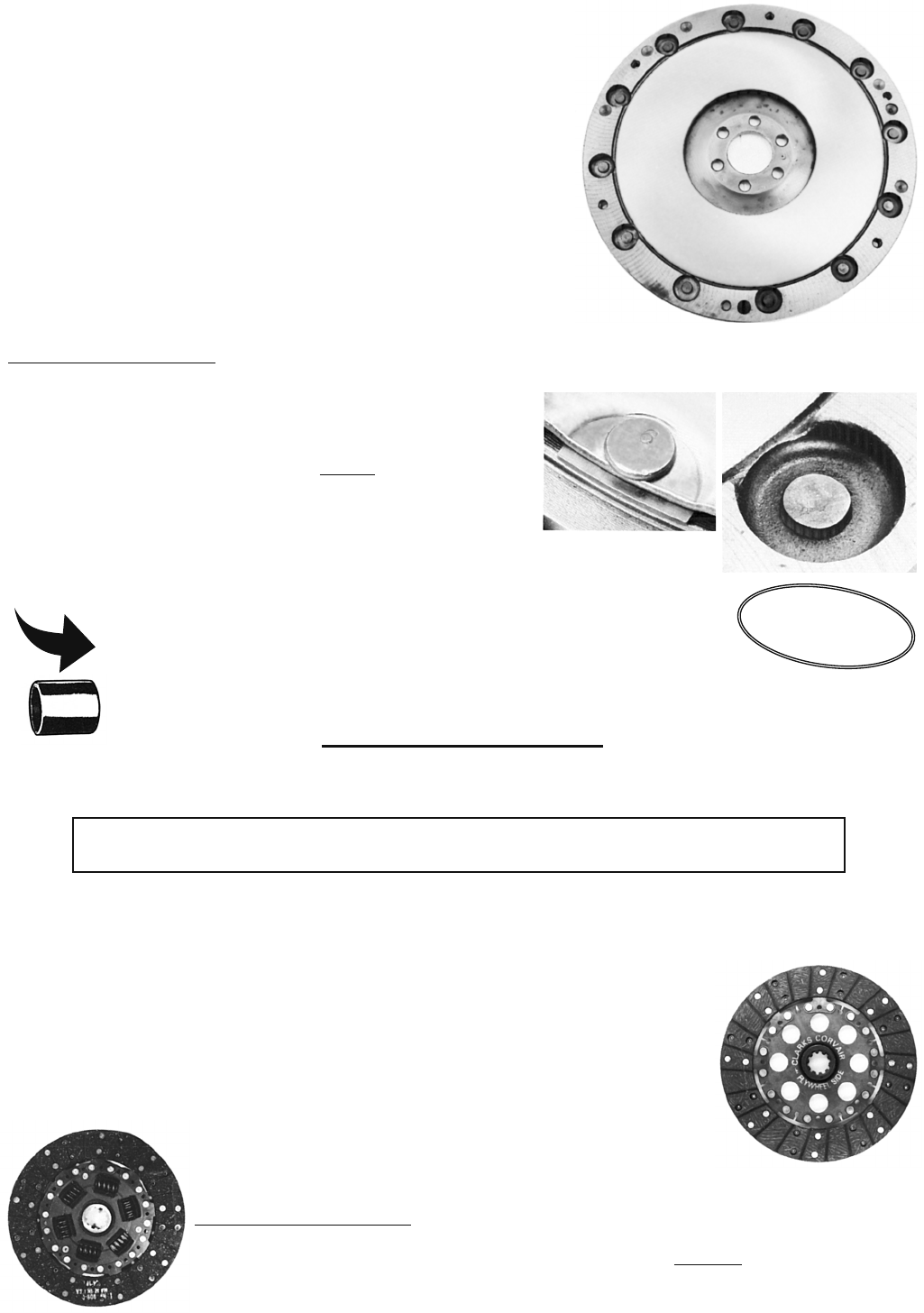 i
WARNING:
Products on this page can expose you to a chemical, which is known to the St

ate of California to cause cancer or reproductive harm. **For more information go to www.P65Warnings.ca.gov**
110
2. RE-RIVETED FLYWHEELS – Hot Forged
These flywheels are re-riveted using hot rivets for a tighter, stronger fit. They are then machined and
balanced to give you a better than stock, original style flywheel. Original Corvair flywheels were
assembled to an alignment spec. of .020 or more. These units have been aligned to .005 for
axial "edge" run-out and .008 or less radial "face" run-out. Unlike originals, these are then
precision machined and assembled with "Red Hot Forged Rivets". The factory method was to
press the rivets in cold. This resulted in loose rivet failures. The Red Hot rivet method makes
a tight secure bond that cannot be matched, even by bolting and has proven to be reliable
with NO rivet failures since 1976 and over 3000 flywheels rebuilt in this way, guaranteed.
The final step in our process is to dynamically balance the flywheel in steps, up to 3500
rpm, producing the finest flywheel available for Corvairs. It is highly recommended that the
new clutch pressure plate and disc be balanced with the flywheel before installation. Major
imbalance issues are directly the result of un-balanced or poorly balanced clutch pressure
plates. Wash away protective cosmoline coating with mineral spirits or other solvent before
installation.
PRICE INCLUDES A REFUNDABLE CORE FEE.
1960-63 (FLAT ST
YLE)
C6644F
18 lbs.
1964-69 (RECESSED , STEP STYLE)
C6645F
15 lbs.
REFUNDABLE CORE FEE:
The price in the Price List includes a core fee which will be refunded when
you return a good core postpaid. The core refund is listed after the part number and price. We
Do Not Accept
welded, modified, cores that have already been bolted, or "rusty junk".
FLYWHEEL BOLT KITS:
RE-BOLT YOUR OWN
Some people have indicated that they want to replace their rivets with bolts. (Grade 8
bolts and self-locking nuts). Set of 13 (1 extra) for
1964-69

. All reports so far indicate
good success. 5/16" requires a slight enlargement of hole.
1964-69 1/4" SIZE
C6021F
6 oz./set
(torque 1/4" to 14 ft. lbs. MAX)
1964-69 5/16" SIZE
C2201
8 oz./set
(torque 5/16" to 25 ft. lbs. MAX)
1960-63 STYLE:
These flywheels can now be bolted but it requires considerably more work. You must
remove the old rivets and then tap all 12 holes. The Grade 8 bolts are then tightened with Loctite (included).
Includes instructions.
1960-63 ONLY
C6852
8 oz./set
CLUTCH PILOT BUSHING:
All 1960-69 Standard Cars & Vans(FC). Includes
instructions on how to remove and install. A worn bushing allows excessive flexing in input shaft and chatter.
We sell only a top quality bushing. It's not worth it to settle for anything less!
C701
4 oz.
CLUTCH DISCS
Best Rebuilt Discs:
All used discs are disassembled, then installed on a machine that spins them and checks for run out. If a disc cannot be
corrected to new tolerances then it is thrown out. If it passes this phase then the spring tabs are checked and if acceptable a quality lining is
installed. This family-owned business has been rebuilding for 60 years. 9" will fit all Corvairs.
PERFORMANCE DISC – SEE PAGE 107
STOCK 8" REBUILT DISC:
We now have 8" rebuilt clutch discs back in stock.
It was stock for low horsepower engines 1960-69.
PRICE INCLUDES A REFUNDABLE CORE FEE.
STOCK 9" – NEW DISC:
Exact repro
Even though our rebuilt are the best available , they can't compare to
NEW!
Perfect splines, new spring tabs
(old lose strength), perfectly trued and balanced. Your old still has a core value.
NEW 9" DISC
C6603N
3 lbs.
>
MORE INFO see TECH page 397
STOCK 9" REBUILT DISC –
Welded Center
Top quality original style rebuilt clutch disc. Rebuilt using our BEST CORES. Also see
NEW
above.
PRICE INCLUDES A REFUNDABLE CORE FEE
refundable when your old clutch disc is shipped postpaid to us
or if you send it with your order.
All 1960-69
C6603
3 lbs.
CORES – Please Return!
The next customer needs your core.
Even if you bought a core part years ago, we still have records & will accept for full core paid at the time of purchase!
SPRING LOADED DISC
All machined, ready to install. No modification necessary. Spring dampened to reduce vibration and chatter.
CANNOT
BE USED ON 1960-63.
For 1964-69 style flywheels and pressure plates only.
Do not use retainer ring or washer
when using with a 64-69
Solid Steel Flywheel
.
C3072X
4 lbs.
>
Performance Disc – See Page 107
Re-riveted
CORE NOTE:
For full core refund on C6586

,

C6603 &

C3072X

you must return a

STOCK DISC WITH WELDED CENTER

.
No
credit for riveted centers. Please return in clear plastic bag.
MULTI-KITS
see Blue pg. MK-9