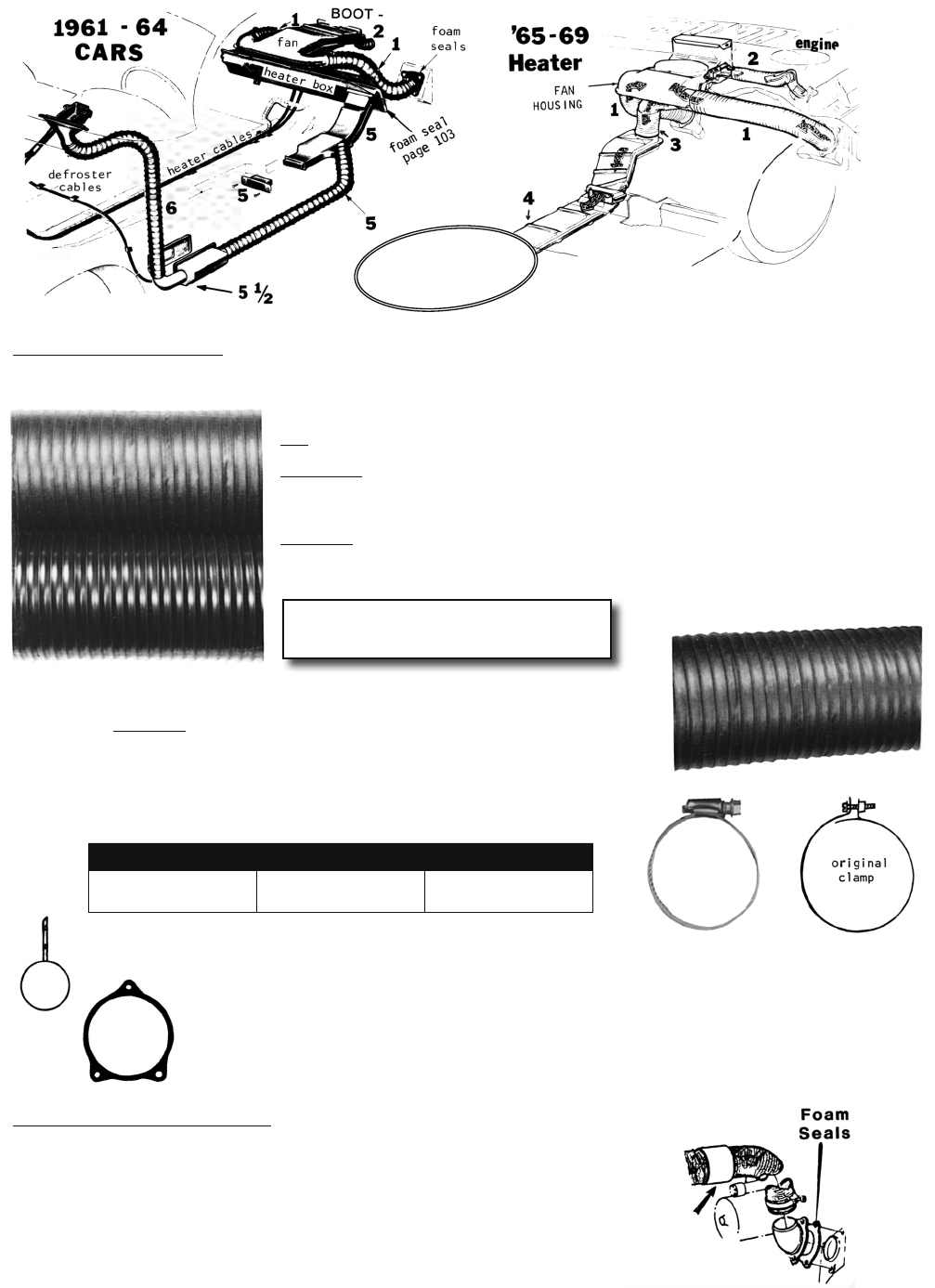 i
WARNING:
Products on this page can expose you to a chemical, which is known to the St

ate of California to cause cancer or reproductive harm. **For more information go to www.P65Warnings.ca.gov**
101
Heater Hoses
'61-69 Cars & Vans
HEATER HOSES
Replace those cracked, oily, leaky old hoses with exact replacement hoses. Replacing heater hoses will insure that you get all
the heat possible but they WILL NOT STOP "smells" ("smells" are dangerous and are usually due to leaking seals or gaskets).
2 Types of Hoses:
Both are self supporting like the originals.

NOT flimsy collapsing "drier hose"
Also see Multi-Kits Blue page MK-8.
Hint:
Spray inside of hose with a little silicone to ease installation.
ORIGINAL STYLE
EXACT REPRODUCTION of the original black style hoses. Stiff wire wrapped with neoprene impregnated fabric. Identical to
the hoses used at the factory. Not quite as durable as the rubber hose but usually good for many years of use.
RUBBER STYLE
Stiff wire wrapped in durable black EPDM rubber. This material looks good installed and is slightly more resistant to oil,
water and temperature extremes
...and it costs LESS $$!
Heater hoses should be kept as short and
direct as possible. Keep clear of exhaust!
PICTURE #
1.
4" Hose:
1961-69 Cars & Vans. 36" lengths. Goes from lower engine shrouds to heater fan
(either side – 2 needed). May require cutting hose for some applications.
Original Style
C386R

1 lb. 8 oz.
Rubber Style
C4255
1 lb. 8 oz.
CLAMPS:
2 needed for each 4" hose. We offer regular stainless, all stainless, and the original factory style.
Our price is good because we buy 5000 clamps at a time!
All Stainless
Regular Stainless Steel

Original Style
(Including Gear Clamp)
(Gear Not Stainless)
4" Clamp
Heater Hose Strap:
Metal, keeps hose up off drive shafts and starter. 2 needed. 1965-69

C837R

5 oz.
Foam Seals:
Original style, Clark reproduction. Fits all Cars & Vans 1961-69. Goes where heater hose ducts bolt to shroud.
Self-adhesive.
Right Side All
(exc. Turbo)
Right Side Turbo Only

C2286A
2 oz.
HEATER HOSE "COLLAR":
1961-69 Cars & Vans – Highly suggested!
GM installed a foam "collar" over the heater hose where it passed the starter solenoid so the wire in the heater hose
would not short against the starter.
C8281
10 oz.
Clark Heater Hoses
are the most original available
}
MULTI-KITS
see Blue pg. MK-8
f
Pg. 104
C8281