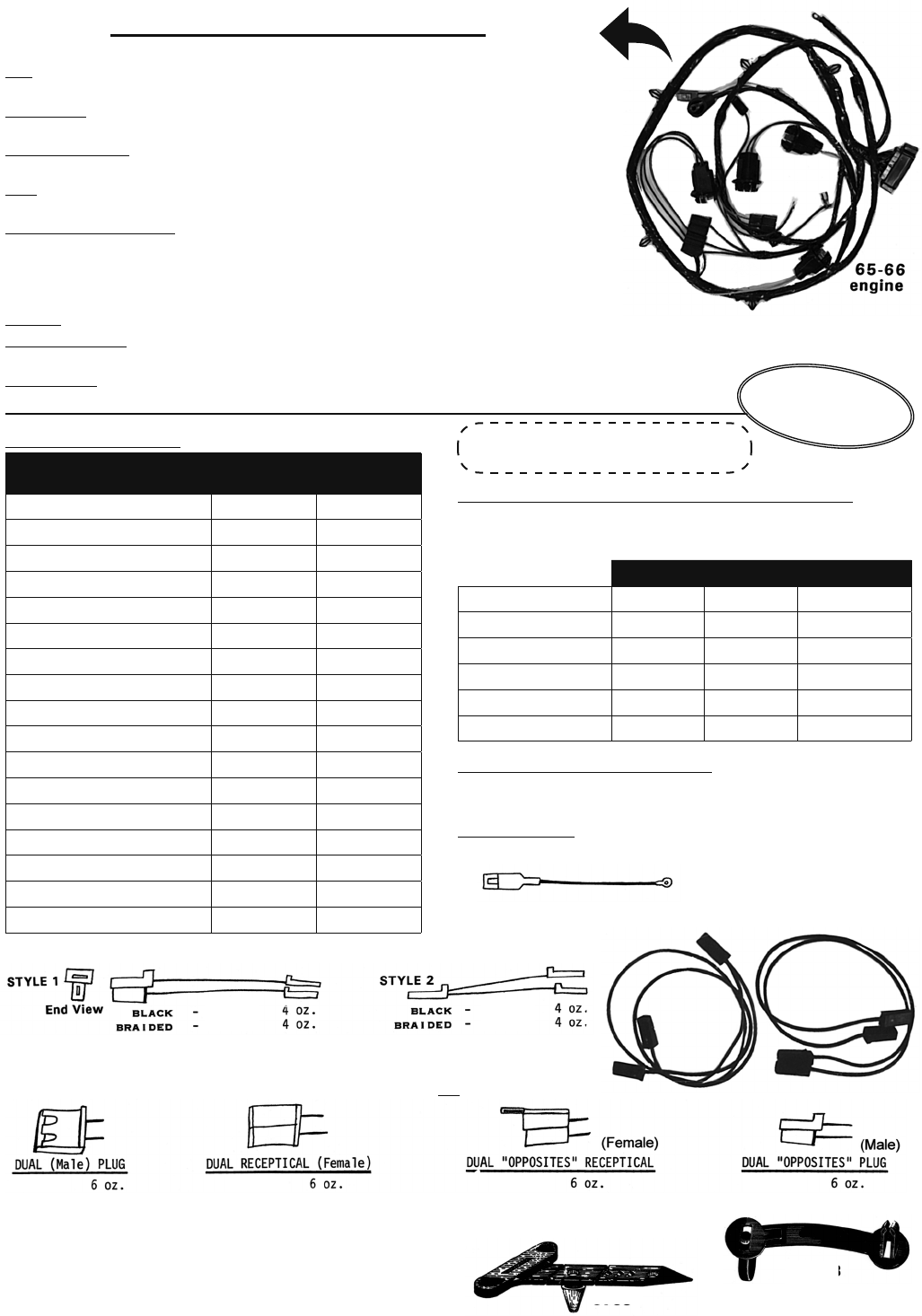 i
WARNING:
Products on this page can expose you to a chemical, which is known to the St

ate of California to cause cancer or reproductive harm. **For more information go to www.P65Warnings.ca.gov**
97
Exact Wiring Harnesses
WHY REPLACE WIRE HARNESSES?
Gee – they look okay – they just "sit" there – why bother?
Age:
Even a 1969 harness is old! Ozone, oil, heat, cold and flex all break down plastic insulation.
You can then have a short and blow a fuse or worse! How much is that worth 50 miles from home?
Connections:
- The metal connectors just have a small contact area to carry the current. Corrosion, grime and loss of
tension can greatly affect the connections.
Electrical Problems:
You know how they come and go. The blower seems slow, the horn doesn't blow, your lights
flicker, you wonder about the current going to the voltage regulator, points and starter.
WELL – replace and forget!
Easy:
These harnesses are exact. It is easy to replace. All connectors are installed. Just plug in.
All harnesses are pretested.
Exact Colors & Connectors:
-Same color wire. Even the striped ones and resistor wire! Exact plastic connectors and
housings. Wires already installed into plastic housings. All set ready to install.
Please note: GM did make a few wire
color changes during some production years, but all wires are in the connectors and you just plug in. NOTE 66-69
STD:
The main body harness will not have the molded rubber backup switch connector but will include a workable substi-
tute.
NOTE 1965's:
Most had striped wires. If yours are solid color, order 1966.
In Stock:
- We try to keep all harnesses in stock except some of the "dash harnesses".
500 & 700 Owners:
If your car doesn't have backup lights – order the harness for your year under the column

"No Backup Lights"

. If you have backup lights or want to
add them order under the column
"With Backup Lights"
(you may also have to order the mini harness).
Photos Please:
We have a free sheet that shows larger photos of the following harnesses: 61-64 Trunk, 62-63 Spyder engine,
64 Spyder engine, 65-66 Trunk and 65-66 main body harness.
C9112
free
1 oz.
HARNESS DISCOUNT
see Blue pg. MK-7
ENGINE HARNESS
– 2 lbs. ea.

From main body connector at firewall.
Year & Model
WITH
Backup Lights
Backup Lights
1961 Cars
(exc. Wagon)
C8348

C9101
1961 Station Wagon
C8349

C9102
1961-63 Vans & Trucks
- - - - - - - -
C8349A
1962-63 Cars
(exc. Wagon & Spyder)
C8350

C9103
1962 Station Wagons
C8352
C9104
1962-63 Spyder
C8351

- - - - - - - -
1964 Cars
(exc. Spyder)
C8353

C9105
1964 Spyder
C8354

- - - - - - - -
1964 Vans & Trucks
- - - - - - - -
C8349B
1965 Vans
- - - - - - - -
C8349C
1965 Cars
(exc. Corsa)

C8356E

C8355E
1965 Corsa
C8357E

- - - - - - - -
1966 Cars
(exc. Corsa)

C8356L

C8355L
1966 Corsa
C8357L
- - - - - - - -
1967 All
C8358
- - - - - - - -
1968-69 All
C8359
- - - - - - - -
HEAD TEMP/OIL PRESSURE & STARTER
These "mini" harnesses will match right up with all the other exact repro harnesses.
We offer two styles of wire for the head temp/oil pressure. The braided wire is original,
"regular wire" is high temperature black wire.
All 4
oz. each

Regular Wire

Braided Wire

Starter Harness
1960
C9133

C9134

Part of body harness
1961-64 Cars
(exc. Spyder)
C2204

C7872

C2266
1962-64 Spyder
C2203

C7871

C2266
1961-65 Vans (FC)
C2204

C7872

C2265
1965-69 Cars
(exc. Corsa)
C2204

C7872

C2267
1965-66 Corsa
C2203

C7871

C2267
MINI WIRING HARNESSES
Also see chart "Head Temp/Oil Pressure & Starter" above. Original wires are
"braided".
Head Heat Sensor: 1962-66 Spyders & Corsas
Thermister to wiring harness to left head.
Nut – Special for thermister
C1592
1/2 oz.
HEAD TEMP & OIL PRESSURE WIRE
– see Chart Above for Application.
STARTER WIRING HARNESS
– see Chart Above for Application.
Wire from harness to solenoid. Check your connector end on wires to starter where it plugs into main wiring.
Important link for good starting. The male and female refers to the plastic housing NOT the metal connector inside.
BATTERY CABLES – See page 81.
Original Style Black Engine Wiring Harness Straps:
Not pull thru style but original
for some years.
C3143
1 oz.
Pull Thru Harness Strap:
Original for some years.

C755

1 oz.
All harnesses page
97-98B
are sold separately.
To do a complete car
you must order each
.
C2203
C7871
C2204
C7872
C755
C3143