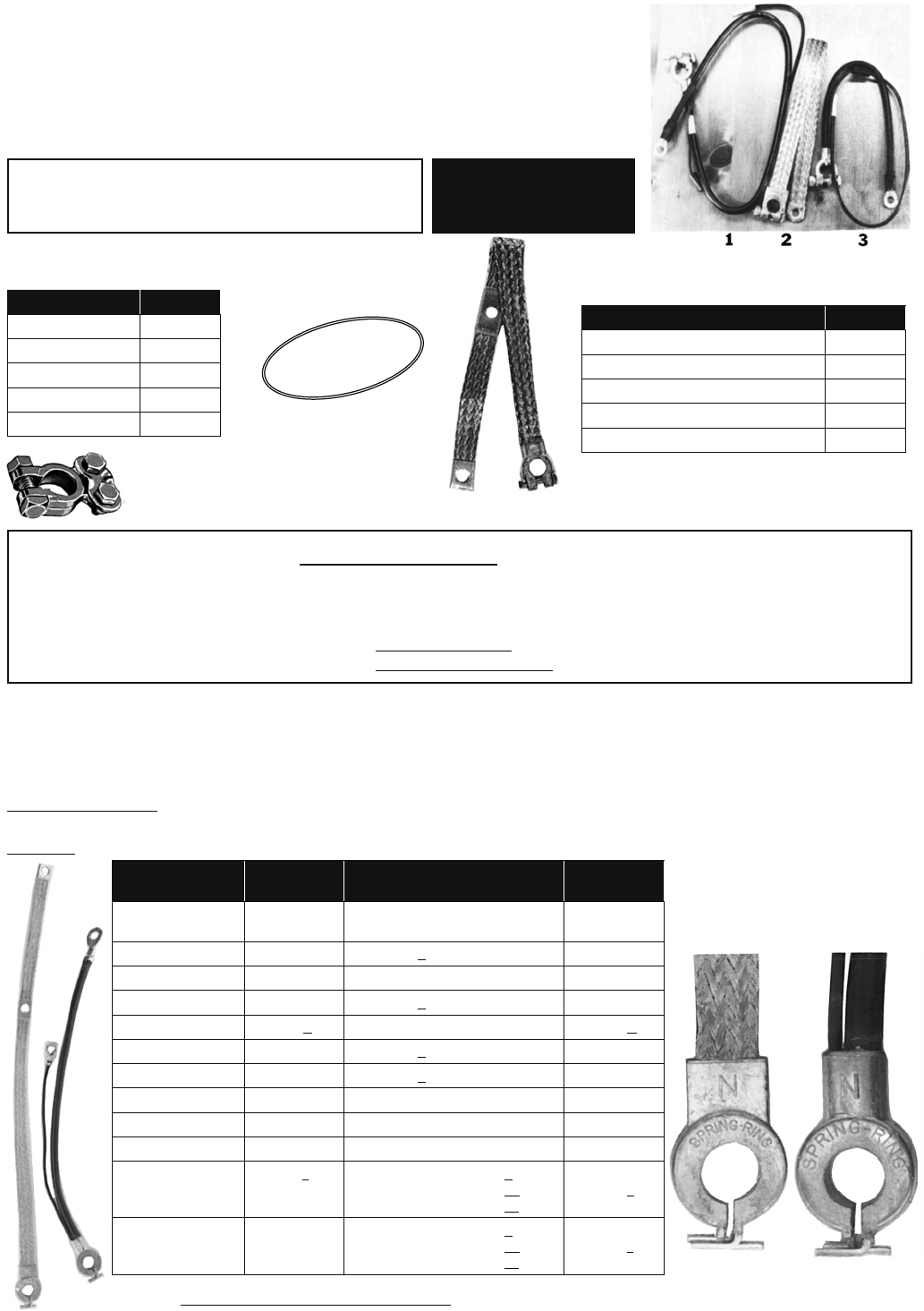 i
WARNING:
Products on this page can expose you to a chemical, which is known to the St

ate of California to cause cancer or reproductive harm. **For more information go to www.P65Warnings.ca.gov**
81
BATTERY CABLES
A must for easy starting and good electrical functioning. All cables have the Non-GM style bolt to hold
on battery terminal (ensures better connection).
POSITIVE CABLES:
Have "auxiliary small cable which may have to be cut to size".
GROUND CABLES:
1960-

64

are correct length, braided, 1" wide with hole for the body frame bolt.
ALL CABLES ARE TOP QUALITY AND AN EXCELLENT REPLACEMENT.
PICTURE #
#1
POSITIVE CABLE
#2
1960-64 GROUND CABLE – Braided
Positive Cables (#1)
BATTERY to STARTER & VOLTAGE REGULATOR. All have "bolt" ends.
LEAD REPLACEMENT ENDS
For all positive and negative battery cables.
(Don't bother buying steel ones – they corrode
in 2
months).
C1596
6
oz.
SPRING END BATTERY CABLES
These are the most original repros available. They are very close to the originals regarding wire color, lengths, connectors, etc. However, there are a
couple variances that you should know. These would only affect cars being entered in factory stock class in shows (a class almost impossible to get into).
NOTE:
(
65-69:
stock HD battery with terminals on top "toward" the engine, order
C7707GA
– 3" longer than C

7707

G.
1965-69:
Order
C7707GL
if your battery
terminals are on the top side "away" from the engine – 6" longer than C
7707

G).
1961-64 GROUND CABLES:
We believe these originally were bare copper and had "GM" with the wording "spring ring". All "NOS" replacements were tinned and
dropped the "GM". We have decided to equal the "NOS" replacements as they age better.
CABLE SIZE:
The original positive cables were made from 6 GA. wire. These are made from 4

GA. (slightly larger diameter). Will actually give better starting power.
Application
Positive Cables
1 lb. 8 oz.
(Ground)
Negative Cables 1 lb.
Sets
2 lbs. 8 oz.
1960
C9992
stud to stud

C9993
1961 Wagons
C9995

C7789

C10006
1962 Wagons
1961-6
3 FC
C7792

C7790

C10010
1964 FC
C10001

C7790

C10024
1965 FC
C10001

C10002

C10011
C10012
C10013
C10015
1961-69 Cars – BLACK
C2272B
Negative Cables (#2 & 3)
BATTERY TO ENGINE & FRAME. All have "bolt" ends.
1961-62 WAGONS w/ Generator
BRAIDED

C2269
1961-65 FC (Vans) w/ Generator
BRAIDED

C2269
1961-64 CARS w/ Generator
BRAIDED

C12AMX
C2270A
C2270B

Most 65-69 Cars originally had 15" so C2270B is for 65-69
batteries which needed a longer cable such as a larger battery
or batteries with terminals on top away from the engine.
This photo represents
C12AMX, C2269, C2269G
Spring-end
(see bottom of page)
61-64 GROUND CABLES – with Alternator
GROUND CABLES for 61-64 CARS when installing an ALTERNATOR IN PLACE OF A GENERATOR.
Because of the mounting difference, the regular length cable is NOT long enough. You have several choices.
1961-62 Wagons & 61-65 FC
use regular ground cable
C2269
1961-64 Cars w/ Alternator – Braided Ground Cable
C2269G

1 lb.
1961-64 Cars w/ Alternator – Braided "Spring Ring" Cable
C7706GA

1 lb.
SETS = Positive & Negative
Cable for the application
HARNESS DISCOUNT
see Blue pg. MK-7
HARNESS DISCOUNT – SEE BLUE PAGE MK-7