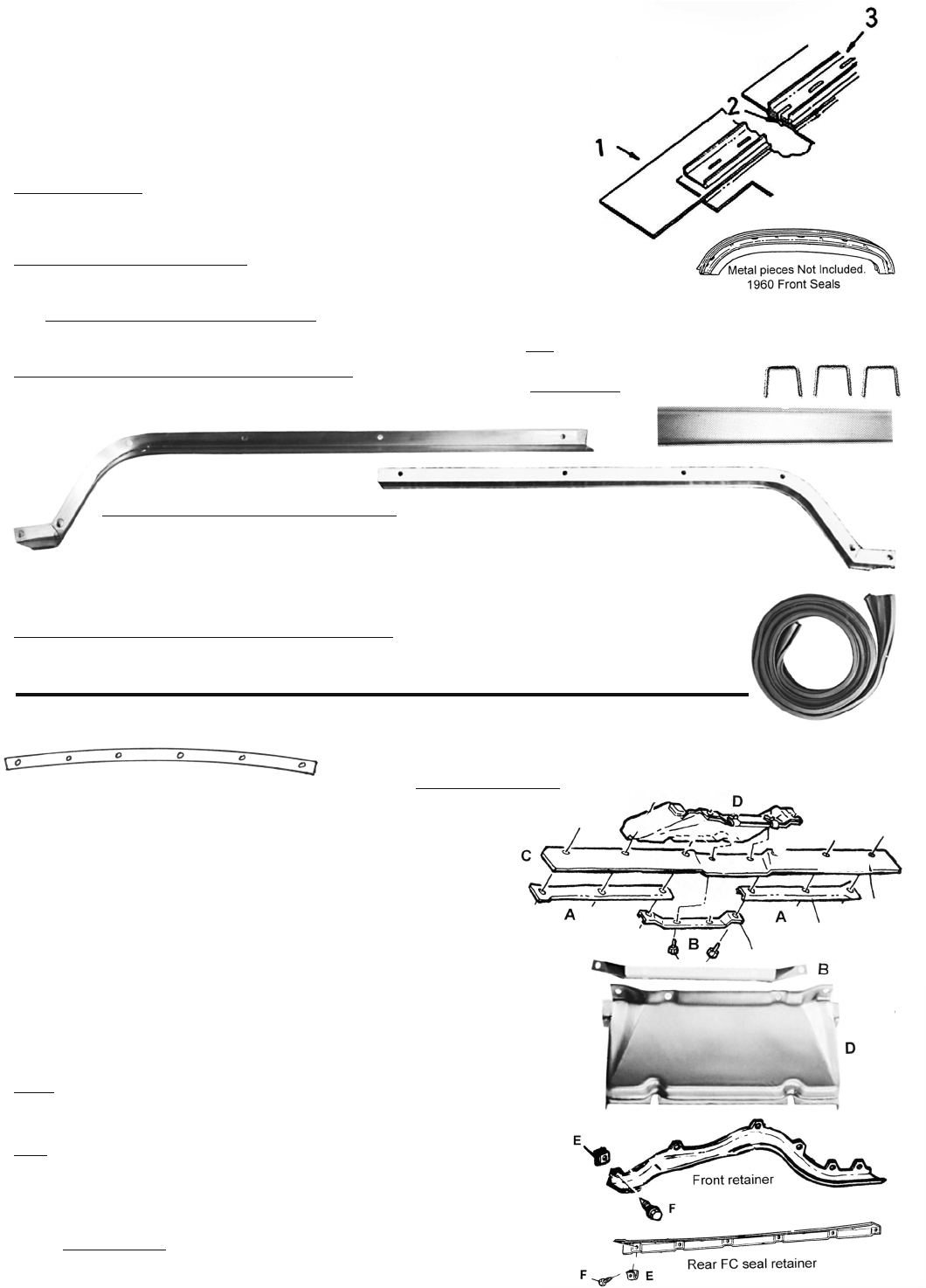 i
WARNING:
Products on this page can expose you to a chemical, which is known to the St

ate of California to cause cancer or reproductive harm. **For more information go to www.P65Warnings.ca.gov**
C8784
C8783
excellent
repro!
8
ENGINE SHROUD TO BODY SEALS
ENGINE TO BODY RUBBER FABRIC –
1960-64 Cars and 61-65 FC.
Identical replacement of rubber with internal fabric. All 1960-64 Cars & 61-65 FC.
Comes in a strip long enough to fit any 1 side (4 needed per engine). Includes
instructions for installing to shrouds with pre-formed staples or wire (Turbos &
1960 front – see next items)
#1 RUBBER FABRIC STRIPS –
C389A ea.

6 oz. ea
Turbo Owners –
1962-64: This special original style heat resistant material covers engine
sealing rubber strip behind the Turbo to protect from the heat. Exact length, ready to install, includes
instructions. Replace that torn, missing, oily one.
ALSO SEE RUBBER STRIPS ABOVE.
Sold each.
1960 Front Engine Seals –
These 2 large curved reinforced rubber pieces staple to the front
engine shield and fit in front & behind the metal shroud below. Use wire or preformed staples to replace the staples.
Sold as a pair. Order 3 C389A for the 3 straight pieces.
C6905
8 oz.
#2 Stainless Pre-formed Staples –
Original size, easier to use than wire. Re-drill the holes (through the rubber seal) with a #53
drill (.007) bigger, but staple goes in easier) or #54 (.003 bigger than original holes). 1 set of 15 does 1 side, 50 for full engine.
Set of 50 –
C858E
2 oz.
Drills – #53 =
C858B
#54 =
C858C
1 oz.
#3 SIDE & FRONT SEAL RETAINERS
–

1960-64 CARS, 1961-65 FC (VANS)
This metal holds the rubber seals to the side and front engine shrouds. Supplied straight with
no staple holes
as shown in diagram. Should be heated to bend to contour if needed.
One piece needed for each shroud, 3 total, 34" each.
C7735
8 oz.
SIDE ENGINE SEAL RETAINERS
These metal pieces hold the rubber seal fabric to the body under the engine.Usually missing, rusty or bent.
1960-64 (exc. Van and Wagon).
Left (drivers)
C8783

1 lb. 8 oz.
Original SCREWS - Enough for either side (6)
C9399

1 oz.
1965-69 ENGINE – BODY RUBBER SEAL
-
The rubber seal, with wire insert, about 12' long between
engine shrouds and body. Replace yours and keep engine neat and clean.
C

102

R

4 lbs.
Original Seal Retainer Screws – see page 9
1960-64 REAR ENGINE SEAL RETAINERS
This metal retainer attaches to the rear shroud to hold the rubber strip to rear of engine. Usually
rusted, bent or missing! The rear of the strip is held up by the "rear grill". A/C use the 1964 style
below.
1960-63 – All Cars & FC
(exc. A/C) – One piece
C6803
1 lb.
"A & B" – Rear Engine Seal Retainers
64 Cars & 64-65 FC
(also 61-63 A/C)
These metal retainers attach to the rear shrouds to hold the rubber strip to the
rear of the engine.
3 pieces needed. (2 "A" & 1 "B")
"A"
(fits left or right side)
"B"
Center section – Slips into
2 needed
C6804
4 oz.
"A" at either end
C6805
4 oz.
"C"– Seal, Engine to Body
– Fabric reinforced rubber

C389A

8 oz.
"D" – 64 and 64-65 FC Skid Plate Cover, Repro
(also for 61-63 adding A/C)
This is the rectangular steel cover behind the motor mount that helps
seal the engine compartment.
C11943
1 lb.
"E & F" FRONT & REAR ENGINE SEAL SCREWS & RETAINERS
Original style screw heads & retainers fit 61-64 Cars & 61-65 FC engine rubber seal
retainer. Sold as set of 6 (some take 5; some take 6)
FRONT
– 61-64 Cars & 61-65 FC
(#10 Screws & Retainers)
E & F
= Set/6 of each
C2129R
2 oz.
Set/10
Screws (F) only

C11689

2 oz.
Set/10
Retainers (E) only

C2128L

2

oz.
REAR
– 61-64 Cars (#10 Screws & Retainers)

E & F

= Set/6 of each

C2129X

2 oz.
Set/10
Screws (F)

only

C11689

2 oz.
Set/10
Retalners (E) only

C2128

2 oz.
61-65 FC (#10 Screws & Retainers)
E & F
= Set/6 of each
C2129R
2 oz.
Set/10
Screws (F) only

C11689

2 oz.
Set/
10
Retalners (E) only

C2128L

2 oz.
Oversized Screws – Set/5 (front or rear)

C11690

2 oz.
C7735
C102R
1960-63 Cars & FC – C6803
Weatherstrip #1 is held to shrouds by
staples or wire (#2) & retainers (#3)
C389A
C11943