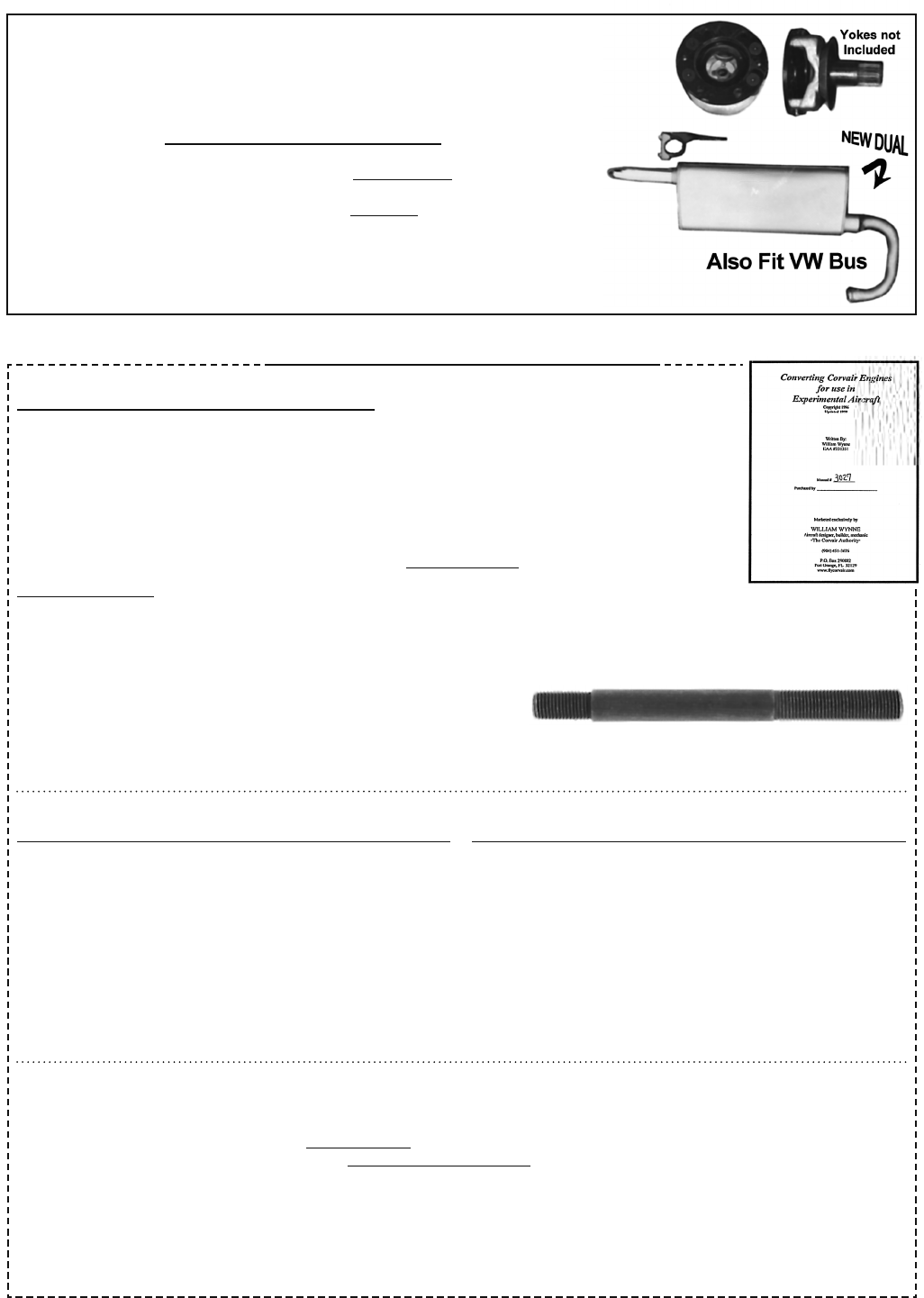 i
WARNING:
Products on this page can expose you to a chemical, which is known to the St

ate of California to cause cancer or reproductive harm. **For more information go to www.P65Warnings.ca.gov**
329
VW BUS/TRANSVAIR
We still have a few parts for these kits – Check with us.
VW BUS AXLE ADAPTORS
(transvair style, not old welded Crown) – Just the adaptor
and hardware for 1 side. For 1966-69 with 5/16" bolts. Fit either side.
C8217
2 lbs.
Improved!
FC DUAL EXHAUST KITS
Ground clearance by rear engine skid plate is decreased by only 2"; this seldom causes
a problem with FC's.
All KITS bolt to stock manifolds. Also fit VW Bus.
Longer, aluminized
mufflers that give more flow than a single exhaust but with only a slightly louder sound. Also come
with chrome tips and easy to use hangers.
Each Kit is COMPLETE for 1 SIDE:
u-pipe, gasket, muffler,
clamps, hangers, chrome tip (an easy installation).
FITS Left OR Right – ORDER 2 KITS!

ALL ENGINES (

except

140HP)

C11584

18 lbs.
ALL 140HP ENGINES

C11586

18 lbs.
CHROME REPLACEMENT TIPS FOR KITS ABOVE
(included in kits)
C3582R
1 lb.
REMOTE OIL FILTER UNIT
(so engine door can close)

C7786

3 lbs.
AIRCRAFT CONVERSION MANUAL
The
CORVAIR
motor has been used as an experimental aircraft powerplant since 1960. Numerous aviators have logged hundreds
of hours on them. In 1989, William Wynne began to develop the next generation of
CORVAIR
powerplants for aircraft use. His goal
was to develop a safe, powerful, inexpensive engine, and teach as many people as possible how to build their own engine. This
Manual
is the summary of 12 years of William's research, development and flight testing of
CORVAIR
engines converted for use
as experimental aircraft engines. First published in 1996, the
Manual
has been updated and contains the latest developments
on his continuing work. The
Manual
is approximately 60 pages and teaches builders how to convert a 110hp. motor into
an inexpensive, reliable, efficient aircraft engine. The
Manual
includes numerous drawings and information on the complete
installation, including propellers and engine mounts. Thousands of
Manuals
have been sold and William is available with
technical help by phone or e-mail. To learn more about his work, see
www.flycorvair.com
.
C11251
1 lb.
HYBRID STUDS
In his continuing work to simplify and lower the cost of converting the
CORVAIR
motor to an aircraft powerplant, William Wynne continued to develop numerous
custom pieces. The premier time-saving development in 1999 was his Hybrid Stud. This stud mates the
CORVAIR
crankshaft's 11/32-24 thread to the
William's Prop Hub design.
(Drawings of the Hub are contained in the Conversion Manual and finished Hubs are available directly from William.)
These studs,
the result of months of development, save the builder hours of machine and press-work time. The Hybrid Studs have been flight proven hundreds of hours in
William's plane. They are sold in sets of six, complete with instructions.
C11252
1 lb.
William Wynne AIRCRAFT GASKET SET
has everything he suggests for rebuilding a Corvair engine for aircraft use.
(must order head gaskets separately if needed – see page 7)
C120WW
2 lbs.
Set of BALANCED RODS
(suggested by William Wynne) – includes core value

C9203WW

12 lbs.
Most Recommended Parts
www.FlyCorvair.com
AII of the engines we build in our FlyCorvair.com hangar use Corvair parts from Clark's Corvair Parts®. Engine builders who want the same reliable performance can
utilize the same parts and their core motor to build their own engine. We've organized the parts into three specific groups to follow our Conversion Manual and Videotape
series. For the contents and exact grouping, check out www.FlyCorvair.com.
All the parts specific to the aircraft conversion are available at www.FlyCorvair.com/products.html.
Clarks,
I am grateful for your eorts to work with us on this. I have spent many years ight testing this information and parts.
My eorts to bring the CORVAIR to mainstream acceptance in the experimental marketplace would be much more dicult
without the quality operation you and your sta run.
Thanks,
William
AIRPLANE ENGINES
1
C1438
or
C9871A
New Harmonic Balancer
1
C1395T
Stock Oil Pump Gear Kit
1
C1089
Head Nuts (Set/12)
6
C3020P
Tuffrided Intake Valve – Std (exc. Turbo/140)
6
C3022P
Tuffrided Exhaust Valve – Std (exc. Turbo/140)
1
C2304
Valve Springs (Set/12)
1
C2305
Isky Aluminum Valve Spring Retainers (Set/12)
12
C1389
Valve Stem Key – 1 Groove
12
C1390
Valve Stem Key – 4 Groove
1
C8641
Mated Rocker Arms w/Grooved Balls (Set/12)
1
C5856X
Sealed Power Lifters (Set/12)
1
C8635
Balance Pistons to 1 Gram Spread (Set/6)
1
C8828R
Press Rods off & on Pistons (Set/6)
1
C8325
65-69 +30 Cyls, Forged Pistons, Hastings
1
C9203WW
64-69 Balanced Connecting Rods (Set/6)
1
C5880X
Set of 3 Plastigage Sizes
1
Discontinued
Std Main Bearings – Set
1
C1437RA
Clevite 77 Std Rod Bearings – Set
1
C8800RFG
OT-10 Reground Cam w/Failsafe Gear Installed
1
C7884
Econo Valve Covers (4-hole, Pair)