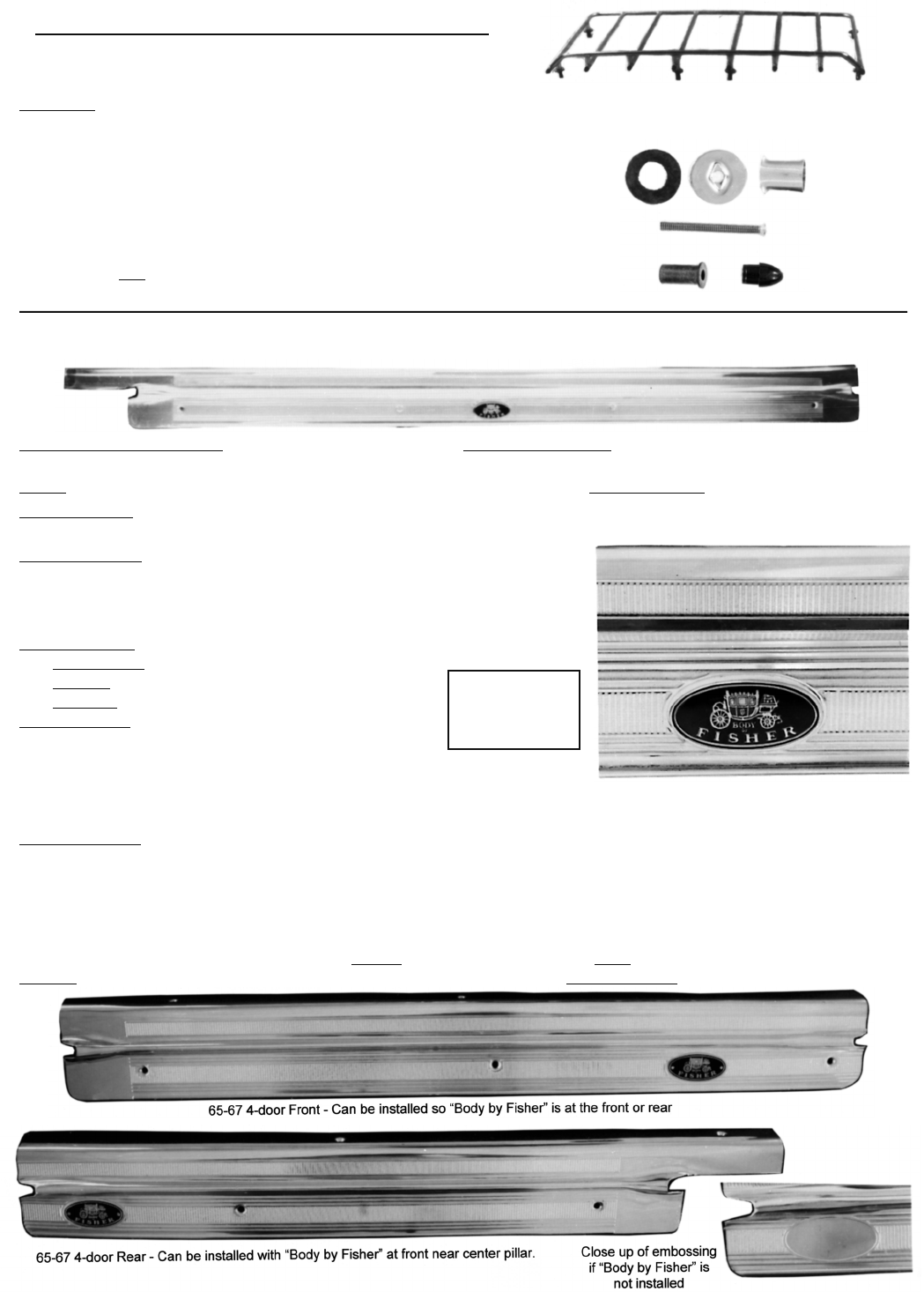 i
WARNING:
Products on this page can expose you to a chemical, which is known to the St

ate of California to cause cancer or reproductive harm. **For more information go to www.P65Warnings.ca.gov**
309A
Stainless Steel LUGGAGE RACK
This quality rack is quite similar to the original accessory offered for Corvairs.
Will fit all Corvairs 1960-69 but requires drilling (4 - 6) 1/2" holes in the engine lid.
Comes with all hardware and can be completely mounted from the outside.
Please note:
(4) holes are the minimum safe number. On the 1960-64, the (2) inner
supports cannot be used unless you mount the rack within 4 inches of the rear edge
of the lid, otherwise the mounts will be in the lid vent louvers.
Weight is due to size.
C10066
14 lbs.
LUGGAGE RACK HARDWARE
This fits several original Corvair luggage racks 4 or 6 hole.
INCLUDES:
6 stainless steel supports,
stainless washers (with diamond raised area), rubber washers, rubber threaded retainers, black
plastic tips and stainless screws.
C11112
2 lbs.
BLACK PLASTIC TIPS
– fit original luggage racks and

repro

racks.
1965-69 REPRO DOOR SILLS
4-Door DOOR SILLS 1965-67
PLEASE NOTE!!
We are using coupe door sills.

They are being die stamped at the ends so they look quite nice but the

"Body by Fisher"

emblem
areas will
NOT
be where they should (they will be considerably
off center
).
These will
NEVER
be reproduced exactly! You will have to re-drill some screw holes. You may want to leave the "Body by Fisher" off of the rear sill as it
is about 1½" from the center pillar & there are no holes where the embossing is. You will have to drill new holes for attaching the door sills & may want
to put caulking where the old holes are.
Order "Body by Fisher" emblems and screws separately.
1965-67 4-DOOR SILLS – SET of 4
C13137

4 lbs./set
"Body by Fisher" w/ 2 rivets sold ea. (order 4) 65-69
RIVETED
C7366RL
1 oz.
#52 DRILL for rivets – C7366RD
1 oz.
STICK ON "Body by Fisher"
– w/ simulated rivet heads
C7366A
1 oz.
CHROME SCREWS – Set/10 (order 4) – C1218A
2 oz.
Correct "STIFF" Aluminum
Accurate Stamping
This will allow your door sills to look good for years.
With all the correct features of the original.
Finish –
These are polished a little more than the NOS, but when I look at the NOS I've saved –

These Look Better!
Body by Fisher –
These were originally riveted on. When we could get door sills from Chevy they were mainly stick on decals.
We are selling our door sills without decals. Order the style you want. Riveted ones are a little harder to install but not bad.
SOLD as a PAIR –
Due to tooling and production, we can only sell these in matched

PAIRS

.
65-69 Cp. & Conv't. DOOR SILL PAIR
Body By Fisher –
Sold each – order 2
65-69 RIVETED
w/ 2 rivets –
C7366RL
1 oz.
STICK ON – Have simulated rivet heads – C7366A
1 oz.
#52 DRILL for rivets – C7366RD
1 oz.
CHROME SCREWS –
Set /10 (8 needed per side)
C1218A
2 oz.
Order "Body
by Fisher"
emblems & screws
separately.
Wow!
Great!
Approx. size
39" x 22" x 3 1/2" high at rear rail