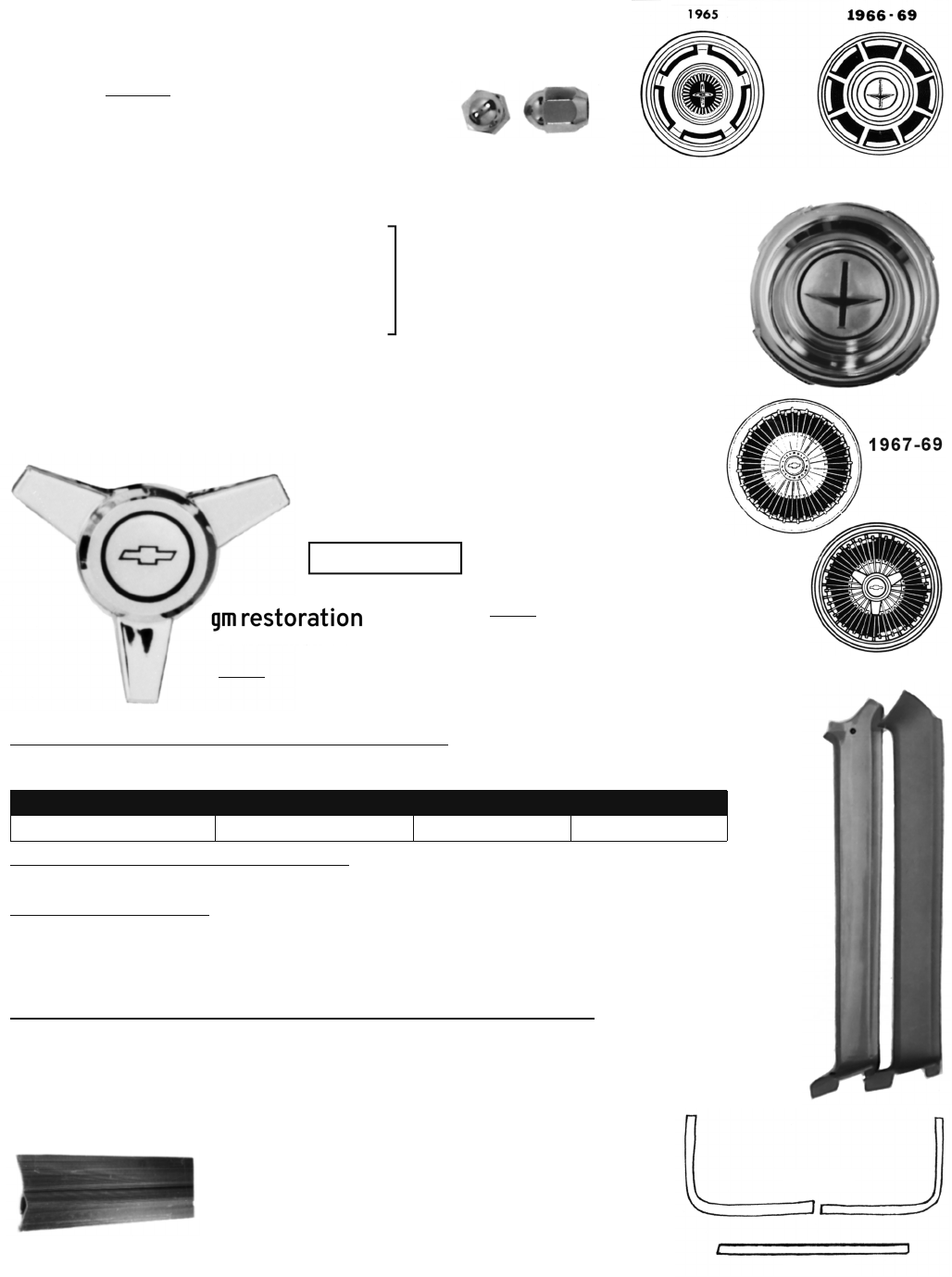 i
WARNING:
Products on this page can expose you to a chemical, which is known to the St

ate of California to cause cancer or reproductive harm. **For more information go to www.P65Warnings.ca.gov**
309
LATE MODEL TRIM
WHEEL COVERS
See
"NOS" on website
(corvair.com) for full wheel covers and hubcaps.
CHROME
LUG NUTS –

Fit all Corvairs even stock rims.
Sold Set of 4.
Order 5 Sets for Vans
(FC)
or 1965-69 Cars.
PLASTIC INSERTS FOR WHEEL COVERS
Perfect reproductions.
BETTER THAN factory originals.
'65 MONZA
INSERT C6690

6 oz.
'65 CORSA
INSERT C7117

6 oz.
'66 CORSA
INSERT C7119

6 oz.
'66-69 MONZA

INSERT

(See Picture)
ROUND CENTER
for 1967-69 Wire Wheel Cover –

A round center was used
on these years instead of a spinner. (You can add the spinner to this style cover.)
Round center – C70
12 oz.
3-PRONG SPINNER
1964-69 3-prong chrome spinner for wire wheel covers.
(Also fits 1967-69 with round center.)
Make those old wire wheel covers look like new.
Complete satisfaction guaranteed.
SHOW QUALITY
Special HEX HEAD SCREW –
These hold the mag and wire wheel
covers together but are not long enough to hold the spinner on.
SCREW –
Holds spinner on original covers. (not original style.)
Sold Set for 1 spinner C7484
1 oz./set
1965-67 Windshield Pillar Plastic Trim
They are just as nice as the originals and even include the metal sleeves for the screws. Now you can replace those cracked or
brittle pieces. Easy to paint ABS plastic. See primer & scuff pads below. All 1 lb. ea.
Coupe/4 Door Left (drivers)
Coupe/4 Door Right
Conv't Left
Conv't Right
Set of Chrome Screws (enough for both sides):
Fits 65-67 Coupe/4 door, 65-67 Conv't (2 extra screws)
& 68-69 Coupe.
C6911
1 oz.
Plastic Primer & Scuff Pad:
Spray plastic pillars, kick panels, door knobs or any plastic & most rubber before applying any
automotive paint. We suggest using an ultra-fine scuff pad before priming.
Plastic Primer:
15 oz. spray can
C13329
1 lb. (no air shipping)
Ultra-Fine Scuff Pad
C13330
2 oz.
Plastic WINDOW TRIM STRIPS – 65-69
These are the colored plastic strips that go around the front and rear window of Coupes and 4-Doors. Usually
badly deteriorated
.
Available in black only. Prime and paint for other colors to match your interior. Sold as straight pieces. Bend and push on.
About 90% accurate reproduction.
j
Originals were molded to shape. Ours are
"STRAIGHT" and HARDER TO INSTALL
.
REAR WINDOW –

Left or right – 2 needed per Car.
Forms side and bottom
OR
side & top.
Side & Bottom 65-69 Coupes – 1½" – C3600R
1 lb.
Side & Top 65-67 4-Door – 1" – C5386
1 lb.
TOP OF FRONT OR REAR WINDOW
Front window top strips Coupe & 4-Door. Top of rear window - Coupes.
65-69 Top Strips – C5386
1 lb.
Check
Availability
C5648
C3600R
C5386