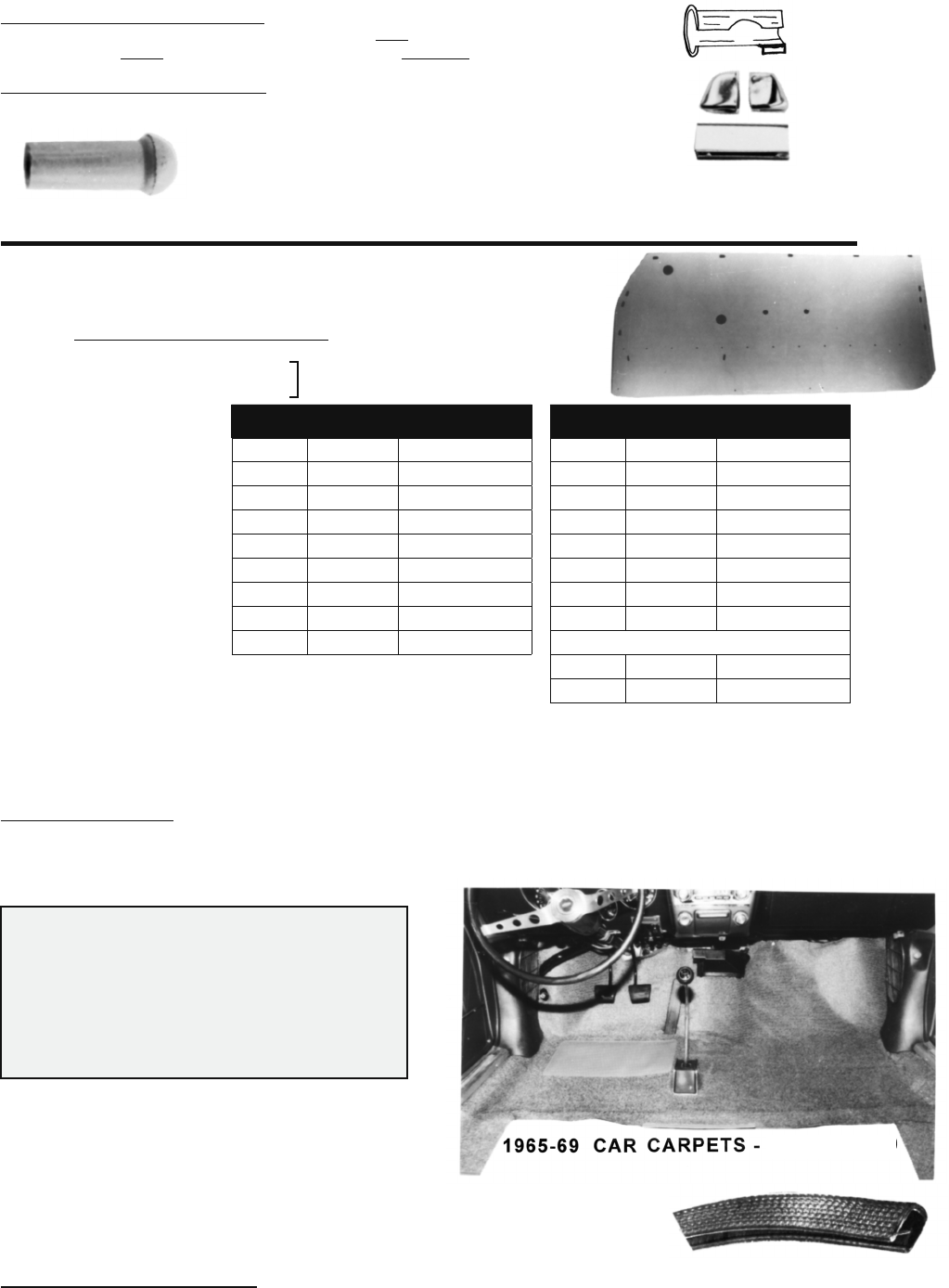 i
WARNING:
Products on this page can expose you to a chemical, which is known to the St

ate of California to cause cancer or reproductive harm. **For more information go to www.P65Warnings.ca.gov**
271H
MISCELLANEOUS INTERIOR ITEMS
SUNVISOR BUSHINGS:
These nylon bushings go where the sunvisor pivots. Old ones usually
broken or missing.
NOTE:

1962-64 used these on most Monza visors.
1962-64
MONZA

– Coupes & Ct.

C7724 1 oz. ea.

1965-69 All

– Coupes & Ct.

C7725

1 oz. ea.
SUNVISOR END CLIPS:
Very good reproduction. Replace those rusted, missing ones. Sold as a Pair.
Triangular
C7891
1 oz./pair
Rectangular
C9063

2 oz./pair
ANTI-RATTLE –
(Convertible Sunvisor)
Light grey rubber knobs on end of visor that clips into the mirror. New ones hold visor steady.
Buy some spares! Fits all years Convertibles.
C93
1/2 oz. ea.
DOOR + REAR PANELS – CARDBOARD ONLY
We personally do not suggest trying to transfer your old vinyl although it can be done. The 1960-64 are
especially difficult due to the outer binding and the way they are attached. The later models are easier but it
is hard to remove the vinyl and reglue it. These door panel cardboards are die cut from water resistant card
board of thickness and rigidity equal to the originals. All necessary holes, slots etc., are reproduced just like
the originals.
ABSOLUTELY NO RETURNS ON THESE ITEMS.
(Some panels may have a few extra holes as they
fit several years).
1960-64 repair nails (C377) to install
1965-69 will use the original clips
SHIPPING –
Several can be
shipped for these weights
All Front & Rear Door Cardboard
Approx. 13 lbs. due to size
All Rear 1/4 Panel Cardboard
Approx. 8 lbs. due to size
See page 204 for more info
FRONT DOOR
1960-61
Coupe
C6588
1960
Coupe
C6589
1962-64
Coupe
C6588
1961
Coupe
C6590
1965-67
Coupe
C6592
1962-64
Coupe
C6591
1968-69
Coupe
C6594
1965-67
Coupe
C6593
1962-64
Convertible
C6588
1968-69
Coupe
C6595
1965-67
Convertible
C6592
1962-64
Convertible
C6596
1968-69
Convertible
C6594
1965-67
Convertible
C6597
1960-64
All 4-Door
C6599
1968-69
Convertible
C6598
1965-67
4-Door
C6601
REAR DOOR – LEFT or RIGHT
1961-62 4-Door Monza
with
CLOTH INTERIOR
This came standard on 1961 4-Door Monza models until March 1961. The front and rear seats had the cloth inserts. It was even possible to order front bucket seats
with the cloth. After March 1961 all buckets were vinyl. 1961 Monza door panels were always the vinyl and mylar style. A few 1962 Monza 4-door had cloth door
panels –
order on page 271D
. We can make these seats using the original fabric and matching vinyl.
Please allow 2-3 weeks.
CLOTH INSERT
UPHOLSTERY? Several customers have asked if we'll make Corvair upholstery out of vinyl

(like we do)

but

USE CLOTH
INSERTS
for appearance and for comfort. The answer is YES! YOU must supply the material –
good upholstery quality

– and we'll use it in place of the regular pleated
inserts at no extra charge. Most Monza's require about 3 yards 42" to 54" wide material. You must
FIRST
send a small sample and let us know exactly what you want.
We'll get back and let you know if we can do it and the price.
SEE PAGE 184
Phones are busy!!
We realize our phones are busy.
FIVE ORDER PHONE LINES are all
we can handle and still give each
customer the service you deserve.
Keep trying – Thanks!
Clark's Corvair Parts,
®
Inc.
We're proud of our products!
We stamp our name on the back side of door panels, cardboard and
inside the upholstery. A small name tag is sewn into the headliners and
carpets so you can be sure you are getting a
Clark
original.
DON'T SETTLE FOR LESS!
Door Windlace
see page 271C
REMOVE FROM BOX –
Please remove the following from their shipping box and store flat and "open" as soon as possible:
tops, top boots, upholstery, headliners, carpets and padded dashes.
see page 280