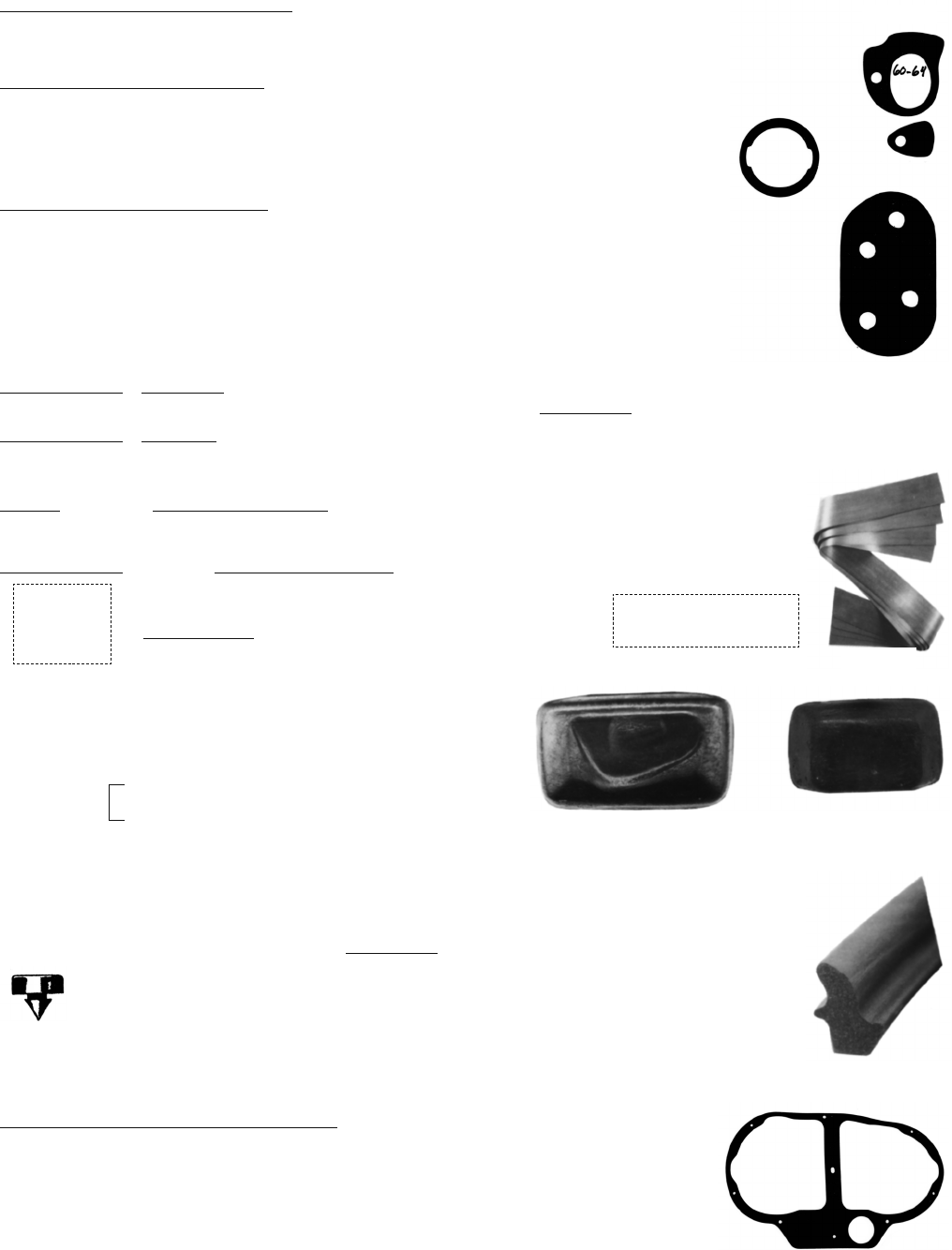 i
WARNING:
Products on this page can expose you to a chemical, which is known to the St

ate of California to cause cancer or reproductive harm. **For more information go to www.P65Warnings.ca.gov**
216
'60-64 CAR WEATHERSTRIPS
Please read page 213 before ordering!
Door Handle Gaskets:
These go between the handle and body to protect the paint.
Sold enough for 2 handles (Left & Right). For 4-Door order 2 Sets.
1960-64 Cars
C2849

2 oz./set
Door Lock Gaskets:
Fits between body and lock to protect the body. Sold each.

C566

1/2 oz.
"VENT DOOR" KITS:
1960-64 Cars. Easily repair those front kickpanel vent "door flaps"
that leak cold air on your feet.
Kit includes:
Instructions, wire and material
for both sides ready to install.
C2564
4 oz./kit
VENT WINDOW WEATHERSTRIP – see pages 223 & 224
ENGINE COVER & ENGINE TO BODY WEATHERSTRIPS
1960-64 Cars
DID NOT
have a weatherstrip all around the engine hood area.
Most
models did have the following weatherstrips.
EXACT REPRO –
FRONT EDGE:

1960-64 (when used) – Seals engine lid near window (glues in channel on body of car).
Piece is about 30" long.
C2287
1 lb.
SAMPLE ONLY
–
C805RA
FREE 2 oz.
EXACT REPRO –
REAR EDGE:

1960-64 All – Goes on the rear edge of engine lid (cover). This

EXACT REPRO includes

the clips

(installed)

and the
plastic retainers the clips push into. Some models went around the corners and some were just straight across. This fits either style. Just cut off excess
for the shorter style. Neither ever had molded ends.
C9900
1 lb.
REPRO –
1960-64 – REAR EDGE OF ENGINE LID:
Cross section is correct.

Does

NOT

have "retainers".
Long enough for "long" or "short" style.
See Weatherstrip Glue – page 213.
C3455
1 lb.
EXACT REPRO –
1960-64 – ENGINE SHROUDS TO BODY:

Special rubberized fabric strips used in all engine compartments.
RUBBER FABRIC

–

C389A

6 oz.
ASBESTOS STYLE –
For 1962-64 Turbo. Used on side behind Turbo
in conjunction with rubber one above (C389A).
C2419
6 oz.
ENGINE LATCH PAD (seal)
Yes! That black pad that's probably torn, oily or missing. Fits some late 1960's
and all 1961-63 Cars (exc. Station Wagons). The foam is an exact original repro,
the rubber one is stiffer and more durable but not quite as original.
1961-63
1964 Foam Pad:
The original was molded to shape. This is just self-adhesive foam cut to the exact size (may need better glue).
If your original is usable I'd use it! If you just have the plastic piece and no foam then order this.
C9651
2 oz.
TRUNK WEATHERSTRIP
1960-64 Cars
Exact size, shape, color and fit. One piece does the whole front trunk.
C805R
3 lbs.
SAMPLE ONLY

–

C805RA

FREE 2 oz.
TRUNK HOOD BUMPER:
1960-64 (2 needed)

C39O

1 oz.
Headlight Pocket Gasket –
For all 1960-64 headlights. Also for F.C.
Seals between the headlight unit and body. Protects paint and keeps water out of trunk. Fits either side.
C385R
6 oz.
THICKER Headlight Unit to Body Gasket
(see bottom of page 96 for details) –

C735R

8 oz. each
TAILLIGHT GASKETS - see page 96
STAPLES for ATTACHING
SEE PAGE 8
1960 – Also
see C6905
on page 8
Exact Repro!
C2849
C389A