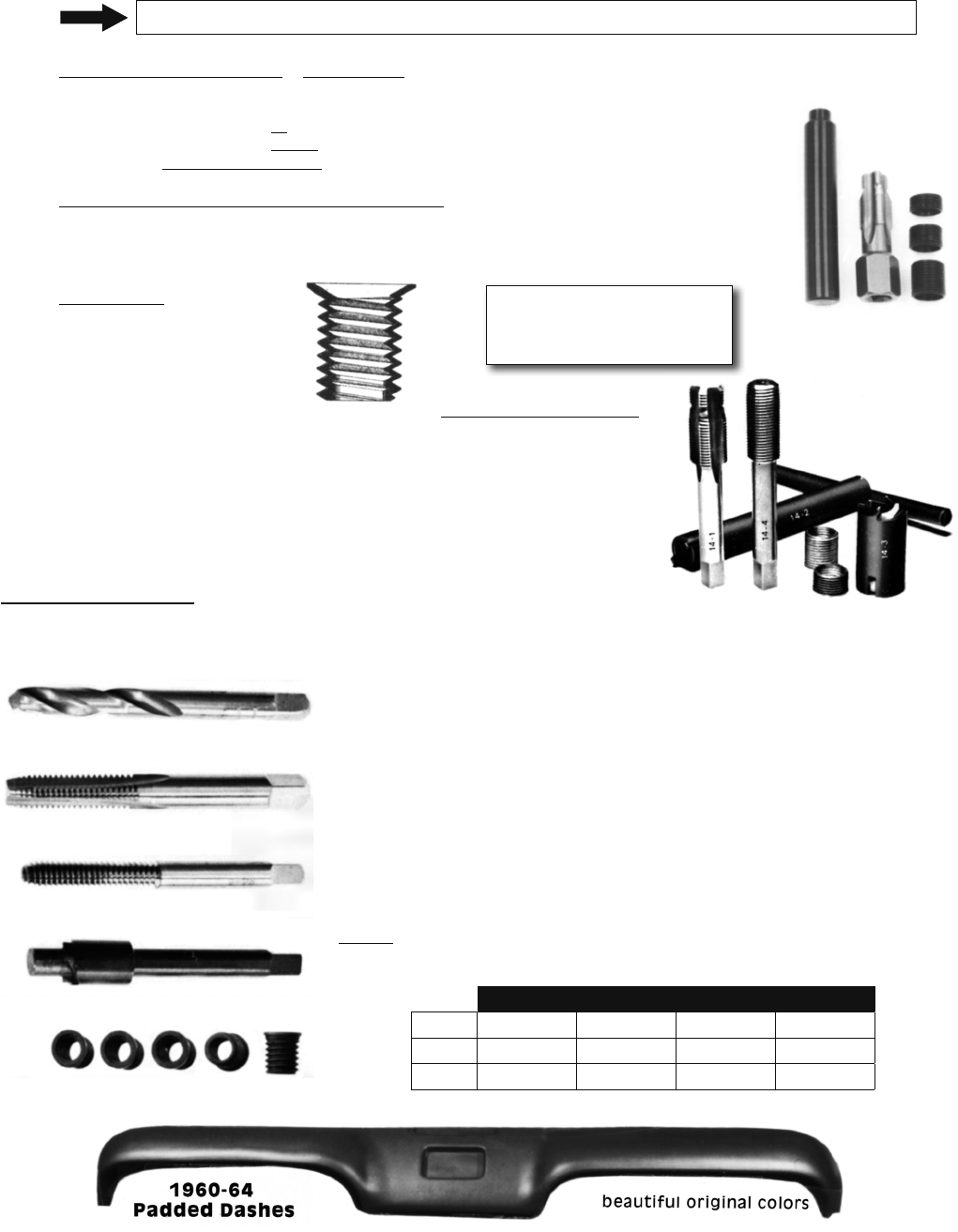 i
WARNING:
Products on this page can expose you to a chemical, which is known to the St

ate of California to cause cancer or reproductive harm. **For more information go to www.P65Warnings.ca.gov**
173
–
3 METHODS
Choice "A" is harder to use. I suggest the one time user get Style "B", or "C" especially if it is going to be done with the head on the car .
A –
HELICAL COILED INSERT KIT – SPARK PLUG – AVIATION QUALITY!
If you have a head out and the threads are questionable, replace them! KIT INCLUDES: Special tap, installer tool, and instructions. Order inserts separately.
No drill needed. These are considered the best but are the hardest to install until you get the technique. Order 2 or 3 extra inserts.
$ SAVER SET of 20 INSERTS
C3226A
6 oz.
B –
SOLID STEEL SPARK PLUG INSERTS BY HELICOIL
We suggest either this tool or the "Time-Serts". Helicoil insert tool comes with tap, 3 different inserts & insert "setting" tool.
Includes instructions and some additional Corvair hints.
Tool Set
C3211T

1 lb.
Corvair Length Insert (sold each)
C3212T
1 oz. ea.
Trade name Time-Serts because the inside thread
is timed to the out side thread providing a uniform
thin wall, steel insert.
1. Thin wall design of insert.
2. Spark plug washer seals on recut aluminum
sealing surface.
3. Insert is expanded into the aluminum after in stallation to provide
maximum heat conductivity through the insert.
3 Steel Inserts
C8612A
4 oz.
6 Steel Inserts
C8612
4 oz.
Installation Tool – Rental
C8614
2 lbs.
Installation Tool – Buy
C8614B
2 lbs.
NOTE:
Either method Liquid Blue
Spark Plug Inserts
You can install these inserts in a pair of
Corvair heads in about one hour without
the use of any power tools. The use
of these inserts eliminates the risk of
stripping or cross threading soft aluminum
threads. Process is much easier to install
than Heli-Coil. Tool "locks' insert in head.
TOOL RENTAL:
Some parts require the rental or purchase of special tools for installation.
The Price List gives a rental price and a
"CORE"
. The
"CORE"
amount will be refunded to you when we receive the tool back within 45 days. If returned within 46-60 days
the
"CORE"
refund will be $8.00 LESS than listed. If not returned within 60 days ....
YOU OWN THE TOOL
and it is paid in full so you can keep it. Tools must be returned in
good usable condition for full refund.
STEEL THREAD INSERTS
Time – Serts
The ideal fix for aluminum & steel threads. The thin wall design makes them suitable in almost any close
place. The unique feature of being expanded in the hole after installation insures the insert will stay in the
hole.
The 1/4-20 inserts are perfect for repairing the threads where Corvair rocker covers and oil pans are attached.
Order long inserts for valve cover and oil pan. Order short inserts for shroud holes.
The 5/16 short are for carb studs and rear engine housing bolts.
The 3/8-16 inserts come in a longer length for the special application of case stud inserts. The short ones are
3/8-16 x 7/16 and used for manifold stud to head, rear engine studs and starter/bell housing threads.
Tools are required when installing the steel thread inserts.
TOOL KIT: INCLUDES
the correct drill, a cutter to cut recess for insert head

"lip"

(stop), insert tap, insert
All inserts sold Set of 5 4 oz./set Tools 1 lb.
YEAR
Short

Long

Tool Rental

Buy Tools
1/4-20
C8617

C8617L

C8617

T

C8617TB
5/16
-18
C8620

C8620L

C8620T

C8620TB
1965-66 Padded Dashes – Page 274
see page 274