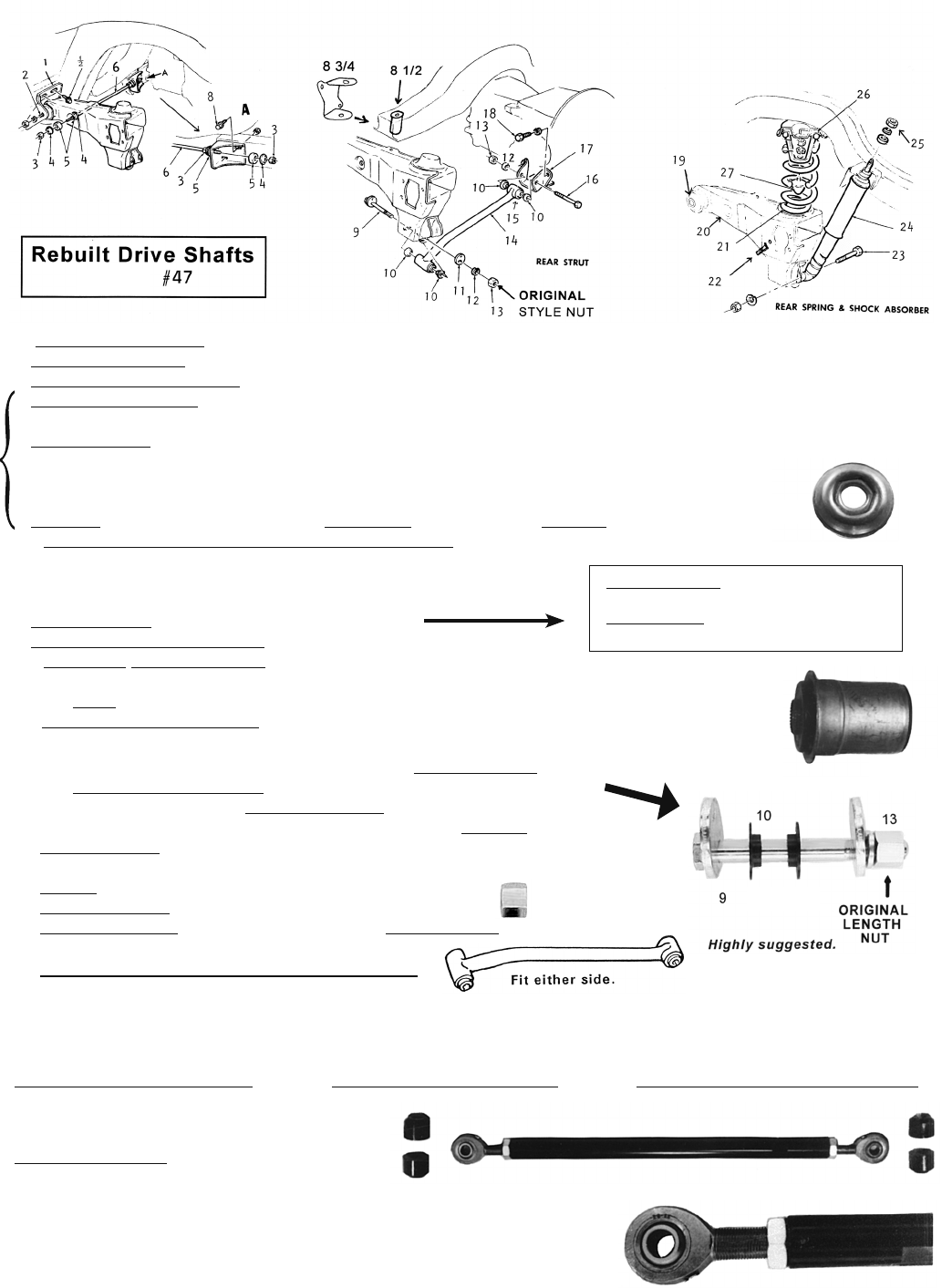 i
WARNING:
Products on this page can expose you to a chemical, which is known to the St

ate of California to cause cancer or reproductive harm. **For more information go to www.P65Warnings.ca.gov**
163
1965-69 REAR SUSPENSION
PICTURE #
½. BOLTS – BRACKET TO BODY: "1" = 2 bolts & 2 flat washers – 2 Sets needed per side
"Gr 8"
C2165
4 oz./set
1. BRACKET – ARM TO BODY
C4596
Discontinued
2. BOLT – TORQUE ARM TO BRACKET: "Gr 8" suggested – Sold as 1 bolt, lock washer, nut.
"Gr 8"
C3160
6 oz./set
3. NUTS – "STABILIZING ROD": 4 per rod used – 2 rods per car – Sold Sets of 4 nuts.
Steel
C4597
2 oz./set
Stainless Steel
C4598
2 oz./set
4. SPECIAL WASHERS: Hold bushings on. 4 needed per rod – 2 rods per car. Original, Sold each.
C395
2 oz.
Non-Original Style $ Saver Washer
C395X
2 oz.
C395
will give you the original washer with the stamped "locking hex" and is what is included in all of our kits.
C395X
will save you $$ and works but does not have the "locking hex" & is smaller diameter than original.
5. BUSHINGS: 4 needed per rod – 2 rods per car. INDIVIDUALLY:
C396
2 oz. ea.
SET OF 4: C376
6 oz./set
5½.
1965-69 REAR "STABILIZING ROD" BUSHING, WASHER, NUT SET
4 rubber bushings, 4 original steel washers & 2 stainless nuts to do 1 side.
Note: some of these parts are also available in some of our rear suspension
Multi-Kits, so be careful not to double order.
C2560

8 oz.
6. "STABILIZING ROD": Attaches near the front of transmission.
8. BOLTS – BRACKET TO CROSSMEMBER: "Gr 5"
C2170A
4 oz.
8½.
BUSHING:
REAR CROSSMEMBER – Above and in front of transmission. 2 needed.
BOLTS: Goes thru bushing - "Gr 8"

C2169

4 oz.
BOLTS – BRACKET (8 3/4) to BODY: Either side – 2 sets needed. (Set = 2B, 2FW, 2LW, 2N) "Gr 8 "
C2167
6 oz./
set
9.
BOLTS – OUTER STRUT ADJUSTING:
For camber adjusting. These are usually very rusty.
I suggest you get the complete bolt unit.
Torque 85-95 Ft. lbs.
Individual parts: See #10, #11, #12, #13
COMPLETE BOLT UNIT: For 1 side (as shown)

C638A

8 oz.
BOLT UNIT:
Less 2 special washers that fit into bushing.

C638

6 oz.
10. SPECIAL WASHERS: Fit inside bushing. A MUST! (See also #9)
Each
C638X
1 oz.
11. WASHER: Adjusting (Hole is off center) – (See also #9)
C4600
2 oz.
12. LOCK WASHER "Gr 8"
C4601
2 oz.
13. SPECIAL NUT – "GR 8": Don't use anything else!
CORRECT LENGTH
C4602R
2 oz.
14.
REBUILT STRUT RODS - 65-69
Rod is sandblasted, painted and (2) new bushings with serrated sleeves
are installed. The rubber bushings are professionally vulcanized to the sleeve – just like the factory ones. The nylon bushings are the ones we've sold since the mid-80's. We
also offer rods with
Nylon on the Inner End & Molded Rubber on the Outer End
. This is a good combination. The nylon is unaffected by gear oil and stiffens the control.
The rubber at the outer end keeps it from being as stiff as if it had nylon on both ends. The rubber ends are our bushings that are molded like the originals. Your old strut
has a
REFUNDABLE CORE VALUE IF NOT PHYSICALLY DAMAGED
. Also consider bolts – #9 & page 164 #16.
REBUILT ROD w/ RUBBER BUSHINGS
REBUILT ROD w/ NYLON BUSHINGS

REBUILT ROD w/ 1 NYLON & 1 RUBBER END
C8235
8 lbs./rod
C8236
8 lbs./rod
C11735
8 lbs./rod
Heim Joint Strut Rods
REAR LOWER STRUT RODS:
Heavy duty non-greaseable joints.
EXACT
replace ments
for original rods, provide the ultimate for accurate
adjustment and control of rear suspension. Sold each, but must be installed on both sides.
These use the original style bolts. We
SUGGEST
NEW BOLTS #9 ABOVE C638 and PAGE 164 #16 C4605.
REPLACEMENT ENDS: LEFT hand threads
C6888
1 lb.
RIGHT hand threads (like "regular" threads)
C6889
1 lb.
REPRODUCED STEEL:
LEFT
C374R
12 oz.
(Longer One)
RIGHT
C375R
1 lb.
STAINLESS STEEL:
LEFT
C1498
12 oz.
See #5½
C4602R
Pg. 125
C395
C2050
C638A