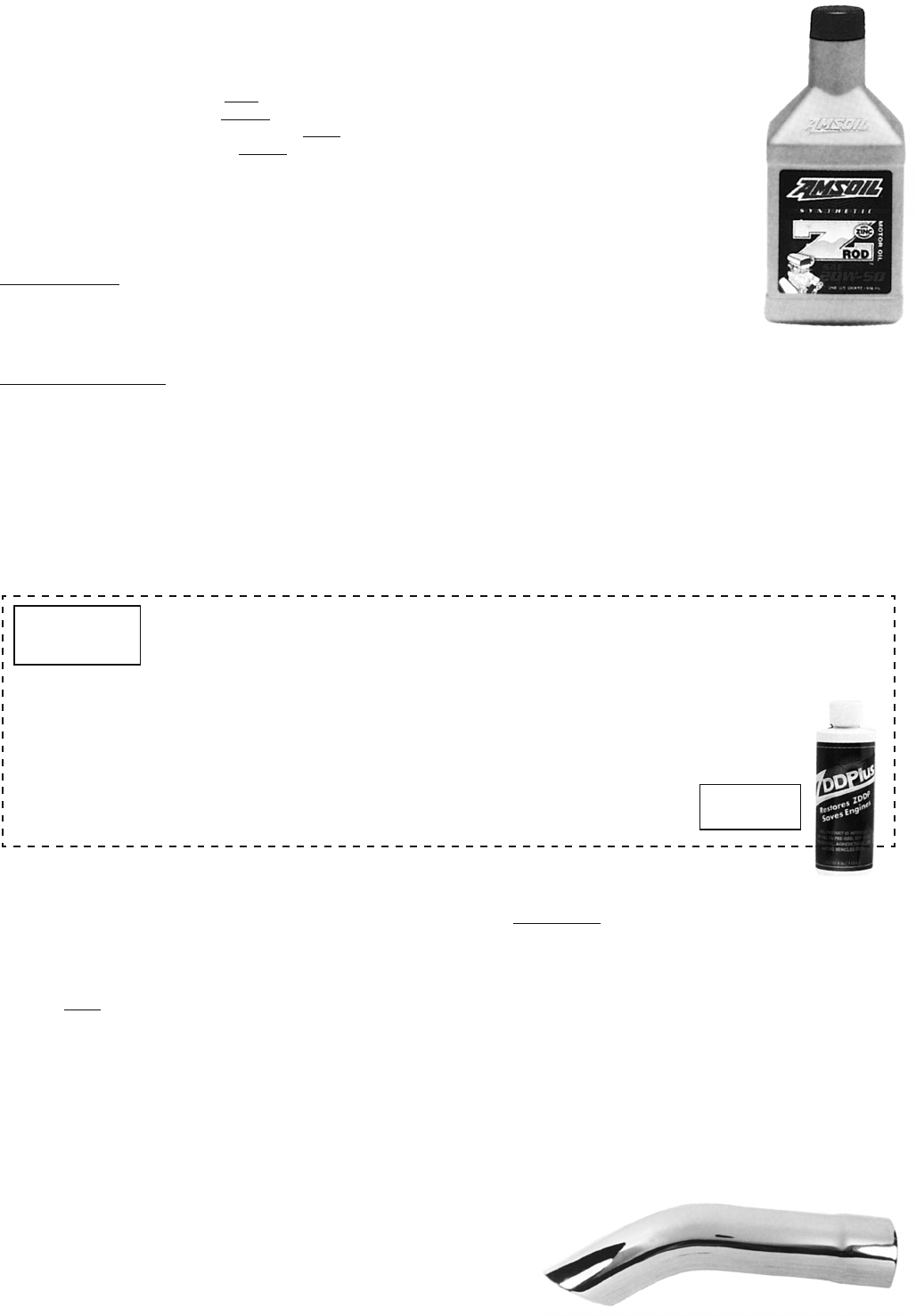 i
WARNING:
Products on this page can expose you to a chemical, which is known to the St

ate of California to cause cancer or reproductive harm. **For more information go to www.P65Warnings.ca.gov**
122
AMSOIL SYNTHETIC MOTOR OIL
The
AMSOIL
engine oils provide superior engine cleanliness, better wear control, lower oil consumption, increased fuel economy, higher engine power
output, unmatched cold weather starting ease and many other advantages over conventional petroleum oil, in both water and air cooled engines.
ENGINE OIL HAS FOUR MAIN FEATURES: FIRST:
It must lubricate moving parts by providing a thin film which actually prevents the parts from scuffing
and also reduces heat created by friction.
SECOND:
Oil must act as a cooling fluid to assist in dissipating the intense heat generated by
combustion which can quickly reduce an engine to scrap.
THIRD:
It must flush moving parts to clean them of abrasive particles which cause
excessive wear and premature engine failure.
FOURTH:
It must seal the rings for increased power and lower combustion products contamination.
The physical properties of
AMSOIL
operate over a wide range of temperature from -60°F to +600°F. Because of the thermal stability of
AMSOIL
it maintains its proper viscosity, does not break down chemically, and retains its effectiveness.
AMSOIL
contains an additive package which is
specifically designed for synthetic oils and today's severe automotive conditions.
Drain Intervals:
Drain intervals may be extended, but oil should be changed once per year under normal driving conditions. Severe operations
such as excessive idling, abnormally high temperatures, or dusty climates may dictate shorter drain periods.
Most Asked ?s
When Should You Put Amsoil Into New Automobile
Engines?
Most now say that it's OK from the first
start; others say to use regular oil & ZDDP for
several thousand miles.
Summary of Benefits
=
=
=
Superior Lubrication at All Temperatures
=
=
=
WILL IT WORK IN AIR-COOLED ENGINES?
Yes, extremely well. Air-cooled engines normally run
hot and AMSOIL reduces the engine tempera ture,
therefore prolonging engine life.
WILL AMSOIL QUIET NOISY LIF
TERS?
Yes, provided they are simply dirty and not damaged
by wear.
WILL AMSOIL DECREASE OIL CONSUMPTION?
Yes, under normal conditions.
WHAT ABOUT OXIDATION?
Having a film strength
of 8 to 10 times more than a petroleum being less
susceptible to extreme temperatures than a petroleum
and having been properly for mulated with the correct
additives into a syn thetic base...
AMSOIL UPDATE – More Zinc!
Amsoil now has an oil with more zinc. They now have enough so you do not need any additional zinc additives.
This oil will give superior protection to all classic cars with flat tappets. It also gives extended protection against
rust & corrosion during extended storage. These oils are compatible with the old Amsoil oils, so you can just
switch right over. This new oil is called "Z-Rod."
10W30 Z-Rod oil

C7961

2 lbs.
20W50 Z-Rod oil

C12576

2 lbs.
Important News About Oil !!!!! ZDDP !!!
For 70 years, engine oils have used Zinc Dialkyldithiophosphate (ZnDDP) as the most common anti-wear component.
In 2005, in an effort to guarantee longer catalytic converter life, the American Petroleum Institute had reduced the amount of
ZnDPP to the point that it was of little use in engines with hydraulic lifters. The point between the lifter and the cam lobe has the highest stress/wear
load in the Corvair engine. Sure the new oils are "better" for newer engines, but what can you do for your older engine?
1) Check your oils.
There are still a few high performance & some synthetic oils with enough ZnDDP, but you must check carefully.
Some "racing oils" do not have the necessary additives for street use. See above for NEW ZINC RICH oils from Amsoil.
2) ZnDDP Additive – ZDD Plus.
4 oz. bottle to treat 4-5 quarts of oil. Contains 2.2 oz. of ZnDDP & 1.8 oz. of regular oil as a transfer agent.
This adds enough ZnDDP to the newer oils to protect the lifters & cam shaft for a normal oiI change period. Is it absolutely necessary?
Most authorities say that it is; the cost is minimal for the protection it offers.
4 oz. Bottle of ZDD Plus
C379X
6 oz. ea.
More General Info on Amsoil & ZnDD Plus – Order C3G
FREE

1 oz.
See Above for
New Zinc Rich
Oils from Amsoil
ZPaste
See page 212
Non-Synthetic Lubricants
GEAR OIL
Regular gear oil for regular and positraction units. See also
SYNTHETIC GEAR OIL
, page 121.
Quart Container
GL-5 PG Only C1694
2 lbs./quart
See GL-4 & GL-5 Top of page 121!
AUTOMATIC TRANS. FLUID
Regular, for Corvair Powerglide transmissions. See also
SYNTHETIC TRANSMISSION FLUID
, page 121. (Also for hydraulic tops after purging the system)
Quarts
C2251
2 lbs./quart
POSITRACTION ADDITIVE
4 oz. of positraction additive. Improves performance and increases life.
C966
6 oz.
Lubriplate "White" Grease:
As suggested so often in Shop Manual. Use for doors, windows, seats, hood mechanisms, etc.
Spray Can

C541 1 lb.

Can't Ship By Air
We Welcome Corvair Questions –
We have always felt this is an important service of Clark's Corvair Parts®. To get the correct answer it is
sometimes necessary for our "TECH" people to ask another "TECH" person's opinion, do research, or even call other Corvair experts. We've never felt "forced" to do this, it is just
the way CLARK'S does business. Friendly, helpful people selling the highest quality parts and giving you the level of service you deserve. We hope it shows in everything we do,
from our detailed computer customer order copy, and the thousands of hours that have gone into our catalogs and supplements, to the hundreds of instruction sheets supplied
with our parts. Are we perfect? "NO" Do we try to be? "YES" (Please let us know when we aren't). Thanks to your tremendous support over the years we can give you far more
than just par
ts for your dollar.
Clark's...more than parts!
BODY BOOKS – See page 243B-244
CHROME EXHAUST TIPS – See pages 36 & 42