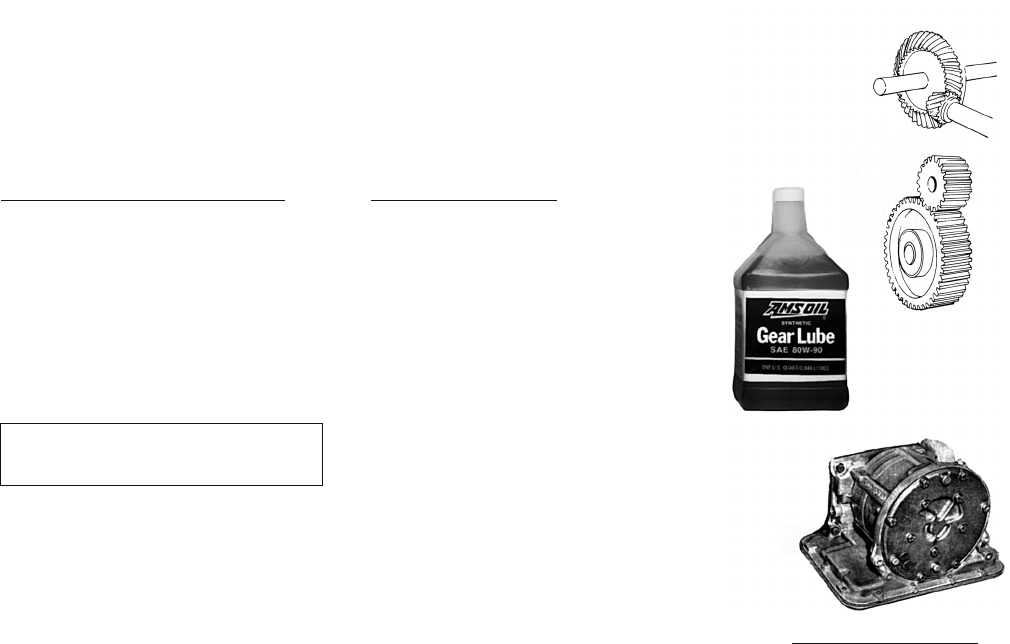 i
WARNING:
Products on this page can expose you to a chemical, which is known to the St

ate of California to cause cancer or reproductive harm. **For more information go to www.P65Warnings.ca.gov**
121
AMSOIL SYNTHETIC LUBRICANTS
Engine Oil Gear Oil Transmission Fluid Grease
By now nearly everyone is aware of the many advantages of fully synthetic lubricants. Even if you don't use it in your engine you should really go the extra
for your differential, transmission
(including powerglide)
and chassis. The extra protection is well worth it. AMSOIL synthetics are nationally known and
100% synthetic. You can't do better.
GL-4 & GL-5 WHY IT MATTERS!!!!!!!!! BEFORE YOU ADD GEAR OIL READ THIS!!
To quickly summarize - GL-4 will protect the brass synchros in a standard transmission. GL-5 has additives & a formulation that in theory is better
EXCEPT for brass synchros -it will actually wear those much faster than with GL-4. ONLY accept a gear oil for your Classic car with brass synchros that is
labeled as GL-4! (75W-90) The gear oil is kept just in the differential with a powerglide trans & there is no brass in the differential so you are best off
with GL-5 (80W-90). Please search the internet for more info.
Amsoil Synthetic Gear Oil: 80W-90 & 75W-90
General Information:
AMSOIL gear lubricants are designed for automotive and truck transmissions/differentials (including positraction units) and
steering boxes. AMSOIL gear lubricants are multipurpose gear oils with no compromise on performance. They are 100% synthetic
containing a complex performance additive system to insure long lasting superior protection from -20°F to 420°F. Synthetic gear
oils are able to provide extreme protection at high temperatures. Their thermally stable ester base plus additives perform at 100°F
in excess of temperatures where petroleum products fail. The superior anti-wear and extreme pressure properties of the synthetic
base material of AMSOIL are enhanced by additives to insure low wear rates, often withstanding 30% higher loads than petroleum oil.
Approximate Corvair Capacities
Differential
= 2-3 quarts (3 quarts if empty)
Transmission
= 1-2 quarts
=
For regular Gear Oil, see page 122
Summary of Benefits
=
Reduced friction, lower fuel cost
=
High temperature stability
=
Low temperature fluidity
=
Superior wear protection
=
Superior shock loading protection
=
Rust and corrosion protection
=
Elimination of deposits
=
Easier cold weather shifting
AMSOIL SYNTHETIC
AUTOMATIC TRANSMISSION FLUID
General Information:
AMSOIL ATF is formulated using 100% synthetic base fluids compounded
with proven performance additive systems, containing detergent dispersants, corrosion and oxidation
inhibitors, anti-wear agents, and defoamants. Conventional automatic transmission fluids are often
exposed to high heat loads during hot summer months and particularly in severe service applications,
such as boat and trailer pulling, and competition driving. Heat degradation of conventional ATF's,
along with subsequent oxidation, changes the basic frictional character of the fluid which is critical
to proper clutch engagement. Synthetic base materials, replacing petroleum bases, offer greatly
improved resistance to heat break-down, thus extending fluid life and performance. Recommended in
all transmissions using Dextron II.
For Regular Transmission Fluid:
See page 122. 3 Quarts needed if
transmission is empty. 6-½-7 Quarts needed if draining the transmission & torque converter.
Your Corvair powerglide transmission deserves the BEST it can get.
Switch to SYNTHETIC TRANSMISSION FLUID.
SYNTHETIC GEAR OIL
All Differentials, Transmissions, & Steering Boxes.
Powerglide gear oil – 80W-90 GL-5:
C7960
2 lbs./qt.
Standard trans gear oil – 75W-90 GL-4:
C9326X
2 lbs./qt.
Gear Oil Gun
Page 340
SYNTHETIC TRANS. FLUID
Quarts
C6452
3 lbs./Quart
Summary of Benefits
=
Helps reduce fuel consumption
=
=
Greater resistance to high heat loading
=
Less drag at low temperatures
=
Virtually eliminates sludge and
=
Amsoil Heavy Duty Synthetic Grease
Universal Joints Wheel Bearings Ball Joints Tie Rods
General Information:
(In Tubes)
AMSOIL is a synthetic lithium complex based grease. Because of its unique combination of properties, it is capable of replacing a wide variety of greases
in automotive applications. It adheres to metal surfaces with a tenacious lubricating film that is up to four times stronger than other greases. This plating
action makes AMSOIL highly resistant to moisture and water wash-out, provides excellent rust and corrosion protection and resists squeeze-out caused
by extreme pressure and excessive shock loading. A must for front and rear wheel bearings, u-joints, and suspensions.
Comes in standard 14 oz. tube (cartridges).
HD Synthetic Grease
C7985
1 lb.