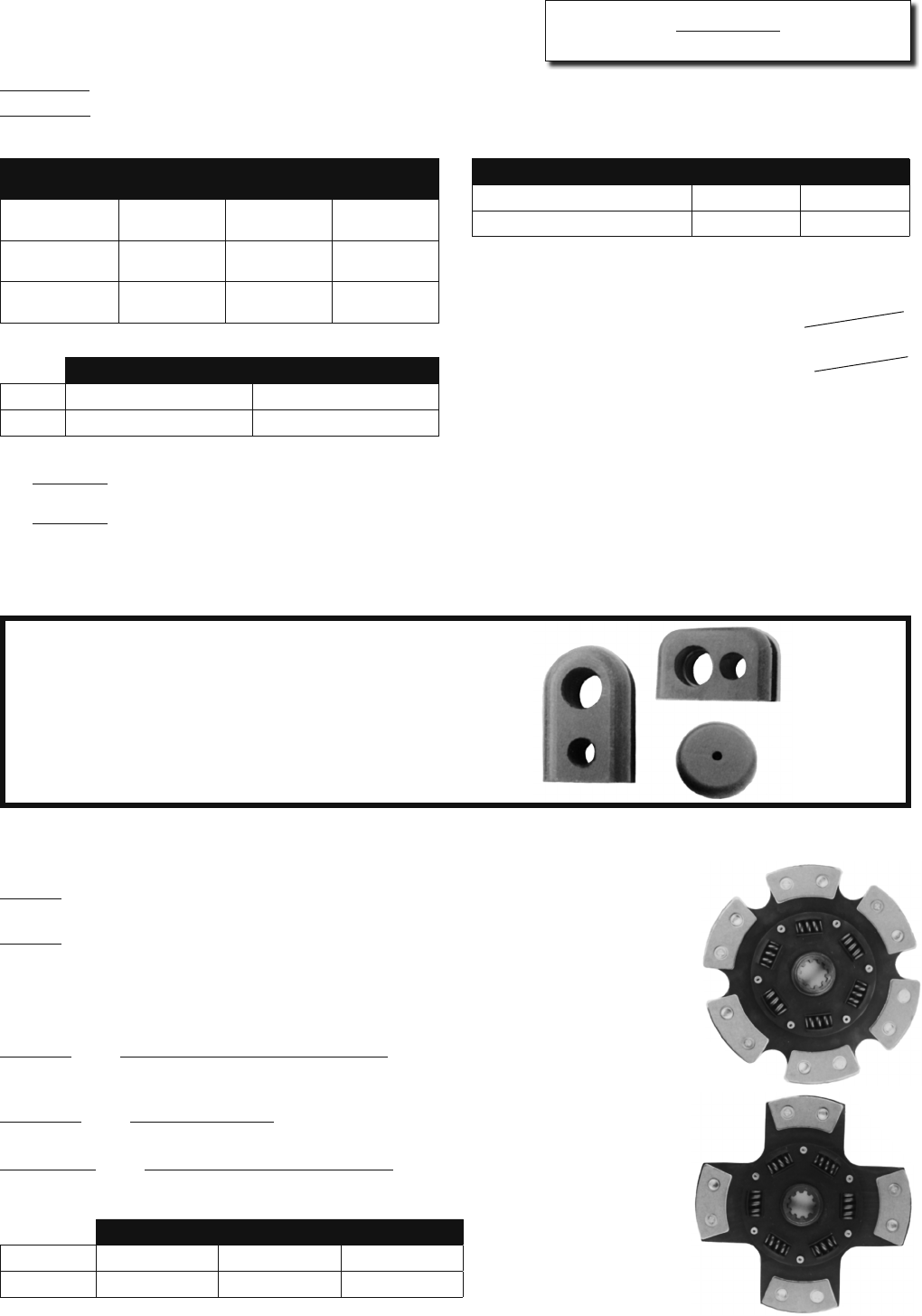 i
WARNING:
Products on this page can expose you to a chemical, which is known to the St

ate of California to cause cancer or reproductive harm. **For more information go to www.P65Warnings.ca.gov**
107
BEARING SUMMARY
Multi-Kits
Most of these parts are also available in
Multi-Kits
THIS IS A LIST OF ALL ROLLER AND BALL TYPE BEARINGS.
PREMIUM
BEARINGS (P):

"NAME BRAND" bearings.
$$ SAVER BEARINGS (-$):
"QUALITY" bearings but NOT normally considered equal to quality of

"PREMIUM"

bearings.
RUBBER PARTS
pages 230-236
Clark's Corvair Parts, Inc.
has reproduced over
50 rubber parts.
FRONT WHEEL BEARINGS –
(See retainers, page 152)
YEAR
Inner Bearing
Outer Bearing
Seal
C319A
1961-65 (FC) Vans
C320B
1965-69 Cars
C320A
REAR WHEEL BEARINGS: 65-69
(Additional Parts, page 167)
Outer
Inner
STEERING BOX
(Additional Parts, page 158)
60-69 CARS (2 needed – races separate)
Bearing
C1645
2 oz.
Race
C1646
4 oz.
DIFFERENTIAL BEARINGS (1960-69 ALL)
All 12 oz.
Additional Parts, see pages
123-126

PREMIUM

$$ SAVER
Side Bearings (LF & RT)
C1680

C8457
Pinion Bearings (Front & Rear)
C1681

C8458
TRANSMISSION
(Ball Bearings)
NOTE: Bearings C1672, C1673, C1675 can be interchangable for
ALL
1961-69
front bearings and differential end bearings for
ALL 61-65
4-Spds.
(Also see $$ SAVER below)
— ALL BEARINGS 12 oz. —
PREMIUM: C1672
9 balls & shield
PREMIUM: C1673
12 balls & shield (Sub C1672)
PREMIUM: C1674
DIFFERENTIAL END 60-65 3-SPD.
PREMIUM: C1675
9 balls – NO shield
PREMIUM: C1676
DIFFERENTIAL END – 66-69 3 & 4 SPD.
(This is a premium bearing made by adding a center sleeve to a bearing)
$$ SAVER: C8459
Can be used in place of C1672, C1673, & C1675
above. C8459 has shields that can be removed as needed.
GENERATOR/ALTERNATOR: 60-69 ALL
(Additional Parts, pages 82-84)
(1) needed
PREMIUM
C617
6 oz.
Additional Parts
Pages 129-132
CORVAIR PERFORMANCE CLUTCH DISCS –
For 64-69
Flywheels (including solid) and pressure plates.
4 PUCK: LESS
centrifugal weight, "bite" quicker and release quicker but are a little harsher.
EXTREME HIGH PERFORMANCE.
6 PUCK:
Smoother engaging due to additional surface area, better clutch "feel".
NORMAL CHOICE FOR ALL STREET DRIVING.
BOTH UNITS HAVE –
Space age materials for greater strength and longer life. High quality spring
hub for less vibration and more torque cushioning with smoother operation and less strain on the
rest of the powertrain.
CERAMIC • • •
For the MOST SEVERE DUTY CLUTCH.

Very aggressive engagement
• • • Very little slippage, extreme holding power. Unparalleled ability to withstand intense stress.
Fused to steel backing plate providing optimal burst strength.
CAR-BOTIC • • •
For Heavy Duty Use.

Competition and extreme use • • • Less aggressive than
CERAMIC but with all the qualities of a metallic button. Smooth engagement with long life.
KEVLARTUFF
• • •

For GENERAL to HEAVY DUTY USE.

• • •

OEM replacement for auto cross
racing. Long life, quicker shifting and smooth engagement. Holds under load without glazing under
abusive conditions. Steel backed for high burst strength. Not as strong as others listed.
CERAMIC
CAR-BOTIC
KEVLARTUFF