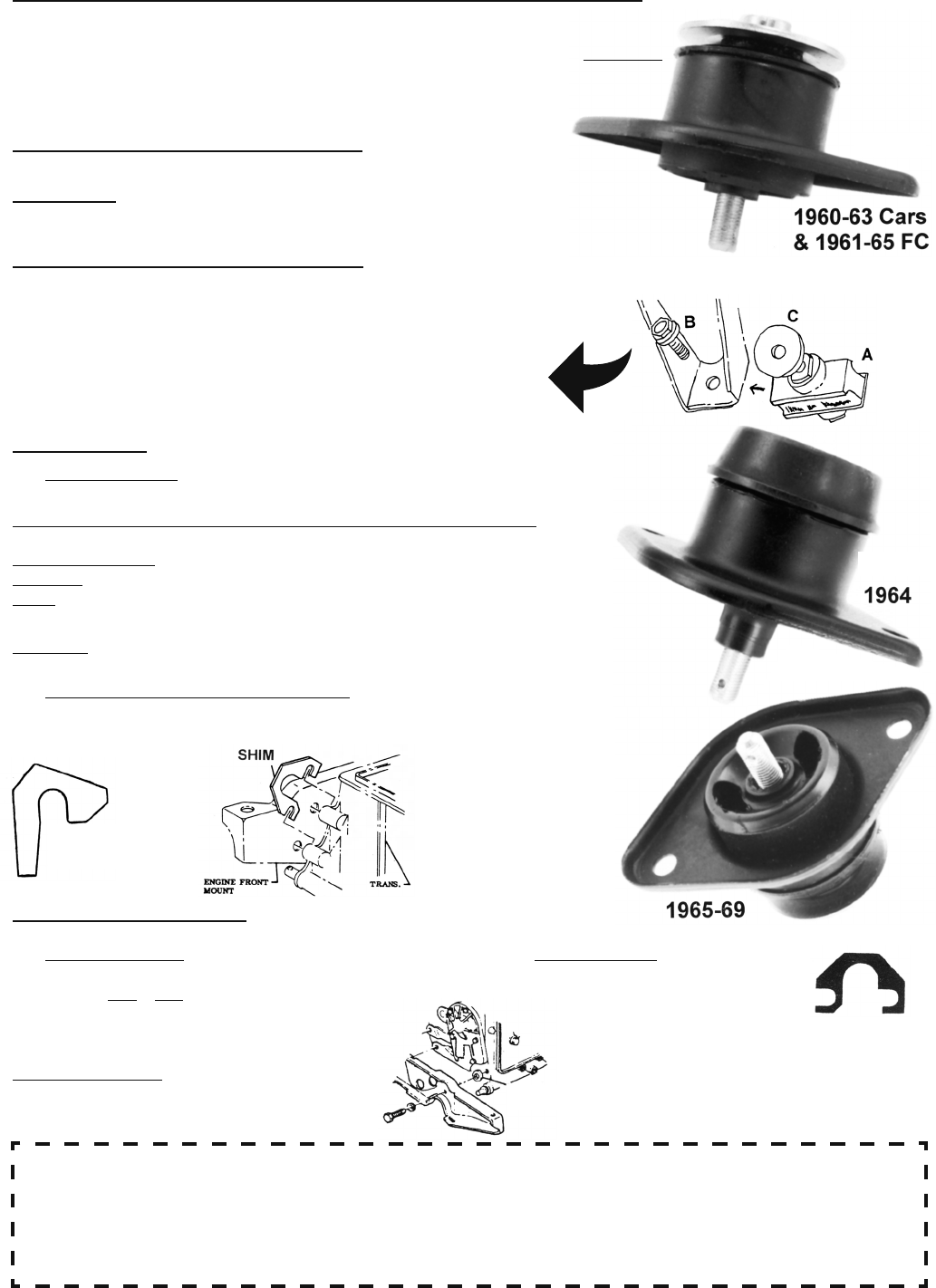 i
WARNING:
Products on this page can expose you to a chemical, which is known to the St

ate of California to cause cancer or reproductive harm. **For more information go to www.P65Warnings.ca.gov**
167A
NEW TRANSMISSION MOUNTS for 1960-69
A superior product at lower prices. All parts are new & bonded under perfect conditions.
Benefits include:
1) All new

Also see Multi-Kits – Blue pg. MK-14.
Sold each.
2) No Cores to return!

It is

highly recommended

that you

replace both
3) Lower Prices than Rebuilds

mounts at the same time. Also see "Hardware"
4) Factory controlled production

below. We will no longer be selling rebuilt
1960-63 Cars & 1961-65 FC (Vans) –
New Transmission Mount
2 needed; see hardware below.
C8060R
2 lbs.
each
1964 Cars –
New Transmission Mount
2 needed; see hardware below.
C8061R
2 lbs.
each
1961-62 FC Trans Mount "Bushing" –
We believe these were used on
3 & 4 speed from 1961 - mid 1962. They were designed to keep the power train from
shifting forward & back as well as keeping the transmission from jumping out of gear. The rubber
is usually long gone! Check if yours has them & replace both now. You may also need new bolts
and the washers that were inserted at the factory as spacers.
"A" "Bushings"
sold each. 2 needed.
C7421
1 lb.
"B" Bolt Set for One Bushing
C7422
4 oz.
"C" Washers for One Bushing
C7423
2 oz.
1965-69 Cars –
New Transmission Mount.

2 needed; see hardware below.

C8062R

2 lbs. each
Special Wrench:
Holds top of 65-69 transmission mount bolts.

C3772

6 oz.
1960-69 TRANSMISSION MOUNT HARDWARE
Usually very rusty & fatigued.
NUT FOR BOTTOM STUD
C726
1 oz.
BOLTS: All years. Set of 2 bolts, lock washers & nuts. (enough to bolt one mount to frame)
–
Differential to Transmission:
Sold as Set "Gr 8" –

Not Original Style.

All 6 oz./set
1961-63:
C5205R 1964-65:

C5206R

1966-69:

C5207R
Transmission to Trans Cross Support:
Sold as Set of "Gr 8". All 4 oz./set
Sets include all necessary bolts & lock washers (Does not include any special spacers or shims).
1960-65 Standards:
C6891
1960-69 PG:
C6892
1966-69 Standards:
C6893
TRANSMISSION SHIMS:
These adjust rear toe-in and are usually very rusty or missing.
Usually stacked to about ±1/ 4". These Clark repros are zinc plated and fit all 60-64 Cars & FCs.
Single Slot Shim:
Used on single bolt as needed.
Two Slot Shim:
Used on double bolts.
Also used with special spacer (C9387).
1/16"
C3917
1 oz.
1960-64:
3 Sp & 4 Sp 0.015" C2096

1 oz.

3/32"

C3951

1 oz.
0.025"
C3902X

1 oz.

1/8"

C3952

1 oz.
Assortment (2 each of 1/16", 3/32", 1/8")
C3953
4 oz.
SPECIAL SPACER:
1961-65 4-Speeds. Often missing!
Exact Repro. Used with single bolt shims. One needed.
Please don't wait to buy new repros
Some customers think that once we have a new repro in stock that they can wait years to purchase, but consider the following arguments for buying sooner rather
than later:
1. Sometimes, we sell out, lose the supplier, or can't warrant the large re-run requirements
2. The sooner we see your orders, the sooner we can start reproducing more!
THANKS TO ALL OF OUR CUSTOMERS FOR YOUR CONTINUED SUPPORT
It makes it possible for Clark's to do the repros you need.
C8060R
C8061R
C8062R
C2096
C3902
C9387