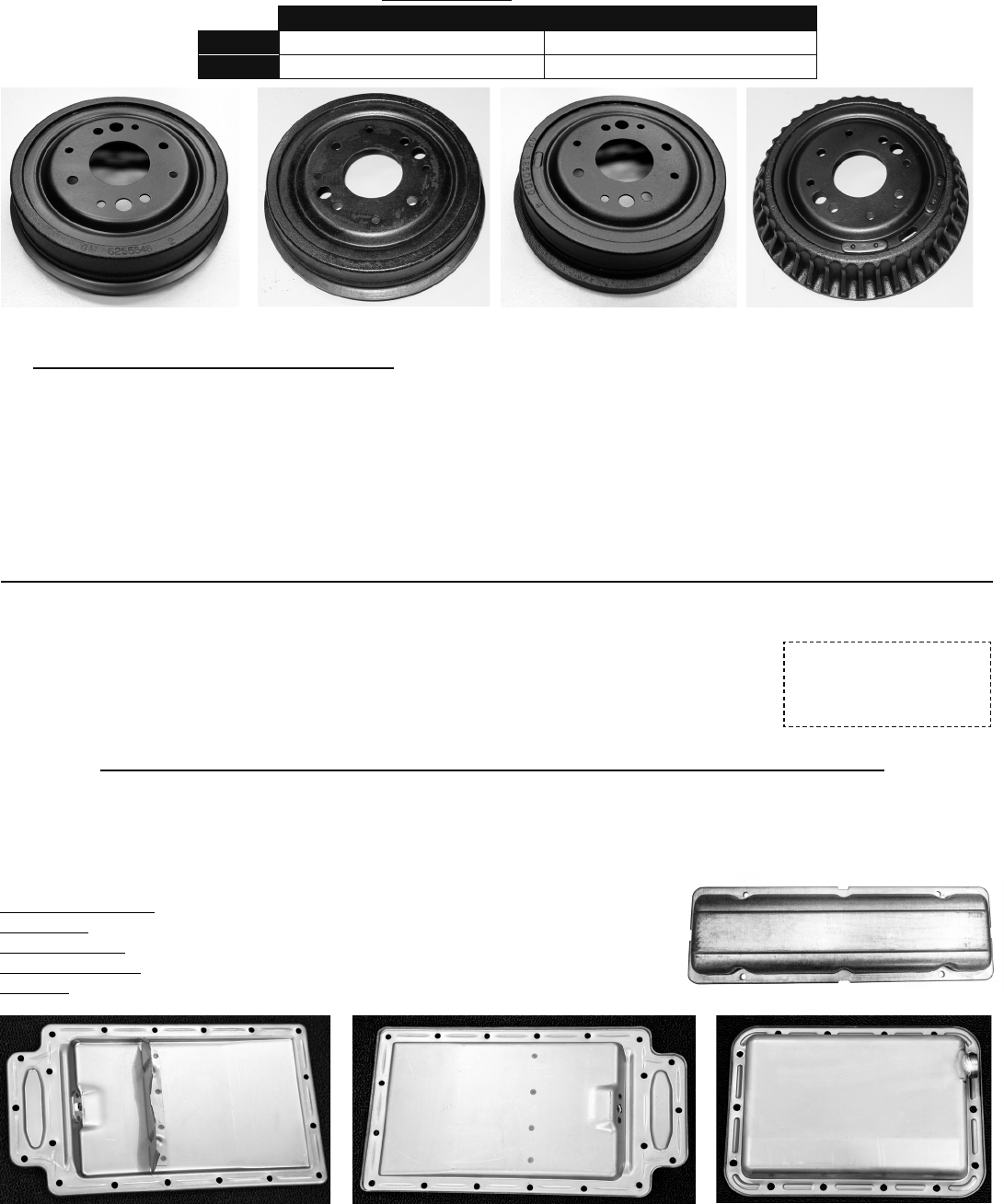 i
WARNING:
Product

s on this page can expose you to a chemical, which is known to the State of California to cause cancer or reproductive harm. **For more information go to w

ww.P65Warnings.ca.gov**
10
NEW 60-64 BRAKE DRUMS
We are reproducing the 60-63 front & rear and 64 front & rear brake drums to original specs. We have matched materials & design as closely as possible to
insure quality, originality & performance. New drums are
always
preferable over turned drums (see below).
Expected fall 2022 – Order now and we'll notify
you as soon as available.
Like originals, these are balanced as needed.
NEW DRUMS – Sold each
FRONT
C5132

$86.60

2+ $82.30

9 lbs.

C5134

$103.20

2+ $98.05

10 lbs.
REAR
C5133

$98.25

2+ $93.35

9 lbs.

C5135

$103.90

2+ $93.55

14 lbs.
60-63 Front
60-63 Rear
64 Front
64 Rear
1
Turned drums have less material for heat sink
2
Turned drums may be distorted
3
Turned drums have 50+ years of material heat cycles
4
Current new shoes do not make full contact. From the 30's-60's
oversized
shoes were available for use with turned drums for better
contact pattern with enlarged inside diameter.
5
Turned drums require core fees & return shipping
6
NEW drums give better braking. Most owners have no need for disc
brakes on Corvairs – just be sure your whole system is in good
condition and give your new shoes & drums a few hundred miles to
TURNED BRAKE DRUMS?
For years, turned brake drums were about all we had, but new drums do have advantages over turned drums.
"STOCK" OIL PANS, VALVE COVERS & PG PANS
* * * 50-60% THICKER THAN STOCK * * *
1
– Better stamping than originals
3
– Very stiff, will not distort
4
– Bolts less apt to deform holes
5
– Excellent gasket sealing
7
– Plating looks like NOS
REPLACE THOSE RUSTY, DENTED, DISTORTED OLD PANS
Now you can replace them with these brand new reproductions. Stamped to match the originals exactly, these pans and covers are made from 50-60%
thicker steel. This not only makes them more durable, but also improves gasket sealing. The original engine and Powerglide pans are known to distort
around the bolt holes and flex in-between the bolts which makes it hard for the gasket to seal snugly. The thicker steel on the new pans reduces the
distortion and flex to spread the clamping force more evenly over the gasket, improving the seal and reducing leaks. The oil pan does not come with a
drain plug. The PG pan is ready for you to attach your stock PG dipstick tube.
Order gaskets from catalog.
ALL IN STOCK
Engine Oil Pan
C2838
8 lbs.
1 = $117.00
2+ = $112.00/each
PG Transmission Pan
C2837

8 lbs.

1 = $115.00

2+ = $110.00/each
Engine and PG Pan Set (one each of C2838 and C2837)
C2838P
16 lbs.
$222.00
Valve Cover (sold each)
C4232R
1 = $49.45
2+ = $47.00/each
Inside Oil Pan
Outside Oil Pan
PG Pan
New PG Pans included
in all PG trans rebuilds