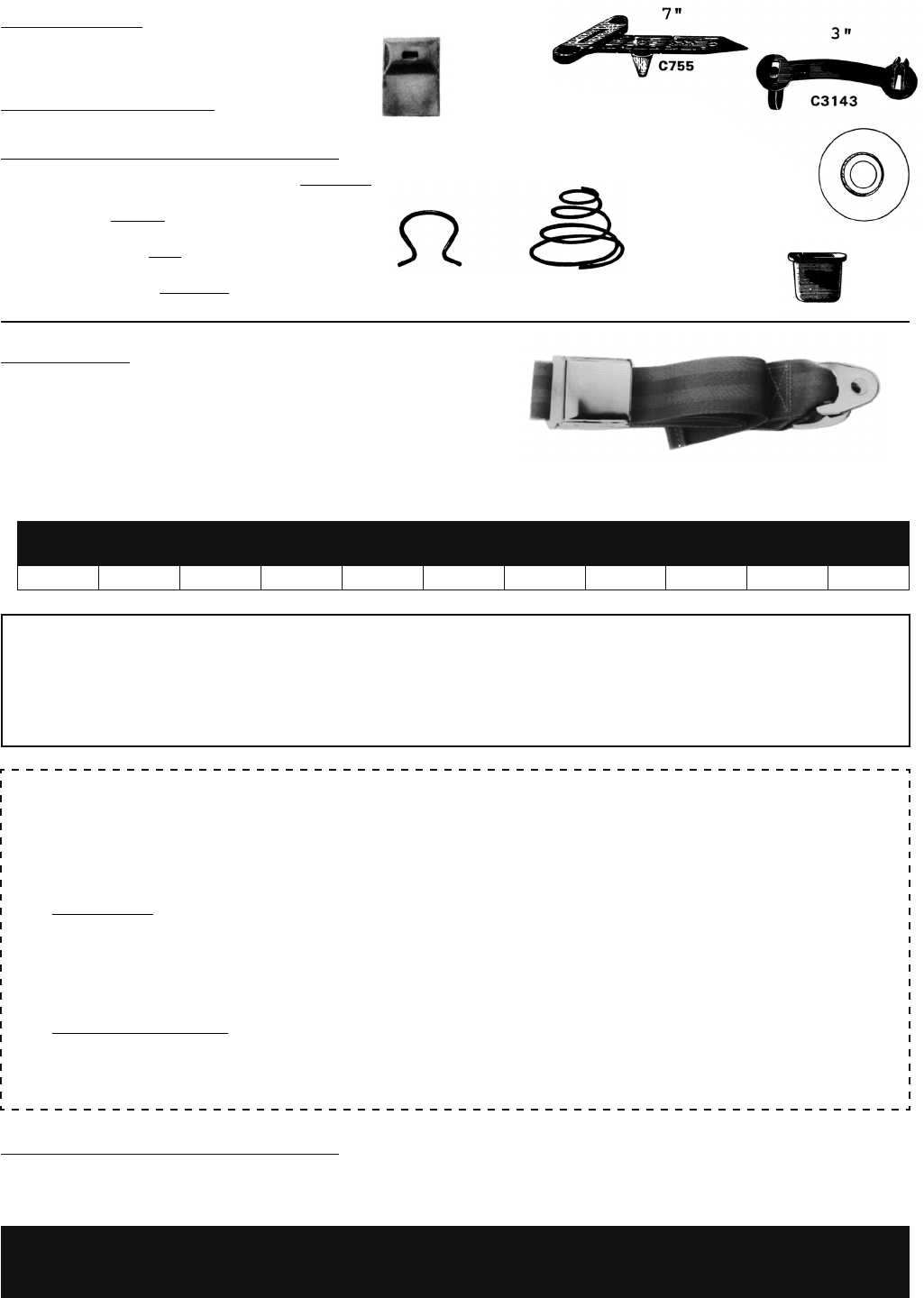 i
WARNING:
Product

s on this page can expose you to a chemical, which is known to the State of California to cause cancer or reproductive harm. **For more information go to w

ww.P65Warnings.ca.gov**
30
Wiring Straps
"Pull Through" – Black
C755
1 oz.
"Push In" – Black
C3143
1 oz.
Rocker Panel "Flap":
C856

1 oz.
MORE DOOR PANEL PARTS
Plastic Door Handle/Window Crank Washers:
Sold each.

C7173

1 oz.
Door Handle Spring:
C7672

2 oz.
Handle Retaining Clip:
Sold each.

C2186

1 oz.
Plastic Door Panel Retainer (goes into door):
Sold Set of 10.

C572X

2 oz.
SE
AT BELTS
– ALL SOLD EACH.

2 lbs.
Non-original
replacement belts fit
FRONT or REAR
seats.
Chrome buckle, plated mounting hardware.
Please request sample if color is critical.
FOR SAMPLES order – SAMSB–FREE
ADD the last 2 digits of part #.
(example:

SAMSB–45

= sample for C9245)
SEAT BELT COLOR CODES
BLACK
no samples
WHITE
no samples
RED
bright
RED
medium
BLUE
powder (light)
BLUE
dark
(almost black)
TURQ
medium
BROWN
gold fawn
BROWN
med saddle
BROWN
med dark
SILVER
light
C5881
C11511

C11512

C9245

C9243

C9244

C11514

C5883

C11515

C11516

C9246
Important News About Oil!!!!! ZDDP!!
For 70 years, engine oils have used Zinc Dialkyldithiophosphate (ZnDDP) as the most common anti-wear component. In 2005, in an effort to
guarantee longer catalytic converter life, the American Petroleum Institute had reduced the amount of ZnDPP to the point that it was of little
use in engines with hydraulic lifters. The point between the lifter and the cam lobe has the highest stress/wear load in the Riviera engine. Sure
the new oils are "better" for newer engines, but what can you do for your older engine?
1)
Check your oils.

There are still a few high performance & some synthetic oils with enough ZnDDP, but you must check carefully. Some
"racing oils" do not have the necessary additives for street use. Amsoil now has an oil with more zinc. They now have enough so you
do not need any additional zinc additives. This oil will give superior protection to all classic cars with flat tappets. It also gives extended
protection against rust & corrosion during extended storage. These oils are compatible with the old Amsoil oils, so you can just switch
right over. This new oil is called "Z-Rod".
Quart
10W30
Z-Rod oil
C7961
2 lbs.
Quart
20W50 Z-Rod oil

C12576

2 lbs.
2)
ZnDDP Additive – ZDD Plus.
4 oz. bottle to treat 4-5 quarts of oil. Contains 2.2 oz. of ZnDDP & 1.8 oz. of regular oil as a transfer agent.
This adds enough ZnDDP to the newer oils to protect the lifters & cam shaft for a normal, oil change period. Is it absolutely necessary?
Most authorities say that it is; the cost is minimal for the protection it offers. 4 oz. Bottle of ZDD Plus
C379X
6 oz. ea.
More General Info on Amsoil & ZnDD Plus – Order C3G
Free

1 oz.
CHEVY CORVAIRS
Forget the MYTHS, enjoy the cars! These are great handling cars with real personality. 2 dr, 4 dr, Convertible,
Wagons, Vans, Pickups. 6 cylinder air-cooled. Factory 2 carb, 4 carb, turbos! Also a great national club to join!
Engine Hood Fiberglass Material
Very close to original. Easily cut with scissors and glued into place. More than enough for 1 hood.
R139
3 lbs.
1/2 pint
Special Glue C7033

1 lb.
WEBSITE ORDERING NOTE!
For each part you add to the cart you may add a comment of up to 36 characters – add a color if multiple colors are required, etc.
C856
C7173
C572X
@
•