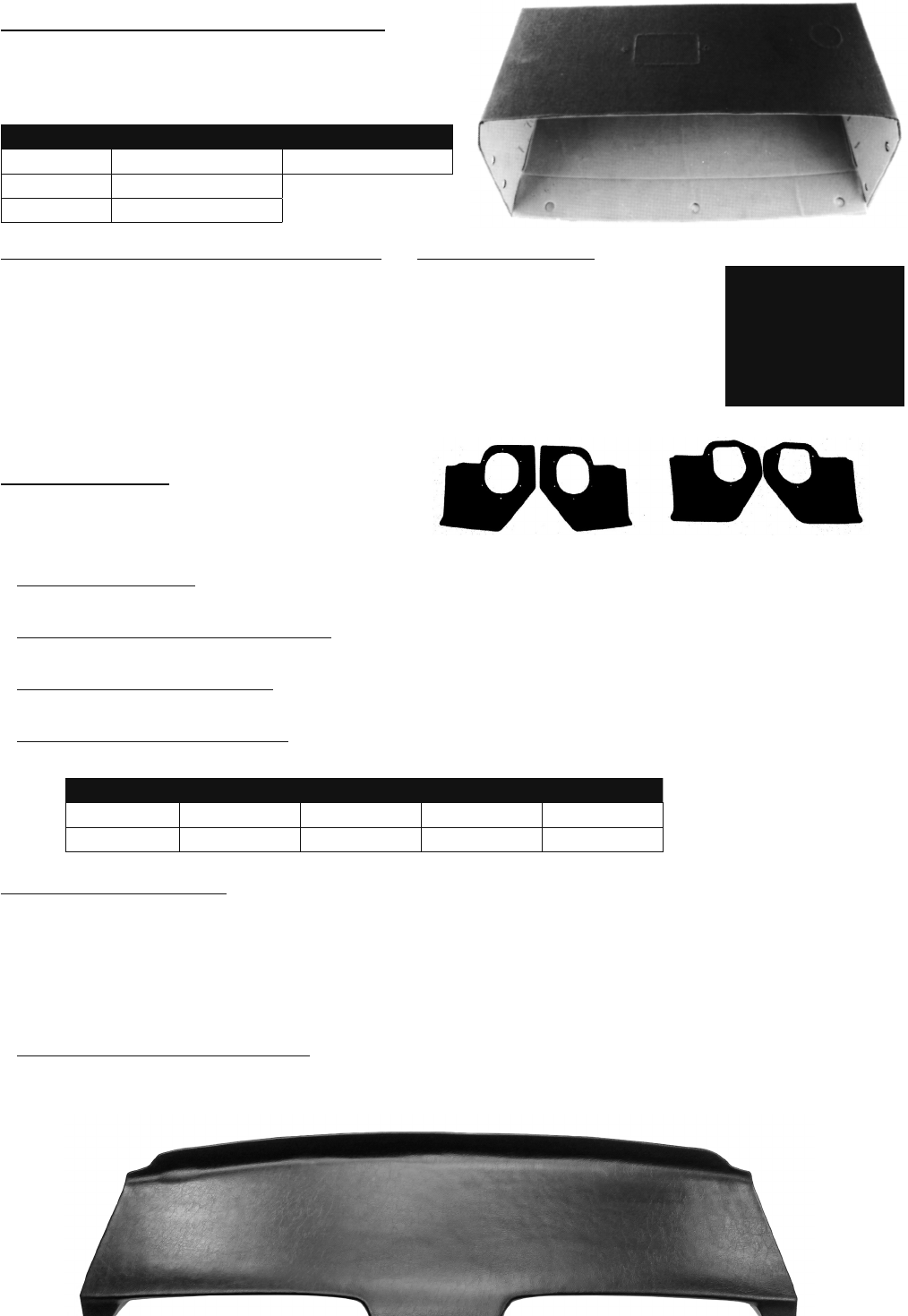 i
WARNING:
Product

s on this page can expose you to a chemical, which is known to the State of California to cause cancer or reproductive harm. **For more information go to w

ww.P65Warnings.ca.gov**
28
RIVIERA GLOVEBOXES
We now have these assembled gloveboxes with the correct flocked
lining (felt-like lining). You will need to cut out a perforated section
depending on your year.
Note: 1963 originally had a light gray colored
lining & the 1964-65 were black.
1963
Gray
R337
3 lbs.
R298R
3 lbs.
1964-65
Black
R338K

3 lbs.
MAJOR INTERNET IMPROVEMENTS! www.corvair.com
The following are some of the new things that you can now do at our internet site:
1.
Enter a part number and get current costs and other information.
2.
Place a secure order that displays total parts costs.
3.
You do not need to actually "send" the order. You can just fill it out to get an idea of your order.
4.
The system even stops you if the part number needs a color code!
5.
Receive email confirmation of receipt of your order.
6.
The website is this same catalog with clickable part numbers.
TAKE A LOOK! GIVE IT A TRY! GIVE US FEEDBACK!! Thanks!
KICK PANELS
We offer 4 styles of die cut kick panels. A FEW 64 owners
have said their panels looked like the '63 – compare to
photos – all are sold as a pair of LF & RT.
1 – W
ATERPROOF:

This is a thick black waterproof cardboard, perfect for covering with carpet or vinyl. Either side is identical.
Sold as a pair.
2 – COVERED WITH CARPETING:
Price includes us gluing any of our die-cut cut & sew carpet colors to waterproof
cardboard. Sold as a pair. Include carpet color, see
page 17.
3 – COVERED WITH VINYL:
This makes a very durable option to regular colored cardboard or carpet covered. Price
includes us gluing on the die-cut vinyl of your choice. Sold as a pair. Include vinyl code, see
pages 18 & 19.
4 – COLORED CARDBOARD:
Choose from any of the cardboard colors, our cardboard is "double-colored" for a long
lasting color-produced along with your interior. Sold as a pair. Include cardboard color code, see
page 20.
All 3
lbs.

Waterproof

with Carpeting

with Vinyl

Color Cardboard
1963
(pair)
R329

R331

R333

R335
1964-65
(pair)
R330

R332

R334

R336
Rear Package Tray
– 3rd Generation – Superior!
These "
TRAYS
" are made from fiberglass and will not be affected by moisture like the originals. They have all the original contours. Our
specialists have installed the padding and vinyl on 100s and we highly suggest you purchase the covered tray from us – but we do offer
a "bare" tray. The same tray was used for all 3 years. Please give the color code for your year – drop down list of colors on website. See
colors on
pages 18 & 19,

or get actual sample on

page 7.
NOTE:
Rear defrosters were an option, our tray does not include cut-outs for them. We can cover a tray with
YOUR

vinyl at no extra cost
–
contact us for details.
VINYL COVERED PACKAGE TRAY –
3rd Generation
Weight is due to dimensional shipping requirements – 35 lbs. + handling
1963
R92TN3

1964

R92TN4

1965

R92TN5
Bare Tray –
Not suggested: 1963-65 Riviera

R92TNB
All R items on
this page qualify
for the interior
6 small holes each
3 small holes each
~
',