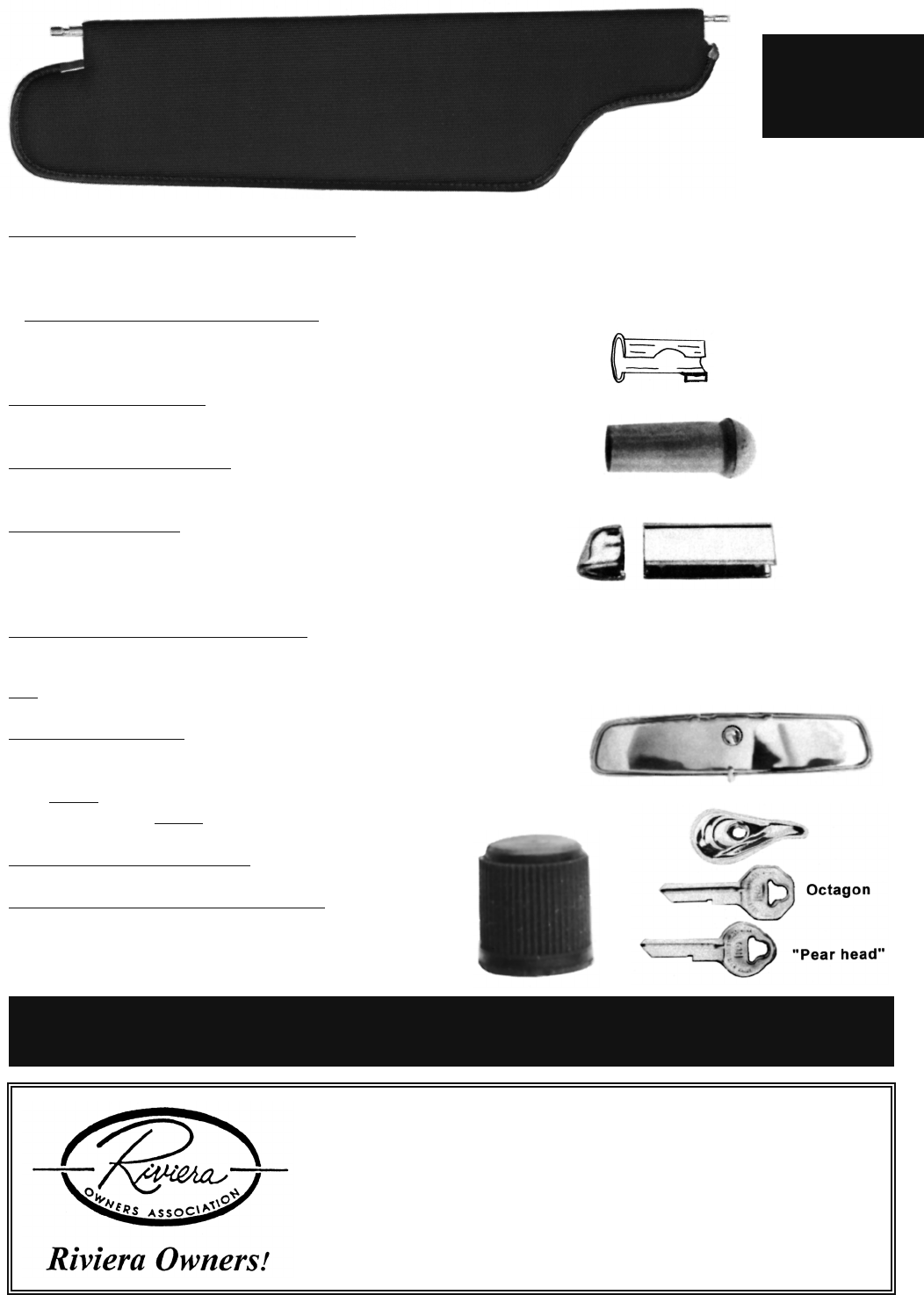 i
WARNING:
Product

s on this page can expose you to a chemical, which is known to the State of California to cause cancer or reproductive harm. **For more information go to w

ww.P65Warnings.ca.gov**
All R items on
this page qualify
for the interior
27
NEW! RIVIERA SUNVISORS
Printed Colors on

page 20
Now you can order new sunvisors on new "boards". Complete sunvisor, covered with material that matches our headliners exactly.
Includes new chrome clips.
NEW
visors are ready to install (still need to order bushings & rubber tips below). No need to send in your
old ones for recovering. (1 =
1 pair
not sold individually).
FOR THE FOLLOWING HEADLINER COLORS:
ADD
the code to the end of

R200

. 3 lbs.
RHB, RHD, RHG, RHR, RHW, RHZ (example:
R200RHB
)
NOTE: If your visors do not measure 21 1⁄4", see recovering service below.
SUNVISOR BUSHINGS:
Easy to replace. Keeps visor from rotating down!
SUNVISOR RUBBER TIPS:
These are exact replacements– grey. Sold each.
SUNVISOR "CLIPS":
Now you can replace those pitted chrome metal pieces
on the ends of your visors.
EXACT repros. Sold Sets of 2.
SUNVISOR RECOVERING SERVICE
Note: Please carefully remove your material before sending the sunvisors to us.
We cannot recover badly warped sunvisors. The price includes material and new chrome ends installed. Check for material availability
first! Extremely difficult for most Upholstery Shops to do.
NEW
VISORS ABOVE SUGGESTED!

RECOVER ONE VISOR R152

2 lbs.
DAY/NIGHT MIRROR
–

C9862

2 lbs.
Stainless back with light gray trim and gray knob.
May not match
your original mirror.
SCREW:
That holds mirror to bracket.
C3245

1 oz.
COAT
HOOKS:

Replace those rusty ones.

Sold each.

C8777

2 oz.
Screws
– Chrome.

Sold each.

C1218

1 oz.
RUBBER TRIP RESET KNOB –
C19
1 oz.
ORIGINAL STYLE KEYS FOR 1963-66
Octagon
– Ignition & Doors
C2561

1 oz.
"PEAR" head
– Glovebox & Trunk
C2562

1 oz.
1963 OWNERS – CHECK LENGTH
These measure 21 1/4" tip to top
Join the only club dedicated to the preservation, restoration and
promotion of the 1963-1999 Buick Riviera. A non-profit club formed in
1984, members worldwide, who receive the award-winning 40 page color
magazine. The
Riview
is published bi-monthly and contains classified,
members cars, tech tips and more.
For a free brochure contact:
Riviera Owners Association
website - www.rivowners.org
This space donated by Clark's Corvair Parts®
WEBSITE ORDERING NOTE!
For each part you add to the cart you may add a comment of up to 36 characters – add a color if multiple colors are required, etc.
C7724
C93
C8777
C19
Octagon
"Pear
head"
Riviera
Owners!