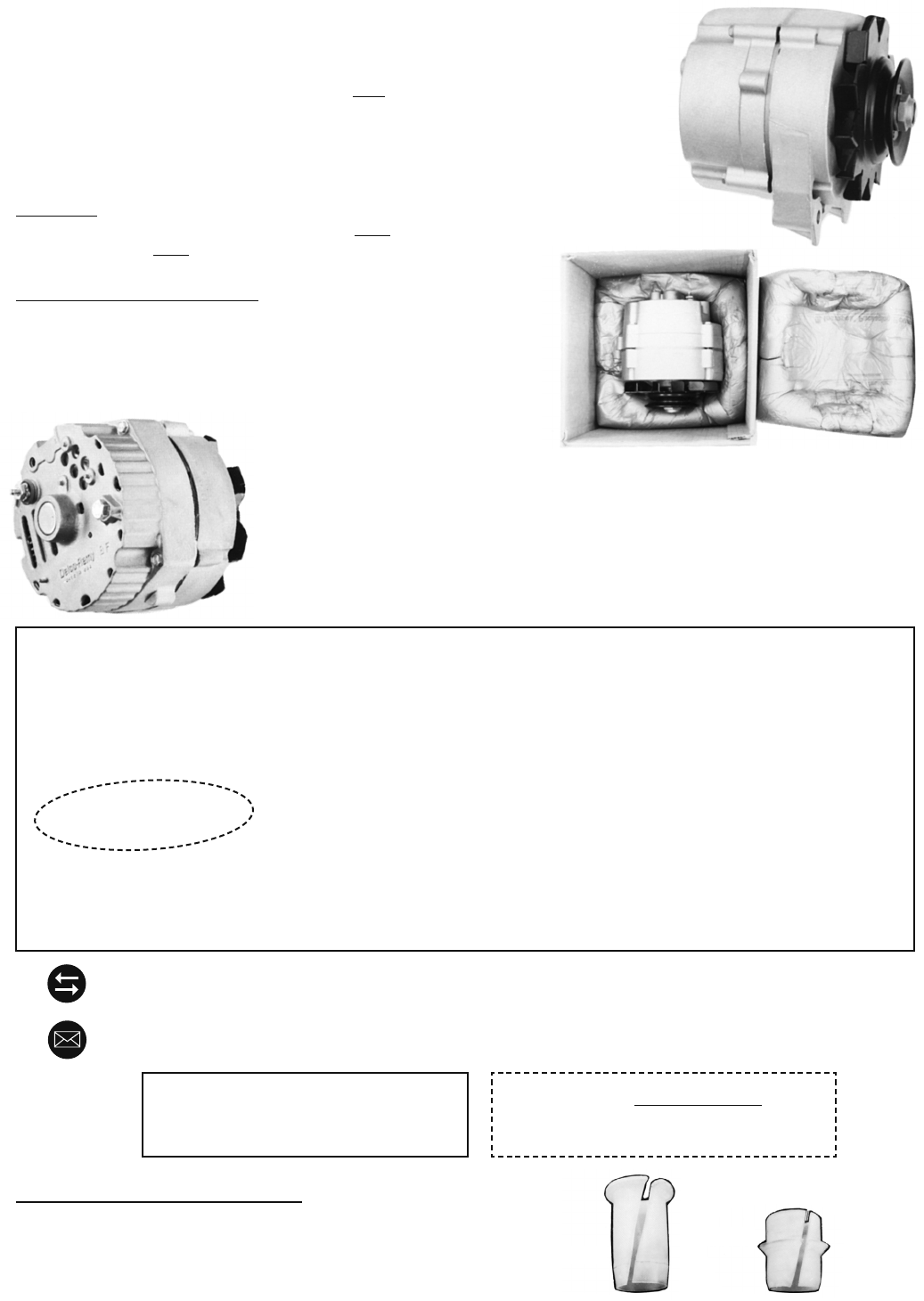 i
WARNING:
Products on this page can expose you to a chemical, which is known to the St

ate of California to cause cancer or reproductive harm. **For more information go to www.P65Warnings.ca.gov**
84A
Clark Fully Rebuilt Alternators
Correct, original
Corvair
alternator rebuilt by
Clark's Corvair Parts
®. We completely disassemble and
replace all needed parts (including
NEW
Rotor & Stator). Each unit is then tested under load. These are
Quality Rebuilds
. Comes complete including pulley fan.
Note:
Be sure to replace voltage regulator and
check condition of battery and wiring.
Never
remove battery cables while engine is running. Can ruin
alternator.
DELUXE REBUILT

is now our only rebuild (includes

NEW

Rotor & Stator).
"
For more info., see TECH page 407
1965-69 & 65 FC DELUXE REBUILT Alternator
C2057N
10 lbs.
CORE VALUE:
Return a

rebuildable

Corvair alternator postpaid and we will refund you
the CORE VALUE listed after the part # in the
Price List
.
NOTE:
You may keep the
Rotor & Stator, but we
MUST
have all other parts including bolts & fan!
WHY NEW ROTOR & STATOR?
The rotor windings have insulation that can break down. Even load testing may not
reveal a problem. The stators have very thin insulation between the metal pieces
& on the wires. Now that the cores are nearly 50 years old, it isn't worth the risk.
65-69 HI OUTPUT ALTERNATOR
Most Corvairs DO NOT need more than the 37
amps the stock alternator produces but if yours
does, we offer this NEW GM 65 amp alternator
with internal regulator, modified to fit directly
into your Corvair. Remove your old regulator
and extra wiring, now you'll only need 2 wires.
We provide all needed parts plus complete
instructions. Your old Corvair alternator still
has a refundable core value as listed.
65-69 Hi Out Put Alternator
C11434
11 lbs.
Rotor & Stator!
FOAM IN PLACE PACKING:
Protects the alternator and
gives you a great way to
return your core
.
KIT – Add an Alternator
to your 1960-64 Corvair Car or FC
Many people switch because they feel that generators are not as reliable, but consider our full generator rebuilds! This
KIT
gives you everything to
change your Corvair from a generator to an alternator. Some advantages are better charging at low speeds, less weight, and less rotational weight.
The major items in the
KIT
are a
CLARK REBUILT ALTERNATOR
, voltage regulator, all brackets and adaptors, gasket, bolts and electrical connectors,
wiring & detailed instructions. The
KIT
assumes that you splice the changes into your old wiring harness. The
core value
listed for
C2057K
assumes
you'll send us a good Corvair generator – the refund is $20.00
less
if you send a
Corvair alternator
.
Alternator Kit – Car or FC

C2057K

19 lbs.
Kit LESS the Alternator

C2057KL

7 lbs.
Wire, connectors & instructions
ONLY
C2057KW
1 lb.
ADD HI OUTPUT ALTERNATOR
(read info above): You can

ADD

the

HI OUT PUT

internally regulated alternator to your

60-64 Car

or

FC

.
A few parts in the
KIT
will be different than listed for
C2057K
.
This is even easier to install!
Same

refundable core value

information applies.
Alternator Kit with Hi Out Put Alternator
C2057KH
19 lbs.
Special Ground Cable:
See page 81
PREFERRED CREDIT CARDS
Visa
and
Mastercard
are our "preferred" credit cards.
We also take Discover and American Express.
You Only Pay ACTUAL Shipping Costs!
No matter how your order is placed, we make ZERO PROFIT
off "handling", "packing" or "shipping"
CROSS REFERENCE!!!
Don't forget our cross reference on the internet site or when you place an order via telephone (order takers see cross reference).
Gives you many more options for parts; it shows new parts, NOS, used, and performance par
ts that are similar to the number entered.
EMAIL ADDRESS?!?
If we have your email address, you get order confirmation and tracking information the day we ship your order.
Please keep your email address up to date so that we can send you this info.
1964 & 65 Steering Bushings
These nylon bushings fit in the spring at the steering wheel bearing on long shaft steering
boxes to take up "play". They are often worn, brittle, broken or missing.
1964 Bushing
C13278
1 oz.
C13278
C13279