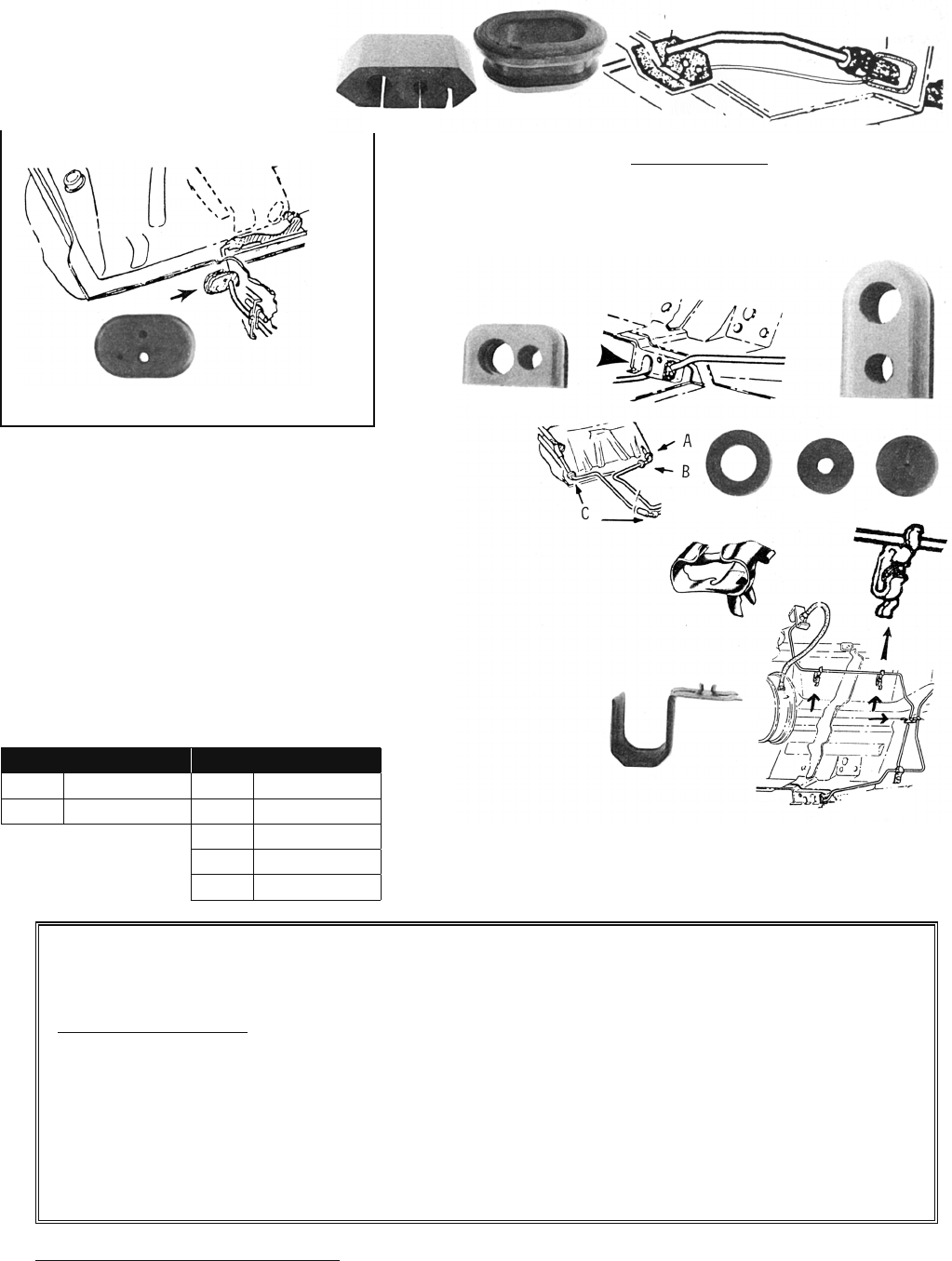 i
WARNING:
Products on this page can expose you to a chemical, which is known to the St

ate of California to cause cancer or reproductive harm. **For more information go to www.P65Warnings.ca.gov**
71
Rubber Gas Line Grommets: 1960–64
Replace those hard or missing ones.
Gas Line & Wire out of Front Right Side of Tunnel
Gas Line & Wire to Gas Tank Sender (oval)
Rear Gas Line Grommets
Where gas and brake lines come out rear of tunnel.
1960
–
64

All Cars:
3 were used for each year. 2 identical large ones and 1

shorter. (Hole
diameters vary slightly.) We sell only the large one. Just cut with a knife and it equals the
1965
–
69

All Cars:
This grommet fits above the clutch cable boot (standards) and the
rear plate on powerglides.
C

528

R
1
oz.
1968–69 Grommets
A.
Gas Line:
From tank through "firewall" by front tunnel.
B.
Gas Line:
Into the front right side of tunnel (this is not an exact repro but looks and fits great).
C.
Smog Return Line: Left side of tunnel and also through front "firewall" towards filler neck. 2 needed.
Clips: Gas, Brake Speedo & Some Heater Cables
All Cars & FCs as needed (FCs use 4-6) inside tunnel and attached to frame.
C

719
2 oz.
1961–64

Cars Brake/Fuel/Harness Clips:

3 used rear of

61

–

64

cars. Often broken or black vinyl missing. Sold each.
1960–69

Tunnel Clip:

Vinyl covered metal. Holds harnesses & lines for various years. Clips into the floor. Exact repro.
Hose – Vacuum & Gas
Black rubber hose: By the foot. Size is inside diameter. For 8 feet just order 8.
3/16
"
C6029
2 oz.

/ft.
3
/16"
C6031
4 oz./ft.
1/4"
C6030
4 oz./ft.
1/4"
C6032
4 oz./f

t.
1960-69 Brake and Gas Grommets & Clips
1965–67 Tunnel Side Grommet
This grommet is near the front of the tunnel where the gas line
and wire go to the gas tank.
C

9533
2
oz.
1. Take an order
2. Check on an existing order
3. Check on a return.
4. Replace a defective or missing part.
5. Help you look up most parts (Please have the year, model
6. Check our cross-references for other parts
(NOS, used, less expensive, performance)
7. Check inventory
8. Send samples
9. Check which items are included in kits
B–D–T–V–P–F–S:
Over the phone these letters are often hard to tell apart (as are some numbers).
Our order takers can help!!
Many of our order takers have worked here for 5–30+ years. They can usually do the following:
Please let them help you.
They usually know when or if they need to get a technician to help. Thanks!
Correct Shipping Addresses:
UPS charges $15.90 per box (2019) if we have even the slightest portion of your
address incorrectly entered. Please make sure to give us your complete address so that it is accurate and your orders get to you
without delay and without extra charges.
C9305
C9306
C9305
C9306
C528R
C7241
C13038
C6897R