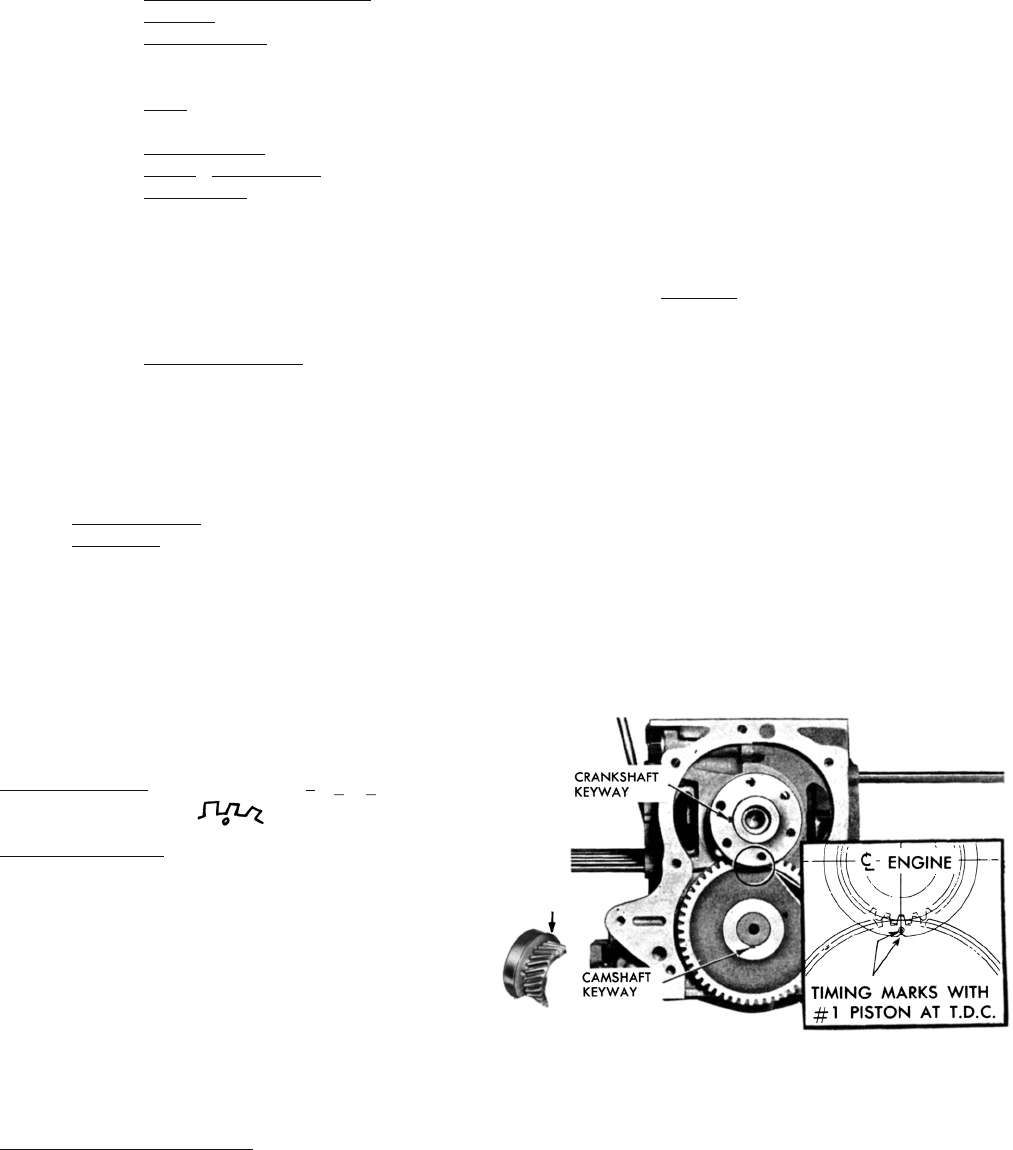 393
However, with the age of all Corvair engines
we suggest splitting the block.
TECHNICAL SECTION
ENGINE REBUILD – SUGGESTED PARTS
This is a difficult question because so much depends on the condition of your engine and the amount you plan to use it. Generally there are 2 basic
stages of Corvair engine rebuilds. I have indicated approximate mileages that are generally acceptable.
1 – NOT SPLITTING THE BLOCK (0-80,000)
This allows you to replace all gaskets and seals, rebuild the heads, replace cylinders, pistons, rings, lifters, and rod bearings.
FULL GASKET SET, HEAD & BLOCK (even though you won't be splitting the block you can still replace all gaskets and seals).
VALVE JOB – Check condition of your valves and guides to see if they need to be replaced.
CARBURETOR KITS – This is a good time to rebuild those carburetors.
RINGS – At 70,000-80,000 you should at least hone cylinders (check size) and replace the rings. If after honing the cylinders they
are more than .OO5 (max.) over stock, you should replace or bore oversize and get new pistons.
BLOWER BEARING – This is a good time to replace this bearing.
LIFTERS – DO NOT BOTHER "rebuilding"! Over 70,000 I automatically replace.
ROD BEARINGS – Over 70,000 I also suggest you replace these.
2 – SPLITTING THE BLOCK (90,000 & up)
This adds the chance to replace main bearings, crankshaft, camshaft, and/or those related gears. Generally the gears and main bearings are okay for
120,000 or more but the camshafts often need to be closely inspected from about 80,000 and up. NO SEALER is used between block halves of a
Corvair.
MAIN & ROD BEARINGS – I don't care how "good they look" – you're in there – replace them!
.001 or .002 Main & Rod Bearings –
If you are rebuilding a low mileage or well cared for Corvair engine you may find
the crank is perfect as is. Usually you'll only need .001 or .002 main and rod bearings. We do suggest you have the crank "polished" and sized by a
Machine Shop. They'll try to convince you to turn the crank but we've seen quite a few that really don't need it.
We have all bearing sizes in stock.
PARTS TO CONSIDER
CAMSHAFT & GEAR –
See "CAMSHAFTS" below.
CRANKSHAFT – Check gear and journals for wear.
CAMSHAFTS –
These are an important part of your rebuild but are often overlooked. Sometimes a worn lobe is very obvious but
there is also less obvious wear that can be brutal on lifters. On a good camshaft the lobes are also ground on a slight left to right slope – this helps to
rotate the lifters. On a used camshaft the difference of a few thousandths can be gone and new lifters installed may wear very quickly.
DO NOT
use white
assembly lube on camshafts. Although we are not completely sure, it appears that too much grease on a new camshaft may prevent the lifters from
rotating correctly when the engine is first started. Only use an oil based or thin moly type lubricant.
Cam Gear Alignment
We get many phone calls on this and hope this clears up the problem.
CAMSHAFT CAM GEAR – The mark on this is a 0 or / or \ and appears
near the base of the teeth.
CRANKSHAFT CAM GEAR – The mark on this is just a groove (or notch) on
the lip past the crankshaft seal surface.
#1. The approximate position is reached by location of the gear key
ways (see picture). Key way on crank gear should be at
9:00 o'clock and on cam gear at 6:00 o'clock.
#2. With key ways approximately as in #1. – mesh the gears
together and just before they are meshed together the 2 timing
marks should appear to line up. It is not unusual however, for the final position of the 2 marks
to appear to be off by 1/8" – 1/4" of an inch. If you don't feel confident, carefully move one tooth in either direction and you will see that the
marks are usually 1/2" – 1" off.
Sheared Crank Keys –
Not terribly common but common enough. The key is actually sheared by the gear. Normally the gear rotates
8-14 degrees before lodging. To test the key, hit it with a long slender punch. If it moves it's sheared.