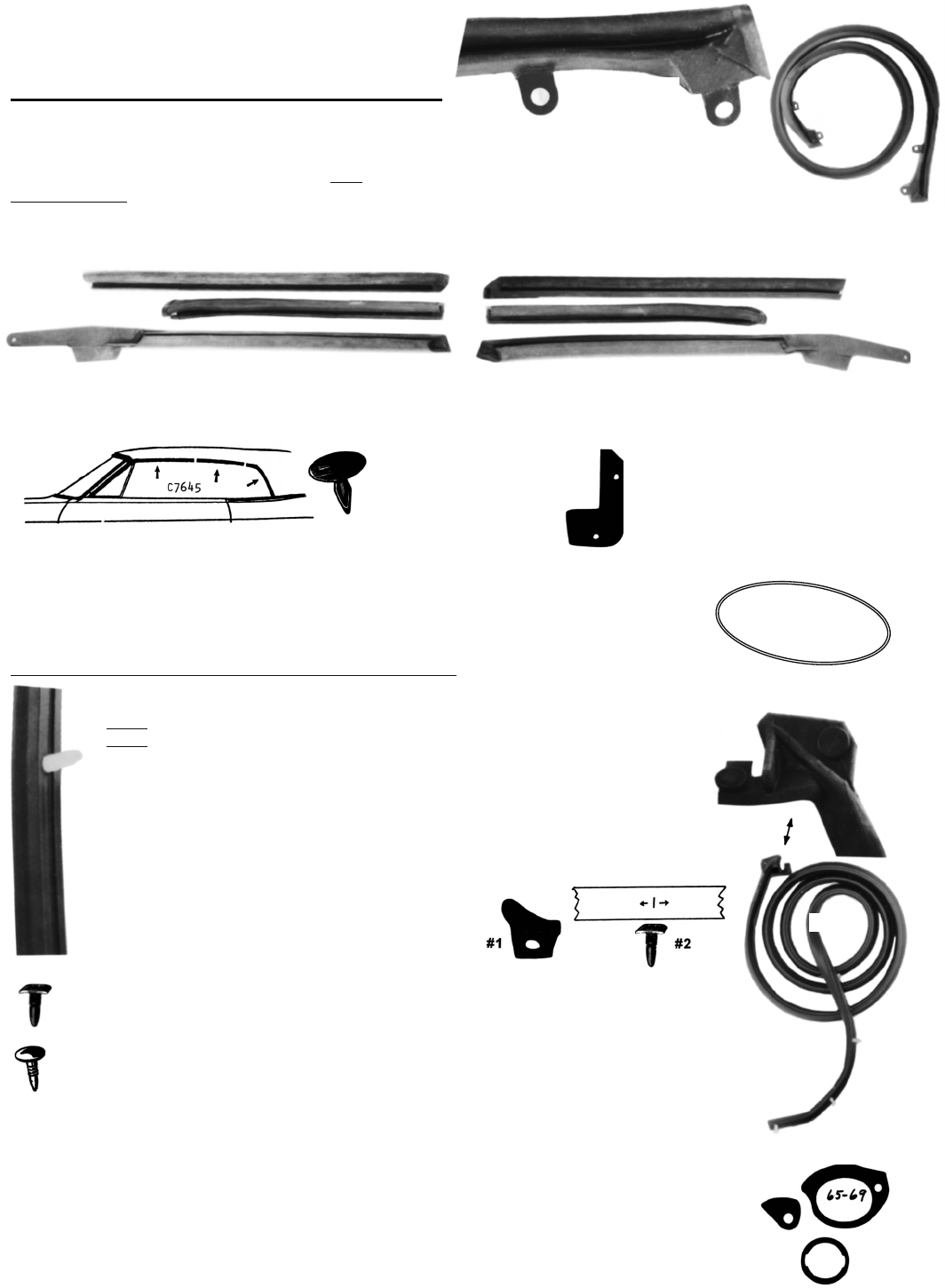 i
WARNING:
Products on this page can expose you to a chemical, which is known to the St

ate of California to cause cancer or reproductive harm. **For more information go to www.P65Warnings.ca.gov**
218
'65-69 CAR
WEATHERSTRIPS
CONVERTIBLE FRONT TOP BOW WEATHERSTRIP
Attaches to the front of top and seals against top of windshield chrome. Common leak area.
EXACT REPRO
highly suggested.
Repro
– NO MOLDED ENDS 1965-69
C1000R
1 lb.
EXACT REPRO –
Perfect

–

MOLDED ENDS – metal retainers and clips installed 1965-69

C7929

1 lb.
Photo above shows end.
SCREWS – for ends – Set of 4
C7929C
1 oz./set
CONVERTIBLE TOP FRAME – WINDOW WEATHERSTRIPS
1965-69
Top frame (roof rail) weatherstrips attach to side of top frame and window seals against them. These are very good
EXACT REPRODUCTION
ready to install.
Available as a set of 6 only. No screws or retainers included. Sorry – Can't Break Sets.
C7645
4 lbs./set
SCREWS –
Needed to attach weatherstrips (set is enough to do both sides). May not be original style.

C7153

2 oz./set
Convertible weatherstrip
Rear piece of 1965-69.
(1) needed per weatherstrip.
Convertible Either Side
At the back edge of where rear quarter window
rolls in to body. Not exact reproduction but a good
CT. WINDSHIELD PILLAR Weatherstrips – Bottom – page 217
CHANNELS & FUZZIES – See pages 220-227
2 & 4 DOOR WEATHERSTRIPS – 1965-69
EXACT REPRO –
Molded ends, clips installed, & black push in fasteners. Ready to install.
2-Door Coupes, Convertibles –
EXACT
FRONT DOOR weatherstrips.
C7911
2 lb./pair
4-Door – EXACT DOOR weatherstrips 1965-67
FRONT DOOR
C9806
2 lb./pair
REAR DOOR
C9807

2 lb./pair
REPRO WEATHERSTRIPS
The original door weatherstrips (and
EXACT REPROS
above) have little clips (available below) that hold
the weatherstrip to the door. The following
REPRO
weatherstrips have a "hollow" that runs the length of the
weatherstrip (
#1
). You can make a slit with a razor and insert tabs of the clips in the direction of the arrows
(diagram
#2
). You may also simply glue to the doors
(
see GLUE – page 213
). Weatherstrip sample –
C3448A
FREE
2 oz.
REPRO – NO MOLDED ENDS –
clips NOT installed (not included)
4 DOOR – FRONT
EITHER SIDE
C3444
2 lbs.
4 DOOR – REAR
EITHER SIDE
C3445
2 lbs.
CLIPS –
The original door weatherstrip clips. For

ALL 2 & 4 Door Cars

.

22

clips needed per door.
INCLUDED with
EXACT REPRO
.
SOLD SET OF 5.

C854
1 oz./set
DOOR WEATHERSTRIP FASTENERS –
1965-69 front and rear door weatherstrip fasteners.
Black push-in button that holds molded end of weatherstrip in. 2 needed per door weatherstrip.
INCLUDED
with
EXACT REPRO
.
C569
1 oz. ea.
Door Handle Gaskets –
1965-69 Cars Sold enough for 2 handles (left & right).
4 Door order 2 Sets.
C2850
2 oz./set
DOOR LOCK GASKETS –
Fits between the body and lock. Sold each.

C566

1/2 oz.
VENT WINDOW Weatherstrips – See page 226
MULTI-KITS
see Blue pg. MK-15
C566
C7929
C7911
C2850