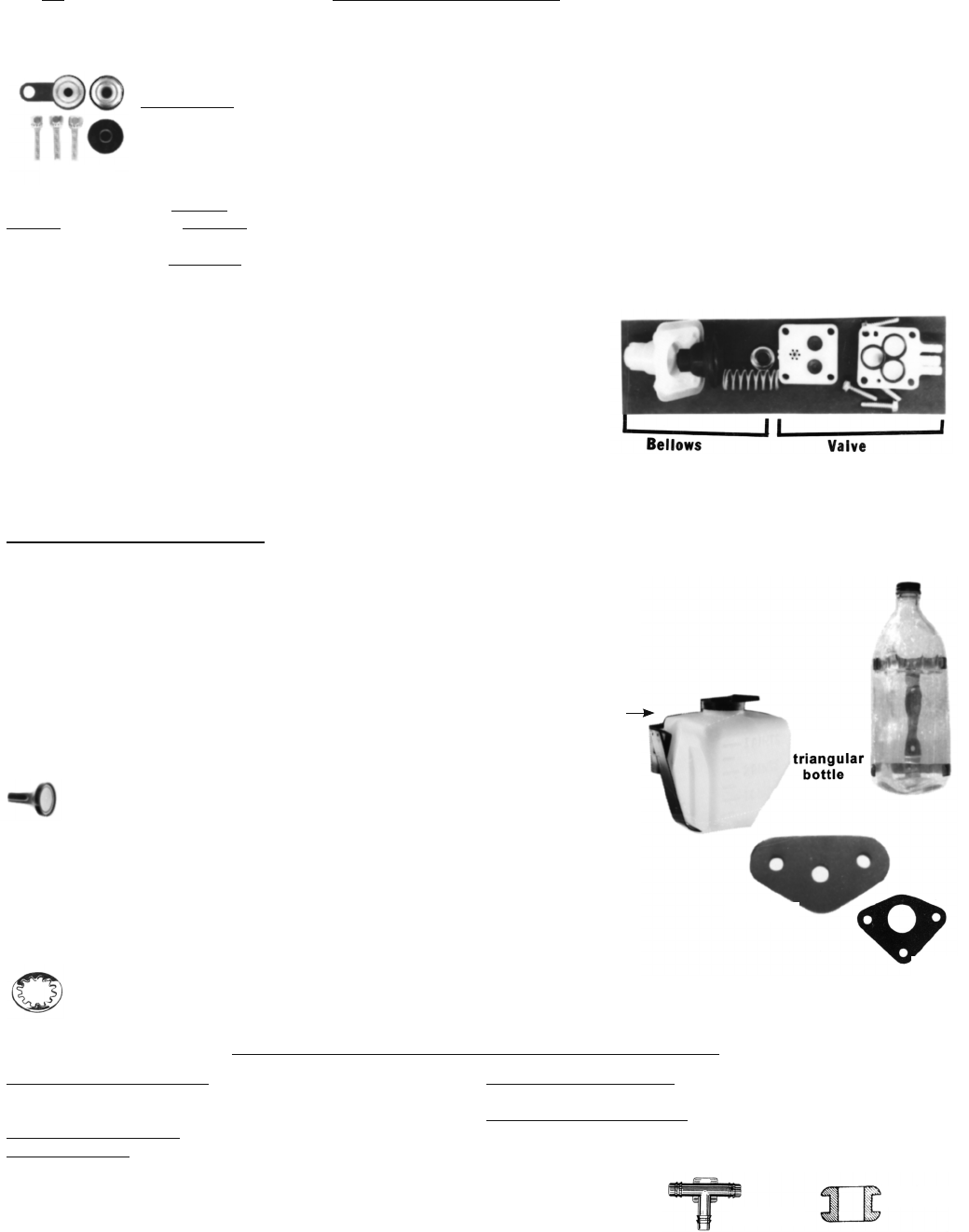 i
WARNING:
Products on this page can expose you to a chemical, which is known to the St

ate of California to cause cancer or reproductive harm. **For more information go to www.P65Warnings.ca.gov**
211
WIPER MOTOR PARTS
REBUILT
WIPER MOTORS:

Motors are disassembled, cleaned, lubricated, tested & painted black. New parts include: brushes and end plug.
DOES NOT INCLUDE
pump unit (transfer

your

washer unit).
Return your old motor for a core refund.
SINGLE SPEED
– 62-69
C9269
6 lbs.
Q
TWO SPEED
(use with your pump) – 62-69
Q
C8233
6 lbs.
Q
NOTE: C8233 does not fit 1962 w/gear style pump (star wheel will not go on 62 shaft the way it is placed). For 1962, also order C7890 below.
Wiper Motor GROMMETS:
Replace those missing or cracked grommets.
Original
rubber

grommet with

steel insert/base

. Reduce motor noise and vibration.
COMPLETE ORIGINAL SET –

2 "non-ground" grommets and 1 "grounding" grommet plus 3 original style screws.
1962-69 Cars
C9840

4 oz./

set
3 "Regular" Grommets:
This is a Set of 3 of the "non-grounding" grommets. 1962-69 Cars

C836A

2 oz./

set
WINDSHIELD WIPER MOTOR BRUSHES:
1962-69
includes both
. Can splice wires and use in 1960-61.
C834
2 oz.
CAP UNIT WITH BUSHING FOR ARMATURE:
1962-69 – If your wiper has been slowing down it may be due to the bushing on the end where the 2 bolts show.
WINDSHIELD WIPER SMALL NYLON PLUG:
1962-69 Goes on end of armature (cap end) and puts thrust down on the armature.
If you rebuild be sure you don't lose it!
C836
1 oz.
WIPER MOTOR SEAL –
1962-69 Cars & 62-65 FC:

C7253

4 oz.

1961 FC:

C7103G

2 oz.
This large foam seal serves 2 functions.
Reduces vibration
of the wiper motor and
seals the opening
.
WASHER PARTS
Washer Bellows Unit:
Includes rubber bellows, metal retainer, valve kit and nozzles
(both straight and 90°).
1961-69
C8962
Discontinued
1962-69 – See new pump – C7890 below.
Washer Valve Assembly:
Where the 3 hoses attach (after nozzle, most common cause of failure).
WASHER PUMP UNIT:
This is the complete washer pump with the hose connections. Simply unbolt your old pump unit and bolt this one on.
For some years you have to remove the plastic hose connector part and rotate. Slightly different from the original but fits and works. 1962-69
C7890
2 lbs.
WASHER HOSE SETS:
Enough hose for washer tank to pump, to squirters. Black hose.
Washer BOTTLE & BRACKET – 62-64 Cars:
This excellent repro
glass bottle comes with an original style printed cap and stainless steel bracket. Fits 1962-64 (bottle also fits
1965 but bracket does not).
GLASS BOTTLE & BRACKET C10742
1 lb.
See page 240 for labels and caps. Q

Cap and bracket

NOT

included.
"RESERVOIR" – Washer Fluid
THE WHITE PLASTIC CONTAINER: 1962-69 cars
C706
10 oz.
WASHER FLUID TANK CAP: 1962-69 All
C925
2 oz.
WASHER BRACKET: 1965-69
C924
1 lb.
WASHER FILTER: 1962-69 All – Goes on end of hose in washer container.
C926
1 oz.
WIPER SWITCHES & GROMMETS – See page 212
WINDSHIELD WASHER NOZZLE GASKETS –
1960-69 cars
These gaskets help keep water from entering the trunk where the washer nozzles push through. 2 needed
C7245
1 oz. ea.
WIPER SHAFT GASKET – 1960-64
C584

1 oz.
Under dash where shaft goes through body. Replace and prevent leaks.
Spyder Wiper Switch Ground:
This internal tooth lock washer must be installed when your Spyder wiper switch is installed
or it may not ground correctly. Includes photo showing installation.
C9772
1 oz.
FC WINDSHIELD WIPER/WASHER PARTS
Windshield Washer Pump SCREWS:
New style washer valves come with longer
screws, but they are not the correct thread for FC.
Set of 4 Longer screws w/ correct thread head.
C3404W
1 oz.
Wiper Motor to body SCREWS:
Set of 4 screws & lock washers.
C3405
1 oz.
Wiper Motor GASKET:
Keeps water out of cab.
C7103G
2 oz.
Windshield Wiper Pivot SCREWS:
Attach pivots to body. Sold enough for both
sides. 6 screws & 6 external tooth LW.
C3405W
1 oz.
Wiper Pivot Access Cover SCREWS:
Correct for small cover above the fuse box.
Also order caulking strips to reseal cover (see page 96).
Set of 4 screws
C3406W
1 oz.
FC Windshield Washer Nylon "T":
White – sold each.

C1438N

1 oz.
FC Windshield Washer Hose Grommet:
Pump to body nozzle; not exact, but works well.
Make sure to grind any burrs around the hole.
C1438G
1 oz.
C706
C9840
C10742
C7245
C584
C1438N
C1438G