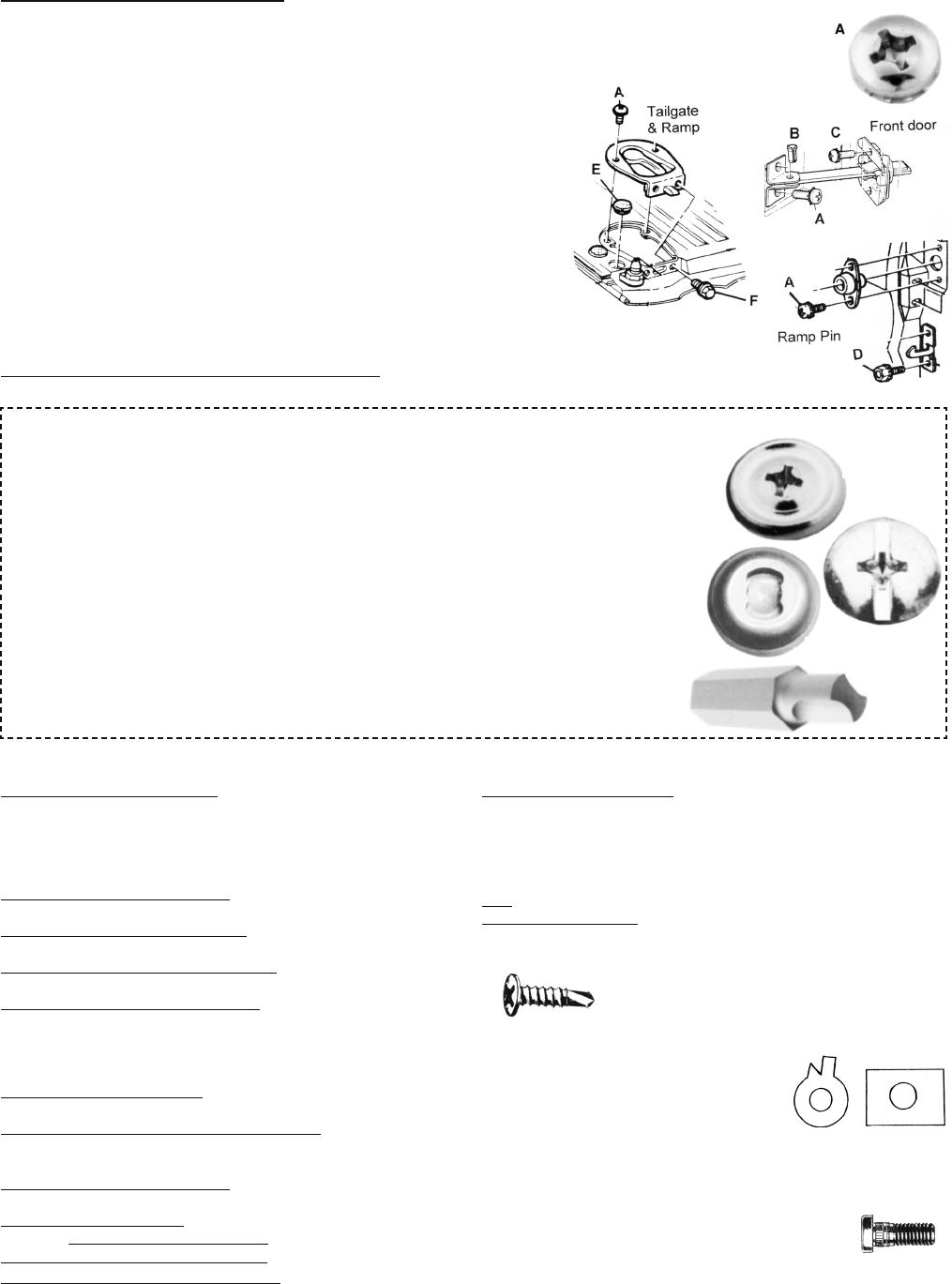 i
WARNING:
Products on this page can expose you to a chemical, which is known to the St

ate of California to cause cancer or reproductive harm. **For more information go to www.P65Warnings.ca.gov**
177
FC HARDWARE
– Doors, Ramp, Tailgate

(Screws, Bolts, Clips, Etc.)
A. FC large Phillips head:
Used in 3 places! These screws are used in 3 places on Rampsides & 1 place on all other FC's.
2 are used for each tailgate & ramp latch. 2 are used for each of the metal/rubber where the ramp alignment pin goes in.
2 are used on each of the front doors to attach the door "stops" to the front doors. High quality zinc plating with
external lock washers like the originals.
Set of 4 screws & 4 lock washers
C3758
6 oz.
B.
Roll Pin:
Front door stop
C3249
1 oz.
C.
All FC's:
Screws to attach the door "stop" to the body (1 set does both doors)
Set of 4 screws & 4 external lock washers
C4715X
4 oz.
D.
Ramp safety latch to body bolt.
Note: original heads had slight recess.
2 Hex bolts with external lock washers
C4718X
2 oz.
E.
Cover:
Silver plastic covers bolt heads by the latch.

Installation note: Insert into
about ¾ of the hole. Put a little liquid soap on the remaining hole edge. Push the cover
in with your thumb or use a small hammer on the edge ONLY (if you hit the center
it may break).
C5964T

1 oz.
F.
Bolts:
Hold side of latches to ramp & tailgate as well as other places on the body.
13/16" long w/small washer recessed hex head. Set/10:
C4720X
6 oz.
RAMPSIDE RAMP RUBBER SCREWS:
These are the original style chrome screws.
One used at each end of the ramp rubber to keep the corners down. Sold each.
C12659
1 oz. ea.
SPECIAL FC SCREWS —
FC SPECIALTY SCREWS
These required a large minimum order to repro them.
Sombrero Screw:
Chrome screw with 10-24 machine thread. Used in limited positions; check yours. Chrome & Phillips
head usually bad. 6 per upper panel per front door.
C12657
1 oz. ea.
Chrome Phillips Head Screws:
Used at each upper corner of front door panel. Set/4
C777H
1 oz./set
Sombrero Screw:
Same as above but sheet metal thread, used in many positions (possibly as many as 70-80 on some
models). These screw into plastic retainer (
C2174
1 oz.)
C12659
1 oz. ea.
Engine Lid Screw:
Original style. Almost always missing! 10 per engine lid. 1961-65 large slotted round head with
minimal Phillips in center, sheet metal thread. Original for all (except 1st few months of 1961, but does fit). Zinc Plated.
Clutch Head Screw:
5/16-18 as used for various rear panels & floor. 61-65 FC

C12660

1 oz. ea.
Set of 10
C4339

8 oz./set
NOTES:
Supplied unplated so you can paint to match body. Head & clutch slots are exact repro (exc. the ends of
clutch head slot are not as "pointed" at ends).
Clutch Head 5/16" Bit:
Fit the large clutch body screws above. We just had these reproduced. I've had the best luck
putting the bit in the head of the screw & hitting with a hammer. Use a socket & ratchet to drive the bit using a wrench
near the bottom of the hex bit for extra twist.
C12649
4 oz.
GAS TANK HARDWARE
GAS TANK SENDER GROUND SCREWS
If your gauge isn't working it might be due to a poor ground.
1960-69
Original Size
C5177
1 oz.
1960-69 Oversize
for rusted or stripped holes
C5178
1 oz.
RUBBER BUMPER SCREWS
RUBBER ENGINE HOOD BUMPER SCREW: 1965-69 Sold set of 2.
VAN SIDE DOOR HANDLES BUMPER SCREW: Sold set of 2.
SCREW – HOLDS RUBBER BUMPER TO VAN BODY: Side doors hit against this.
Sold set of 2.
C5854
1 oz./set
SCREW – HOLDS RUBBER DOOR PILLAR PIECE: Where door jamb meets rear quarter
window on 62-64 CT & 65-69 Coupes & CT. Enough for both sides (set/4).
GAS TANK STRAP BOLTS & NUTS:
Hooked bolt that goes thru strap and attaches
to body frame. (2 needed) 1960-69 Cars. Original style ones, fit exactly like the
originals
& all bolts include stainless steel nuts.
Regular Steel (Each)
C154R
4 oz. ea.
Stainless Steel (Each)
C1494X
4 oz. ea.
Stainless Steel (Set of 2)
C1494
8 oz./set
Nuts:
Set of 2
SS nuts for tank bolts
(come w/ bolts)
.
C154N
2 oz./set
FC GAS TANK STRAP NUTS:
Washer nuts; set of 2 (only used on one end).
FC with original factory straps
C5356N
2 oz.
FC with Clark's Repro straps
C5358N
2 oz.
BRAKE HARDWARE
WHEEL CYLINDER RETAINING BOLTS: "1" = SET FOR (1) WHEEL CYLINDER (2 bolts & 2 lock washers). All are "Gr 8".
1960-64 Cars Rear & 1965-69 Cars Front & Rear:
C2110
2 oz./set
1961-65 FC Rear:
C2112
3 oz./set
NUTS & LOCK WASHERS for FRONT BRAKE ANCHOR PINS: Usually very rusty. Sold set of 2 nuts & 2 LW "Gr 8".
1960-64 Front or Rear
C4340
4 oz./set
1965-69 Front
C4341
4 oz./set
1961-65 FC Front or Rear
C4341
4 oz./set
1965-69 Rear
C4340
4 oz./set
FRONT BRAKE ANCHOR BOLT RETAINERS: These retainers go under the top front anchor bolt and the sides fold over to lock the bolt in place.
Old ones nearly always break off.
1960-64 Cars:
C7290
2 oz.
1965-69 Cars:
C7291
2 oz. 1961-65 FC (not original, but work fine):
C7290
2 oz.
STUDS – BRAKE BACKING PLATE: 4 needed per side. 1960-64 Cars & 1961-65 FC (Vans):
C2551
2 oz. ea.
1965-69 Cars:
C2885R
2 oz. ea.
SET of 4 NUTS & 4 LOCK WASHERS: 1960-69 for brake backing plate studs.
C2885A
2 oz./set
MASTER CYLINDER BOLTS – 1961-62 FC (Vans): Set of 4 "Gr 8".
C4765
6 oz./set
FC BRAKE & CLUTCH PEDAL BOLTS: See pages 113 & 147.
Pages 175-185
Not all bolts and fasteners are listed on these pages; see specific systems sections for additional listings.
C12657
C12659
C12658
C12660
C12649