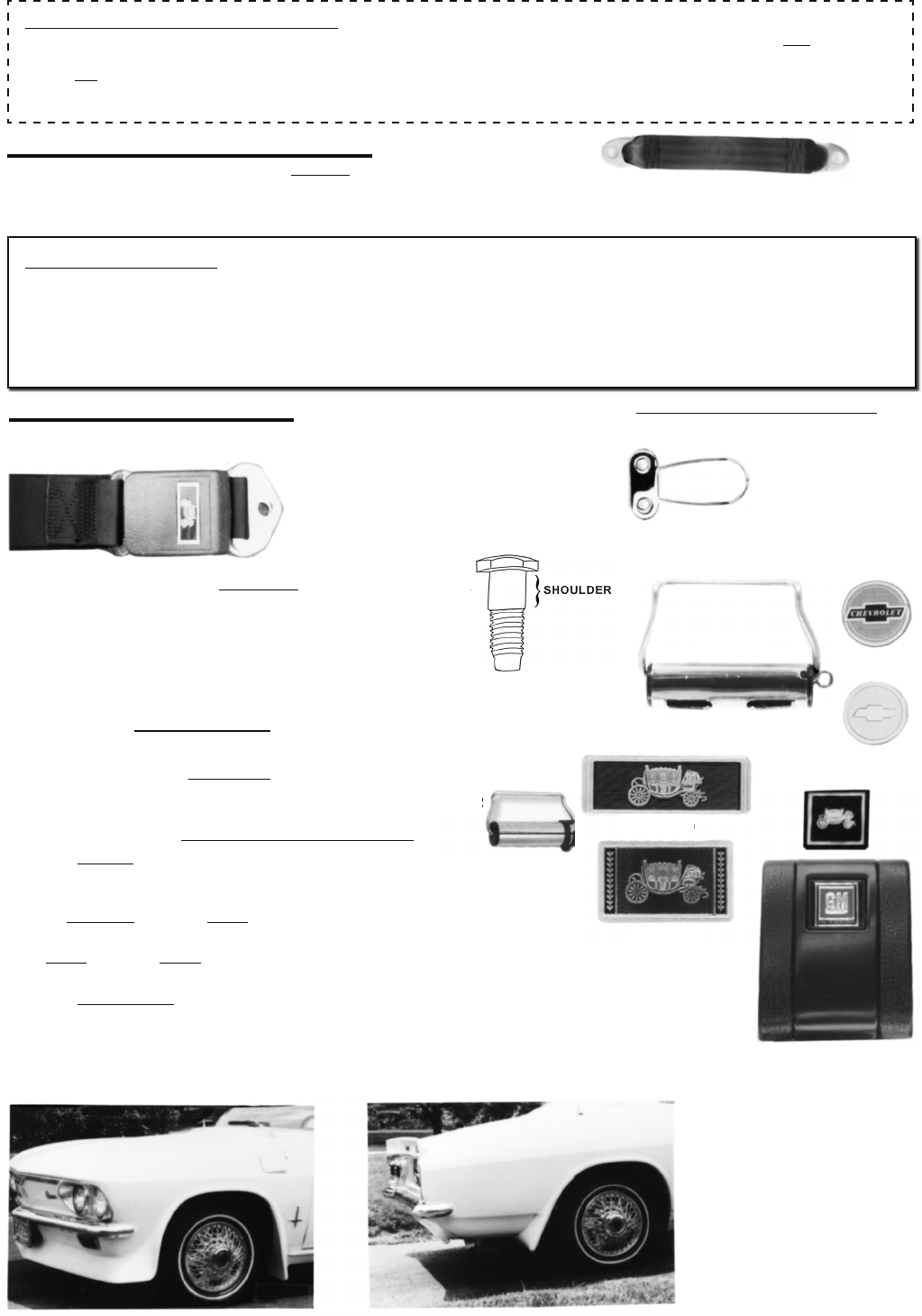 i
WARNING:
Products on this page can expose you to a chemical, which is known to the St

ate of California to cause cancer or reproductive harm. **For more information go to www.P65Warnings.ca.gov**
170
LONGER $$ SAVER SEAT BELTS
Some customers have found these to be a little snug, so we are offering longer belts that are 74" overall. Usually only used for front seats. For
color samples
, add
the last 2 digits (not the L) from the part number to SAMSB- (example
SAMSB-45
)
All come
with
hardware and chrome buckles. Look like $$ Saver on page 169.
2 lbs. ea.
Longer black
C5881L
Longer powder blue
C9243L
Powder blue sample
SAMSB-43
Longer med red
C9245L
Red sample
SAMSB-45
Longer gold/fawn
C5883L
Gold/fawn sample
SAMSB-83
SEAT BELT EXTENDERS – 6"
Add to one or both ends of your seat belt as needed.
Sold each.
Extender bolts to the floor in the same spot
as belt normally bolts and the regular seatbelt is then bolted to the end of the extender.
NOTE: We do not sell longer extenders because the bolt can end up hitting the seat.
These will work with all of our seatbelts, but only come in 2 colors - black & medium red. Extenders come with bolts.
Black 6" Extender: C12662
1 lb. ea.
Med. Red 6" Extender: C12662R
1 lb. ea.
SHOULDER BELT UNITS
Note: These are just universal style shoulder belts with seat belts.
These come with hardware and instructions but it is UP TO YOU to determine how you can attach them
so they are attached strong enough to work correctly
during an accident. They
DO NOT
come with retractors. For best operation the shoulder unit should be installed in the roof or door pillar area. If you decide quickly
that you
CANNOT
install them, we charge only a $3.00 restocking fee for 1-2 units.
Red
sample=
SAMSB-45
FREE 1 oz.
Powder Blue
sample=
SAMSB-43
FREE 1 oz.
SHOULDER/SEAT BELT UNIT for one passenger = 3 lbs. per unit

FREE Instructions & Photo: C9889

1 oz.
BLACK=
C9890

RED=

C9891

POWDER BLUE=

C9892
1965-66 SEAT BELT – Exact
Repro of standard seat belt.
Black Only.
Sold enough for 1 seat/person.
No hardware included.
C12682
2 lbs. ea
68-69 Shoulder Harness RETAINERS
ceiling – original style.
SOLD AS A SET OF 2.
Repro SEAT BELT BOLTS – 1967-69
These bolts are correct for '67-69 Corvairs. The heads look better if you spend
2 minutes with a pre-wax buffing compound followed by wax. Rear seat bolts
have copper gold plating.
1/4"
SHOULDER ("chrome") overall length 1 1/2"
C11245
4 oz.
1/2"
SHOULDER ("chrome") overall length 1 3/4"
C11246
4 oz.
NO
SHOULDER (REAR seat) overall length 1 1/2"
C11247
4 oz.
SEAT BELT RETRACTOR –
Not Exact Original
This is a
quality
metal seat belt retractor (rewinder). Instructions included.
C11383
6 oz.
DEALER Installed SEAT BELT RETRACTORS –
EXACT Repro

of this original accessory.
SOLD AS A PAIR. C11462
10 oz./
PAIR
EXACT Repro SEAT BELT PARTS
SEAT BELT EMBLEM:
Embossed bowtie logo on metal backing.

SOLD AS A PAIR.
1962-63
C11458

4 oz./PAIR
1965-66 STANDARD SEAT BELT DECAL:
Fisher coach on black background.
1965 DELUX SEAT BELT DECAL:
Fisher coach on red background.
SEAT BELT BUCKLE COVER:
Black plastic with new push button and

"GM"

OR

"FISHER COACH"

decal.
Easy to install.
Exact Replacement
for some later model original seat belts. Black only.
SOLD EACH.
"Fisher Coach"
C10957
6 oz.
"GM"
C10958
6 oz.
Need another CATALOG SET?
CAT-0

FREE WITH A PARTS ORDER
FRONT and REAR
SPOILER
and FLARED STONE
GUARDS
as installed on Corvair
owned by:
Dave & Marilyn Kuhles
see page 311
C11383
C11458
C11459
C11460
C11462
C11461