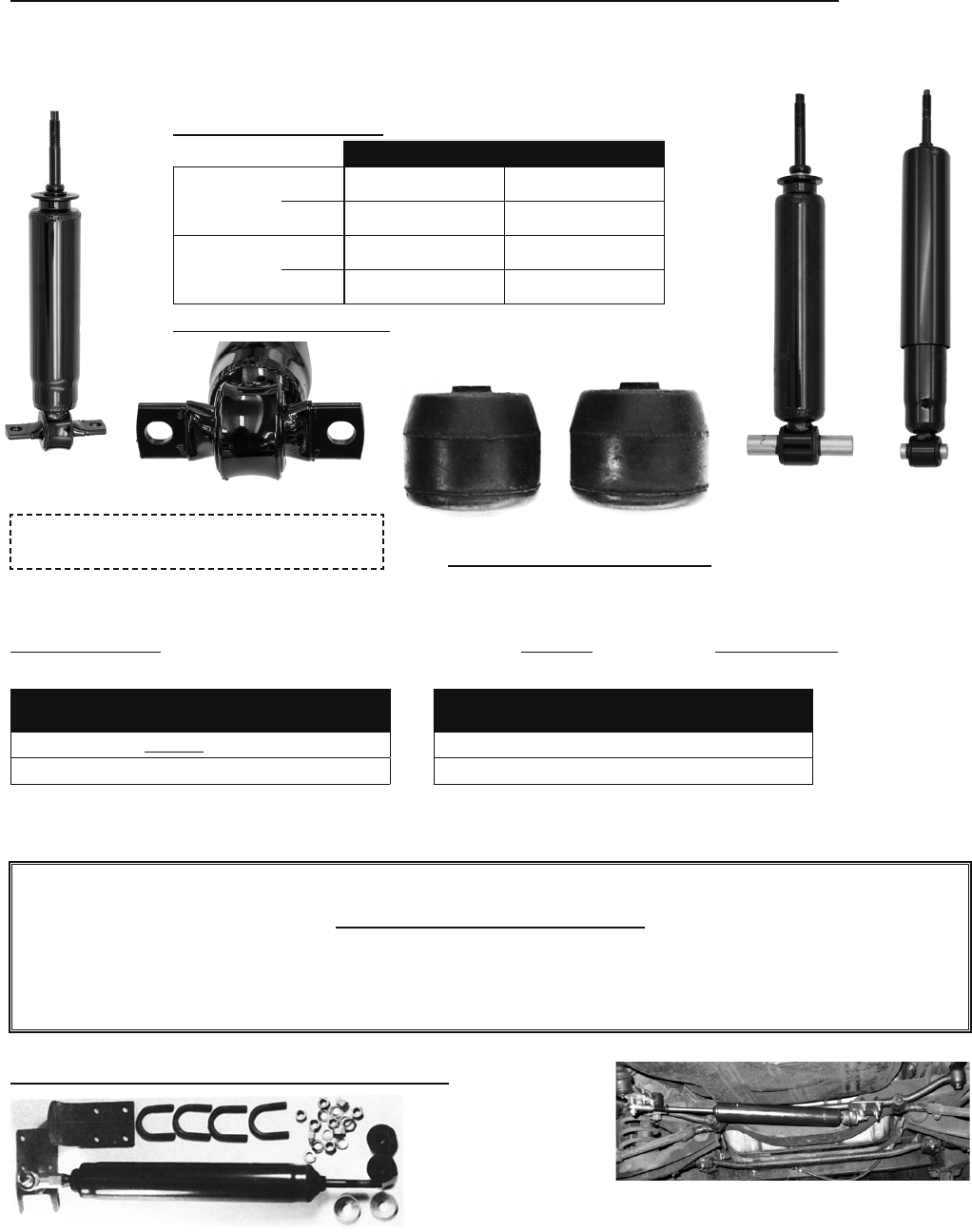 i
WARNING:
Products on this page can expose you to a chemical, which is known to the St

ate of California to cause cancer or reproductive harm. **For more information go to www.P65Warnings.ca.gov**
138
ABSORBERS
SHOCK BOLTS
Bottom Shock Bolts:
Replace those weak, rusted bolts. Sold enough for one shock except 1960-64 STAINLESS STEEL (sold enough
for 2 shocks). 1960-64 also fits 1961-65 Vans. All bolts include any necessary lock washers and/or nuts.
1960
-64 Bolts
1965
-69

Bolts
1960-64 Front or Rear
STAINLESS
C1091
4 oz.
1965-69 Front "GR 8"
C4773
6 oz.
1960-64 Front or Rear "GR 8"
C4772
2 oz.
1965-69 Rear "GR 8"
C

4774
6 oz.
TOP NUT – STAINLESS:
1960-69 All
This won't stop the threads from rusting but at least the nut won't rust.
C1294
1 oz. ea.
1960-64 Bottom
1960-64
1965-69 Front
1965-69 Rear
Shock Installation
When removing and installing all Corvair shocks, be sure to support the suspension as the shock is all that really
keeps the coil spring from ying out. Also, on installation, if most of the weight is not on the coil spring you may
not tighten the top nut enough to sufciently compress the top bushings. This will lead to a very bouncy ride.
C109R
1965-69
NEW
Clark Hi-Tech Progressive Shock Absorbers
These high quality, multi-shim (self adjusting) shocks are specially designed for Corvairs. All mounting and bushings are exactly like
the factory original shocks and use all the original mounting bolts (order separately). The "
regular
" shocks are slightly firmer than
the factory stock shocks and the "
gas
" shocks are slightly firmer than the "regular" shocks – giving excellent control for more spirited
driving. (1965-69 fronts still need to order C109R special bushings). Full info, see page 137.
Hi-Tech Shocks –
Order bolts below
All 4 lbs. each
Regular

Gas Charged
1960-64 Cars
1961-65 Vans
1965-69 Cars
HEAVY DUTY COIL SPRINGS = Gas shock or Koni shocks (on pg. 139)
are suggested with heavy duty coil springs.
Front shocks do not come with original special "lower" top shock bushings.
MUST BE USED!
Sold Set of 2.
C109R
12 oz./set
Steering Stabilizer – Damper
Helps stop wandering and
vibration. TOP QUALITY!
Comes complete, ready to
install. Not a substitute for replacing worn front end parts! A great handling
improvement for ALL Corvairs. Attaches to idler arm & drag link.
Fits 1960-69 Corvairs – including vans (FC).
C1460
8 lbs.
Steering Stabilizer