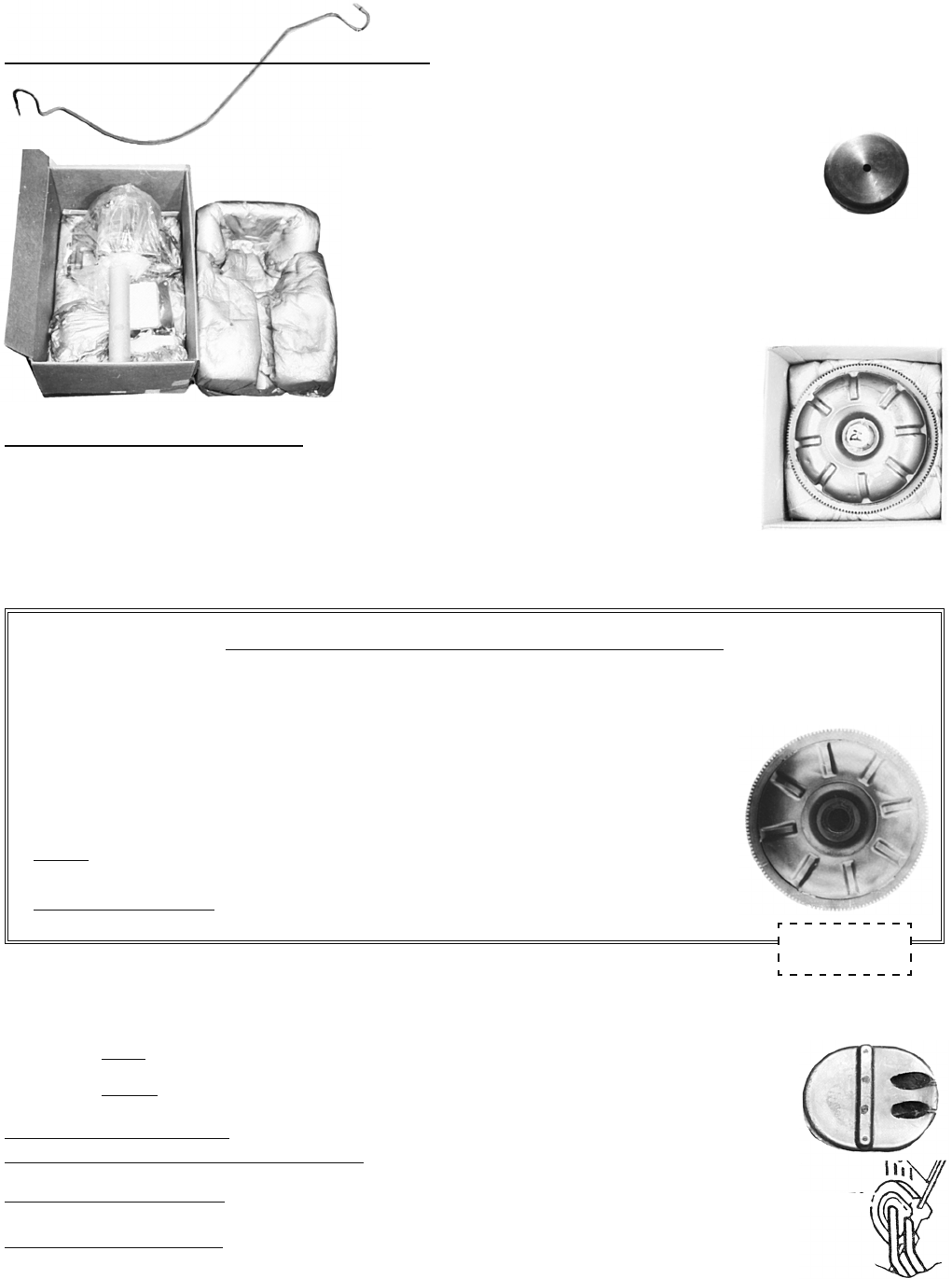 i
WARNING:
Products on this page can expose you to a chemical, which is known to the St

ate of California to cause cancer or reproductive harm. **For more information go to www.P65Warnings.ca.gov**
135B
Modulator Vacuum Steel Lines
(REPRODUCTION)
–
Replace those rusty bent lines.
1961-69 Cars & Vans: C6514
1 lb.
Hose for Either End Of Tube: C3358
1 oz.
Powerglide Modulator Line Grommet
This grommet goes in the front engine shroud and the steel line to the modulator valve goes thru it.
Rebuilt PG Transmission
can now safely be shipped in a double
wall 350 Lb. test box with foam! Safe shipping and
easy core return!
One customer who got a
CLARK REBUILT PG TRANSMISSION
told me that he's driven Corvairs
since they were new and his rebuilt one works as good as any he can ever remember.
Thanks!
TORQUE CONVERTER
WITH NEW RING GEAR
FOAMED IN PLACE FOR
Safe shipping and
easy core return.
Goes from carburetor cross balance tube
down to the PG modulator valve.
Tired of PG Leaks?
1) The most obvious is the
PAN GASKET
. Replace this and ensure the areas around the bolt
holes are flat and/or.
Use KIT page 135A
.
2)
O-ring where throttle shaft goes through the side of case

(best to do when doing pan gasket).
3)
O-ring

where cable goes into case. Again – easiest when pan is off.
4) Tighten the bolts holding the front cover on.
5) If all the above fail, you probably need to
replace the cable
. The fluid can travel the inside of
the cable but eventually the seal where the cable is crimped to the metal that attaches to the
case fails. Only permanent solution is a
NEW CABLE – Page 135
.
TORQUE CONVERTER KIT
This Kit gives you our suggested gasket set with all needed gaskets and seals (oil pan gasket, bell housing gasket and seal, torque converter seal, shift cable o-ring, oil filter
adaptor gasket and crossover packings),
PLUS
a professionally rebuilt torque converter with new ring gear.
The core is included in the price and will be refunded when
we receive your used rebuildable converter.
(keep your clips and nuts.)
With Regular Rebuilt Torque Converter:
ALL PG Cars & FC
(exc. 140hp.)

C10374
26 lbs.
ALL 140hp. PG
C10375
26 lbs.
With High Stall Rebuilt Torque Converter:
All PG cars & FC
(exc. 140 hp.)

C10374HP
26 lbs.
All 140hp. PG
C10375HP
26 lbs.
P.G. Fluid Check Tube & Dipsticks:
Also check "NOS" on website & USED page 362.
FC Powerglide Trans. Fluid Cooler Steel Lines Grommet:
An "OK"

repro

but

NOT perfectly cast rubber

.
(Note: Design slightly different than sketch.)
Used on 61-65 FC w/ standard or PG on bottom engine side of battery area.

C10876

4 oz.
FC Powerglide Fluid Cooler Hoses:
Exact replacement, special hose that attaches to trans. cooler.
Hoses:
(2) needed
C8785
4 oz.
Clamps:
(4) needed
C1043
2 oz.
P.G. Transmission Neutral Switch:
Mounts at the dash. Also contain backup switch.
1960-64 Cars & Vans: C1711
4 oz.
1965-69 Cars: C1712
4 oz.
Retainer:
This small retainer holds the neutral switch lever to a small stud. Retainer "
always
" breaks and is a hard to find size.
C11173
1 oz.
Clark CORES are INCLUDED in PRICE:
You won't see a higher price due to a core fee ADDED on

AFTER

.
Why Change to High Stall Torque Converter?
All PG Corvairs should have one!!! I'll admit that I owe my education to Richard Jenkins. He feels that every PG Corvair benefits. Torque converters and stall can
be confusing. There are several ways to measure "stall", but most of us probably think of it as the RPM that the engine must reach for the car to start moving.
This is referred to as "flash" stall and probably will not match the listed stalls. The high stall torque converter will increase the "flash" stall so that your engine is
revving a little higher before the car starts to move.
(See the internet for many articles on stall.)
We've offered the high stall torque converters for years, but never fully understood the benefits.
Some of the benefits are listed below:
1) No stalling or engine speed drop at stop lights; no creeping.
2) Less apt to ping as the engine revs up a little before the load of the engine whether starting or moving and accelerating.
3) After a few minutes of driving, you will probably be unaware of the high stall torque converter at all.
A/C note:
#1 above is especially important to air conditioned cars. Since there is no torque converter load on the engine
at a stop, the slight drag of the A/C can hardly be felt.
High Stall Torque Converter:
Ours are professionally rebuilt with a new ring gear & dynamically balanced.
2400-2500 RPM vs. stock 1600-1800 RPM
C9216HP
25 lbs.
FOAM PACKED
See Above
C10876