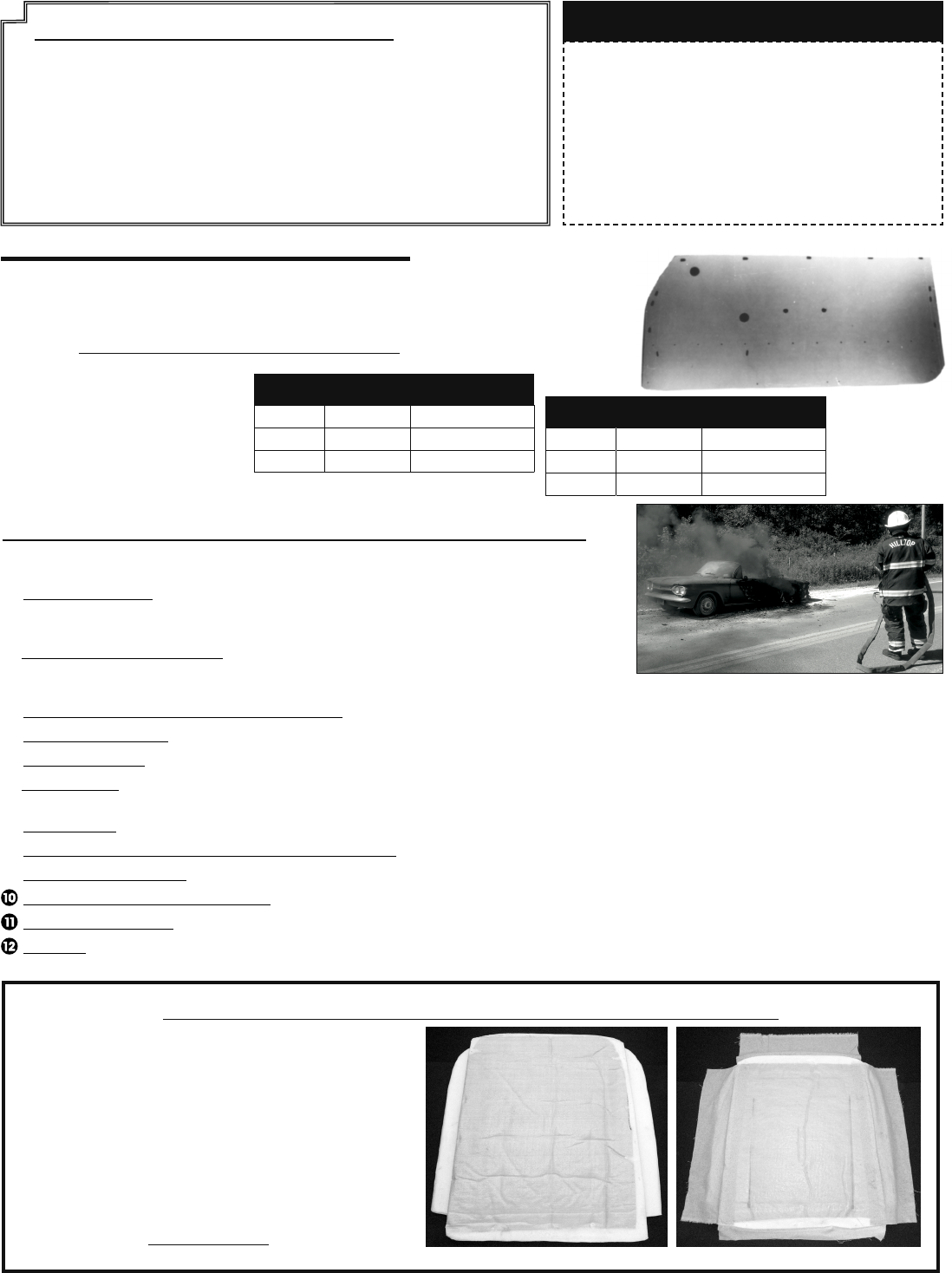 i
WARNING:
Products on this page can expose you to a chemical, which is known to the State of California to cause cancer or reproductive harm. **For more information go to www.P65Warnings.ca.gov**
Inexpensive Seat Buns – Really a "Deal"?
There are less expensive seat buns (see Brand X photo
below), but do you really want them? Their density is close
and the size is close,
but they do not have the attach-
ing fabric
like Clark's or the originals do. This means you
can place them on your bucket frame but will not be able
to correctly attach them so that they stay in place while
you install the upholstery. Getting a perfect bucket seat
upholstery installation is hard enough without having a
seat bun that won't stay in place. Both of our top & bottom
seat buns (sold as a set for one bucket) have the 4 pieces
of attaching fabric. Brand X has none.
Brand X – No fabric on sides
Clark seat bun with fabric on 4 sides
2019-2025 Catalog Corrections
(as of January 2020)
pg. G
Color sample windlace repro-blue-
C3931A
should be
C6931A
pg. 12
Photos
C2605R
&
C

4674
, the numbers are reversed
pg. 150A
65-69 14" =
CC

8774A
not C

8774

N
pg. 163
#3 (2) per rod, not 4
pg. 179
Palnuts available spring 2020
pg. 203
Paint colors silver blue =
CP30E
, twilight blue
CP27E
pg. 266
Poam pad semi firm 1 = 24" x 54", 2 = 24" x 108"
pg. 271H
See chart below – door panel cardboard correction 60-64
pg. 326
All cams ending in FC should end in FG
FRONT DOOR
*Except 500
DOOR + REAR PANELS
– CARDBOARD ONLY
We personally do not suggest trying to transfer your old vinyl although it can be done. The 1960-64 are
especially difficult due to the outer binding and the way they are attached. The later models are easier but it
is hard to remove the vinyl and reglue it. These door panel cardboards are die cut from water resistant card
board of thickness and rigidity equal to the originals. All necessary holes, slots etc., are reproduced just like
the originals.
ABSOLUTELY NO RETURNS ON THESE ITEMS.
(Some panels may have a few extra
holes as they fit several years).
SHIPPING –
Several can be shipped
for these weights
All Front & Rear Door Cardboard
Approx. 13 lbs. due to size
All Rear 1/4 Panel Cardboard
Approx. 8 lbs. due to size
We have just made the last run we ever expect to
do on these parts:
▪
Center 4 barrel manifold for 140's
(Old Catalog, page 63 / New Catalog,
▪
Weber Turbo Carb Adaptor Kit

C5124
– Discontinued when gone
–
LAST RUN!
YOU CAN PREVENT CORVAIR FIRES!
Your Corvair is old, even if you just restored it, was that 5, 10, 15 years ago! Check this list and add other
things you think of.
1
Rubber gas hoses:

Even with new tech rubber hose, these should be replaced 6-10 years. Don't
forget the gas tank filler hose & vent hose. Remember that the rubber hoses that connect to the engine steel
lines are above the exhaust pipe!
2
Gas tank sender rubber seal:
These are best when there is gas in the tank which keeps them in a
swelled state. I recently removed a sender unit out of a car that had not had gas in the tank in 6 years; the
rubber seal had dried enough that I could move the retainer ring & sender unit by hand, there was no pressure against the ring.
3
Steel gas line, fuel pump & carb connections:
Check that these are not leaking – there should be NO leakage at these connections
4
Check the fuel pump
with the engine stopped but also when running and the fuel is producing pressure,
5
62-64 turbo cars:
Do you have the asbestos (now fiberglass) heat shield material above the engine rubber seal in front of your turbo?
6
Heater hoses:
Be sure these have not drooped such they are touching the exhaust pipes, or loose heater hoses that might hit the starter solenoid (there is
wire in the hoses that can short out)!
7
ELECTRICAL!
60 year old wiring? Cracked insulation, wires that have chaffed and might ground out?
8
Check for mice nests on top of the exhaust manifold!
I had one once that started to smoke!
9
Check the car carefully
a few miles after repairs have been done. Are there any leaks?
Carry a fire extinguisher in your car
The battery terminals
are close to the body. Be sure your battery is securely held in place.
Fan belt!
Be sure everyone driving knows to check the dash & if the fan belt light comes on STOP THE CAR. It can get very hot very quickly.
We suggest you install our flashing dash bulb.
20
FRONT DOOR
1963-64
Convertible
C6588B