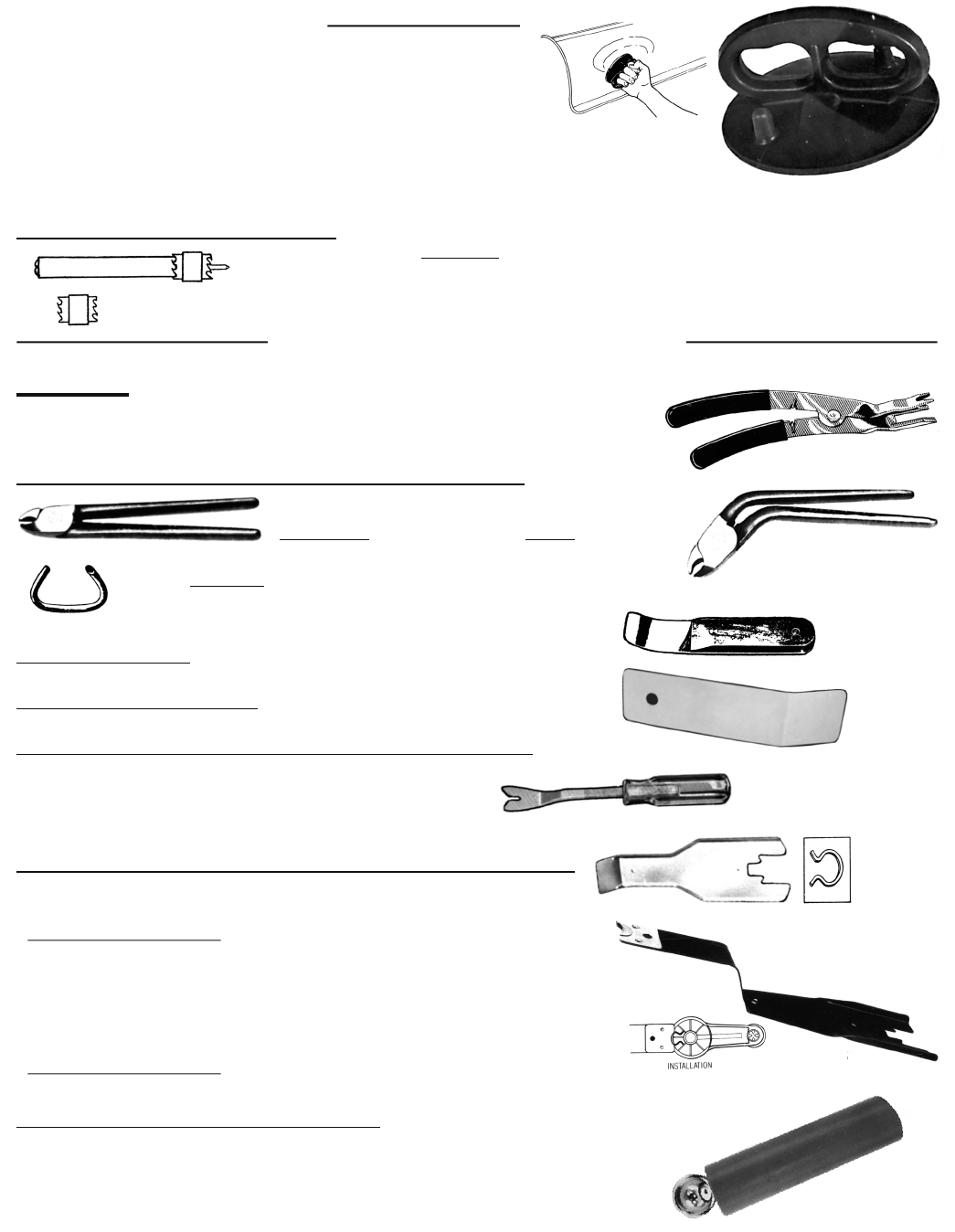 i
WARNING:
Products on this page can expose you to a chemical, which is known to the St

ate of California to cause cancer or reproductive harm. **For more information go to www.P65Warnings.ca.gov**
C6587T
331
TOOLS
Any job is easier and more enjoyable with the right tools. All of these tools are top quality and can be bought with complete confidence.
Be sure to check each page for that all important tool. Tools are organized somewhat by areas or use the Index.
BODY TOOLS
SUCTION CUP – DENT PULLER
This rubber suction disc gives fantastic pulling power on panels.
PAINT SPRAYER – See page 198
SPOT WELD CUTTER
Double ended 3/8" blade.
Top Quality.
Remove spot weld panels neatly.
1/4" Arbor & Cutter
C8212
6 oz.
Extra Cutters
C8213
2 oz.
INTERIOR TOOLS
PLIERS –
Heavy duty pliers for use on trim clips, door panels, hood insulation retainers, etc.
To use, insert thin ends & squeeze handles. I suggest tape on bottom to prevent scratching paint.
Professional HOG RING PLIERS
If you are only buying 1, buy the straight.
STRAIGHT: C4879 8 oz.

BENT: C6489

8 oz.
HOG RINGS –
It takes 300-400 to do a full set of upholstery.
SET of 100 – C4880

6 oz./

set
SET of 500 – C4880X

1 lb./

set
TUCKING TOOL –
For tucking headliner, upholstery, etc.

C6441

6 oz.
$ Saver Tucking Tool –
Headliners, Weatherstrips, etc.

C860T

4 oz.
DOOR PANEL & WEATHERSTRIP REMOVER
Gets under edge of panel or weatherstrip and pushes up around retainer to help
prevent damage. Put cloth or vinyl on painted metal under tool during use.
DOOR & WINDOW HANDLE REMOVER
You never know when you'll need it. Good for Corvairs (Also GM and Fords).
REMOVER/INSTALLER
Removes and replaces spring clip. Firmly holds spring
for easy installation into door handle and window crank
assembly. Spring will not fly off jaws. Good for Corvairs;
also fits GM, Ford.
C7453
6 oz.
Seat Pivot Cap Installation Tool
This piece of tubing fits the chrome caps that fit over the pivot on the bucket seat perfectly
and installs them without damage. Very difficult to install without this tool.
C6587T
4 oz.
"2 in 1"
Door Handle
and Window Crank
Spring Remover
and Installer
C860T
C7453